Aluminium Roof Lanterns in Reading
Exquisite roof lanterns in Reading, the perfect way to bring an expanse of natural light to your home.
Aluminium Roof Lanterns in Reading
Whether you have a conservatory, an extension or a garden room, our aluminium roof lanterns make a stunning feature for homes in Reading, Wokingham, Basingstoke, Henley, Berkshire, and across the Thames Valley.
Stunning Flat Roof Alternative
Very often, when homes have an extension or garden room, the traditional roof is flat. You can create a stunning alternative style by having a roof lantern installed.
Our roof lanterns are sourced from Ultraframe, ensuring that you achieve the perfect result for your Thames Valley home.
These superb glass roofs create a beautiful feature that will allow natural light to come flooding into your home. You will have a bright and airy room when you choose to have a roof lantern installed.
Roof Lantern Benefits
Our roof lanterns offer your Reading home a range of benefits, including:
Thermal Efficiency

High Security

Increased Light

Sophisticated Design

Intelligent Detailing

Versatility
Roof lanterns create a sophisticated finish to your extension or conservatory, enabling you to make the most of the space you have. They can be designed to suit your personal tastes, so whether you prefer minimalist and modern design or an ornate, traditional look, our roof lanterns will meet your needs.
Incredibly thermally efficient, our roof lanterns offer a unique ventilated ridge which allows warm, humid air to escape, helping to prevent condensation and mould from occurring.
They are perfect for enhancing any property, offering a luxurious style and stunning feature that will enthrall your visitors and enable you to experience your home in a whole new way.
Beautiful Roof Lantern Designs
Our roof lanterns offer your home in Reading and the Thames Valley a sophisticated and elegant finish. We have a range of tinted glass available, which will prevent glare and help reduce interior temperatures. We also offer obscured glass, for that extra level of privacy.
They are generally installed in place of flat roofs, however, it is possible to install them on pitched roofs too. They feature a slim aluminium profile that is designed to create a stylish look that will enhance the aesthetics of your home.
The simply stunning visual impact will be the envy of your guests and neighbours, creating a unique talking point for your visitors.
Energy Efficient Glass Roofs
Aluminium roof lanterns will help you to save on your energy bills, making them a highly cost effective home improvement for your Reading property.
You will benefit from requiring less lighting thanks to the extensive glass roof that maximises the free, natural light available.
Our roof lanterns are also superbly energy efficient, ensuring that heat loss is minimised and cold air is blocked out. All of our aluminium roof lanterns are available in a variety of glasses, including energy saving Low E glass with argon glass, offering excellent heat insulation. You could find that you need to use less heating to keep your home warm and cosy in the winter, saving you money in the long term too.
We also include an integral drainage system to capture potential leaks and direct them to relevant gutters.
Aluminium Roof Lantern Prices in Reading
Here at Abbey Windows, we offer competitive roof lantern prices that ensure you get the best possible value for your money. Every aluminium roof lantern we install in Reading, Wokingham, Basingstoke, Henley, Berkshire, and across the Thames Valley will provide a long term, cost effective home improvement.
If you would like more information or even a tailored roof lantern guide price, please get in touch. We have a friendly team on hand to offer you expert advice and guidance in choosing your new roof lantern.
We are pleased to be able to offer you a range of flexible finance options to suit your budget.
Finance Options Now Available
We are pleased to be able to offer you a range of flexible finance options to suit your budget.
Choose our '5 Years Interest Free on our Harmony Range' or opt for our 'Buy Today with Nothing to pay for a whole year' option. With an extensive collection of finance options available, you can be sure to find the right option to suit your home improvement budget.
Calculate which finance option best suits your budget by using our loan calculator. Alternatively, you can speak directly with one of our expertly trained team; we are always on hand to help with all your finance queries.
Find out more about our finance options.
Lantern Roofs in Reading by Abbey Windows.
Abbey Windows Showroom Tour | Double Glazing, Reading.
[contact-form-7 id="" title=""]
Start Your Quote
Get an instant online price with our easy to use quoting engine.
Get a Price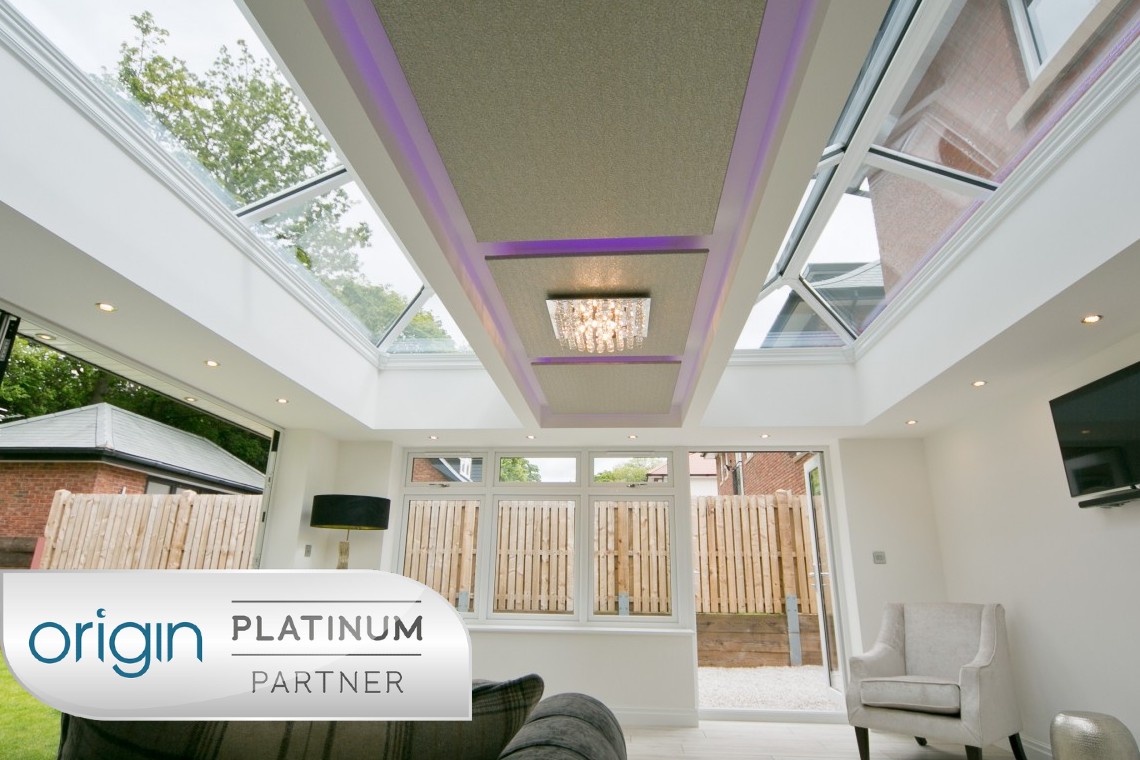 One of our proudest achievements here at Abbey Windows is being awarded Platinum Partnership status by our supplier Origin. Only seven companies in the world are Platinum Partners and we are pleased to be counted among them as a local company. Our service strives to match their excellent product.
Related Products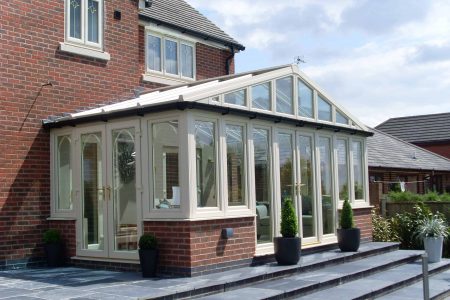 Conservatories
Our team at Abbey have a wealth of experience in designing and constructing beautiful conservatories for local homeowners and businesses like you in the Reading area. Thanks to the solar control glass roofs incorporated into our conservatories from Ultraframe, you can enjoy this extra living space throughout the year. Take your pick from our beautiful variety of styles. You can also browse through our dedicated conservatory pages to find out more about each design!
View Product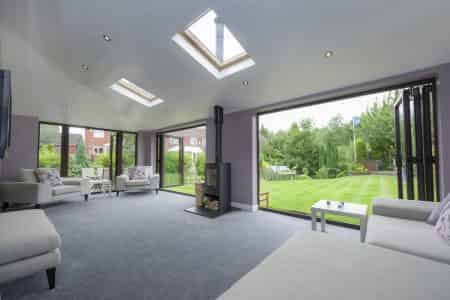 Garden Rooms
Garden rooms are an ideal choice if you enjoy spending your time in the outdoors. A standalone structure in your garden to relax and enjoy peace and quiet away from the bustle of your home. An enjoyable retreat in summer or winter with the option to have electricity installed or the perfect office escape.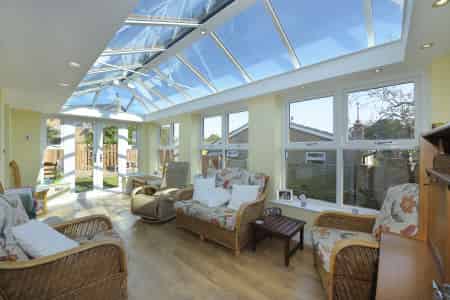 Orangeries
An Orangery is designed using a combination of conservatories and extensions. Just like a conservatory you will benefit from increased light and plenty of windows, whilst increasing privacy levels by using larger brick sections. With a lantern roof you can enjoy a light and bright orangery throughout the year.
Recent Projects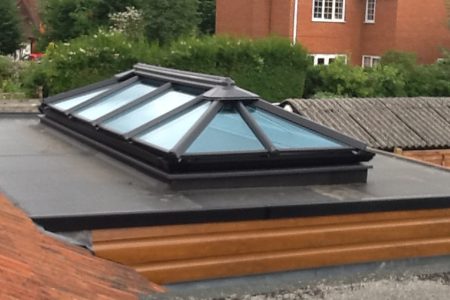 Aluminium Roof Lantern Installation Tilehurst, Reading
Beautiful Aluminium Roof Lantern Installation in Tilehurst
Abbey Windows offers stunning aluminium roof lanterns here in Reading, providing living extensions with a realm of light and an attractive contemporary feature.
We provide high-quality aluminium roof lanterns, which were built to last. These are perfectly adaptable to any style of architecture including rectangular shaped conservatories and orangeries.
Mr Bell did not know about lantern roofs until he visited Abbey Windows around the corner from where he lives. His extension did not have an aluminium roof lantern before and he was struggling to read his book due to the dimness in the room, and he wanted to save money on expensive electricity bills.
Abbey Windows stepped in to help this gentleman in Tilehurst, Reading, ensuring he gained a lighter room that could generate enough sunlight around the room to switch off the light bulbs.
Innovative Aluminium Roof Lanterns
Utilising the leading technically-advanced aluminium profile for a stronger ridge, our aluminium roof lanterns are thoroughly-secure, and installed to provide a long-lasting roof system. We ensure homes are weatherproof by implementing uPVC roofline systems, which provide exceptional drainage and are thermally-efficient, eliminating cold draughts.
Abbey Windows upgrades extensions with its innovative roof lantern solutions, transforming a roof into a solarium. You can begin to envisage the stars at night through the extensive glazed panes that our aluminium roof lanterns have to offer. You'll also remain warm and cosy with a tough, aluminium frame and energy-efficient glazing that extracts warmth throughout the day, and circulates around your room during the dark, cold evening.
Mr Bell now uses his extension night and day for reading and for enjoying the sun without having to put any suntan lotion on. By reducing the time spent with the light switched on during the day, he allows himself enough time to enjoy his book under a lamp during the evening from the comfort of his arm chair.
He opted for having blue solar energy-efficient glass installed in a day, which pleased Mr Bell entirely. He sought this option because he wanted to really save money on energy bills, and with the integral thermal technology, he gained exactly that.
Almost immediately he started noticing significant savings on his bills, and at the same time thanks to the advanced glass, reduced his carbon footprint. The blue coloured glass fitted in perfectly with his home's architecture in Tilehurst, ensuring beautiful aesthetics.
Attractive Aluminium Roof Lanterns
Alongside its aluminium framework, the roof lantern achieved a complementing contemporary appearance, a feature that Mr Bell and family enjoyed. They will benefit from these stunning looks for years to come with a highly-durable aluminium profile that promises never to scratch, rust, or fade over time.
Take your pick from a wide variety of coloured finishes which are comprised of a high-quality powder coating, which never requires repainting. We offer a wide range of size configurations from small, to large, allowing extensions of all sizes to enjoy an aluminium roof lantern from Abbey Windows.
Mr Bell went for a smaller sized roof lantern so that he could position it centrally on his solid roof. From outside, the aesthetics are extraordinary, as the traditional slated rooftop blends in beautifully with the mystical blue solar glass, while the adaptable qualities of its aluminium bars also play a hand in providing perfect aesthetics.
He has chosen an external white coating to match uPVC windows and doors, which are virtually indistinguishable from one another. You can opt to have a contrasting colour internally to complement the furniture around your home, or achieve a perfect colour match by opting for the same coloured foil.
Versatile Roof Lanterns Reading
Here at Abbey Windows, we have double glazing solutions for every homeowner in Reading on any budget. Our roof lanterns are as cost-effective as they are intelligent, utilising the latest, sustainable materials such as aluminium and uPVC to cut costs of expensive materials.
Over time, your thermally-efficient roof lantern shall save you a fortune on energy bills including heating and electric, however, you may have not known that you could even raise the value of your home by installing fabulous new roof lanterns. Our aluminium roof lanterns leave a long-lasting effect on potential buyers and they are a very attractive asset for property investors.

Roof Lanterns Reading Prices
Here at Abbey Windows, we use an innovative online quoting engine to allow you to tailor your roof lantern to your specifications and to meet your budget.
You can get in touch alternatively by visiting our online contact page, where all we require is a few simple details like your name and number, before we offer you an instant callback!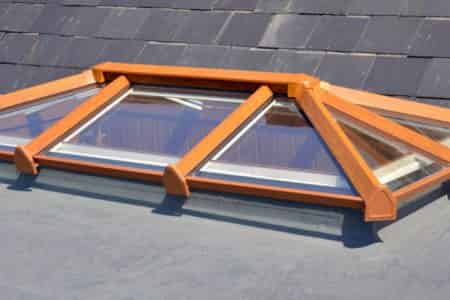 Aluminium Roof Lantern Installation Reading
Stunning Aluminium Roof Lantern Installation in Reading
Welcome to Abbey Windows, proud installers of fantastic aluminium roof lantern solutions in Reading. We supply and install made-to-measure aluminium roof lanterns, taking away any stress.
Abbey Windows delivers roof lantern installation on time and to budget, ensuring all customers in Reading are happy with our service. Our aluminium roof lanterns provide a picturesque and high-performance feature for any home, regardless of space.
We offer several size configurations for your roof lanterns, perfectly tailored to your needs. Our aluminium roof lanterns offer a sleek profile, providing exceptional sightlines for greater glazed areas.
New Roof Lantern Installation
Abbey Windows is happy to attend to a variety of aluminium roof lantern installations, including conservatories, orangeries, and other extensions. These provide exceptional roofs for bedrooms, bathrooms, kitchens and living rooms, as they provide a maximum headspace, increased light exposure, and warmth.
Our customer Mr Walker who lives in Reading felt that he needed something more from his living space, as there was limited light and a small area for him to use. Since installing new aluminium roof lanterns, he has experienced new levels of performance, allowing him to conduct his daily activities in peace and quiet. Our soundproof, illuminating aluminium roof lanterns can transform a space into a enjoyable, functional area for parties, work, and anything else.
He carefully chose a white decorative finish for his aluminium lantern roof, accompanied by clear glazed panes for a classic appearance that complemented his home. He wanted the contemporary performance of new roof lantern installation, however, did not want to lose the character of his property.
The rectangular roof lantern is spotless in design and performance. Sitting back in his chair, he can enjoy the warm sunshine everyday with an automatic air vent and during the colder months, the air vent turns off as the room temperature cools down.
Our energy-efficient glazed panes store heat inside the room, therefore a roof lantern makes a massive difference where extensions are used for prolonged periods. You can reduce reliance on your central heating systems, keeping your energy bills stable and also reducing your carbon footprint.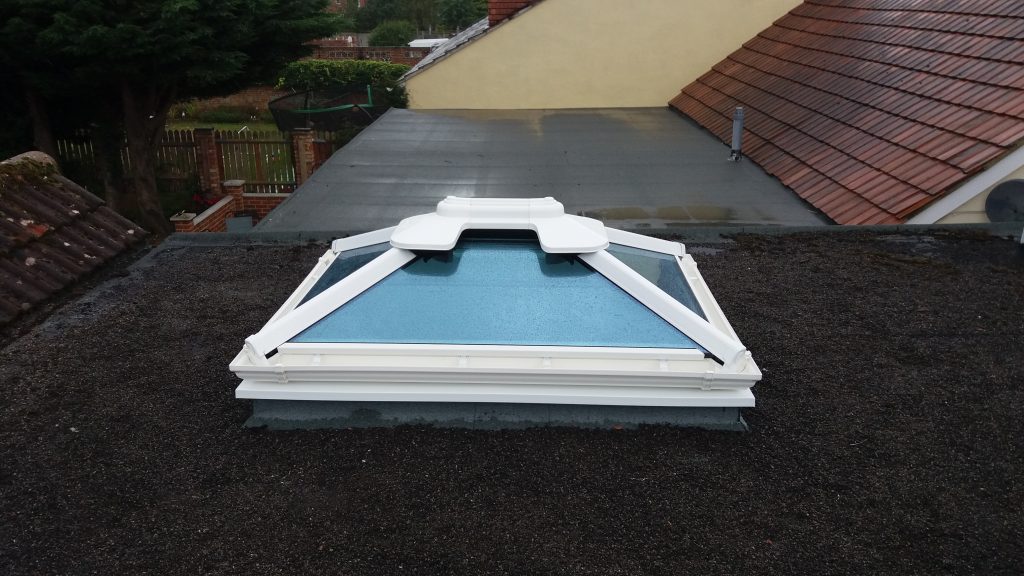 High-Quality Roof Lantern
Our Ultra frame roof lanterns are built from premium aluminium, ensuring our solutions are both sustainable and durable. Aluminium is 100% recyclable, however, we only use the highest-grade materials to formulate high-quality aluminium roof lanterns in Reading.
Whereas before Mr Walker felt cold draughts during the night and spent cold evenings in the dimly lit space whilst noisy traffic drove past his home in Reading, he now cherishes his living extension more so than ever before.
Stars now shine above his home, which he enjoys with the comfort of a good book, yet the thermally-efficient roof keeps the cold weather outside so that he can dress appropriately in his own home.
Mr Walker did not know about Abbey Windows until a friend neighbour referred him to us, he then contributed great photos of his new roof extension towards. We are thankful for Mr Walker's custom as with all our clients in Reading.
He learnt that his extension could be conditioned to offer high thermal-performance and provide efficient lighting in an eco-friendly manner. Furthermore, when he realised this would be more cost-effective than having a new extension built or even moving home, he was pleased with our service here at Abbey Windows.
High-quality roof lanterns create more space by expanding the vertical dimensions of your extensions, which is filled with light during the day, and a starlit sky during the night.
Durable Aluminium Roof Lanterns
Mr Walker was stunned when he learnt roof lanterns were highly-durable, as from pictures what he saw was sheerly glass design. However, we use high-quality double glazed units to install aluminium roof lanterns, and incorporate a compact, weather aluminium profile to ensure high-performance.
Its high-grade Ultra frame profile is incredibly robust, and with our expert installations, your roof lantern shall protect your home thoroughly from inclement weather and from unwanted visitors.
Our roof lantern designs are constructed from materials designed to counteract the force of strong winds and storms. However, its quality aluminium profile is beautifully manufactured to provide long-lasting aesthetics. Its contemporary bars may be accompanied by a durable coating from any of our high-quality colours. Mr Walker opted for our dual colour option, allowing him to have black bars for the exterior, and white for the interior.
Abbey Windows ensures your roof lantern provides a fixed solution for your home, so that you are pleased with its performance for decades.
Roof Lantern Prices
Please use our online quoting engine to attain an affordable price on roof lanterns in Ready today. Mr Walker did so and found that we offer competitive prices on the design of his choice.
Please give us a call on 0118 956 6866 for more information about our competitive prices, or request a callback using our online contact page.