Residence 9 Doors in Reading
We supply and fit R9 Doors; a luxury collection of doors offering elegance and sophistication to your Reading home.
Residence Collection Doors are a high-end range of luxury doors designed to imitate real wooden doors. These exceptional quality wooden-style doors provide you with all the benefits of modern composite technology without compromising on style.
Conserve the traditional appearance of your home with these premium lifestyle doors. A genuine luxury alternative to the wooden door, regular composite door or uPVC door.
Abbey Windows supply and fit these excellent traditional doors throughout Reading, Bracknell, Henley-on-Thames, Didcot, Wokingham, Wallingford, Thames Valley and Berkshire.
Residence Collection Doors Styles
Our Residence Collection doors are available in a range of different styles to suit your Reading home. Choose from Heritage, Traditional, Bespoke, Modern & Quintessential collections for your Residence Collection French Doors and Single Doors.
These doors have all the subtleties of an authentic wooden door. Customise your new Residence 9 Doors and opt for period features such as Georgian bars, intricately designed ironmongery and monkey tail door handles.
Our Residence 7 doors work brilliantly with moderns new builds as well as traditional period properties. Choose from a range of hardware accessories that can accentuate a sleek modern appearance or compliment a more classic aesthetic.
Find the perfect replacement doors for your Reading home today. Choose from over 42 colour combinations in 13 exquisite colours and a wide selection of features and designs. As well as this, all our Residence collection windows and doors are guaranteed for a minimum of 10 years.
Residence Collection Door Prices
Interested in investing in our Residence Collection Doors for your Berkshire home? Get in contact with us via our contact form and a member of our team will help you create the ideal replacement doors to complement your Berkshire home. Alternatively, speak to a member of our friendly team on 0118 956 6866. We are pleased to be able to offer you a range of flexible finance options to suit your budget.
Finance Options Now Available
We are pleased to be able to offer you a range of flexible finance options to suit your budget.
Choose our '5 Years Interest Free on our Harmony Range' or opt for our 'Buy Today with Nothing to pay for a whole year' option. With an extensive collection of finance options available, you can be sure to find the right option to suit your home improvement budget.
Calculate which finance option best suits your budget by using our loan calculator. Alternatively, you can speak directly with one of our expertly trained team; we are always on hand to help with all your finance queries.
Find out more about our finance options.
Residence Collection Doors
[contact-form-7 id="" title=""]
Customise your Doors
Take a look at all the colour options available with Residence 9 windows and doors.
View Colour Options

Residence 9 Doors
Unique 100mm thick profile (most are 70mm).
Nine chambers (most have three or five chambers).
Superior thermal, acoustic, strength and security performances.
For extra added strength, choose the steel reinforcement option.
Ideal solution for grand entrance screens and large doors as glass bonded.
Authentic 19th-century timber window effect achieved through an elegant flush exterior and decorative interior.
Designed with the key principles of the Article 4 Conservation Area Guidelines.
Approved in many Conservations Areas and Listed buildings across the UK.
The incredible range of Residence 9 Doors combines traditional aesthetics with modern performance to give homeowners in Reading the best of both worlds. The innovative 9 chamber profile design not only perfectly replicates the style and appearance of  doors from times gone by, but provides exceptional levels of performance regarding heat retention and security
A thermal barrier is created through trapping pockets of warm air inside the multiple chambers within the profile. This prevents cold transfer from the outside in and minimises the heat that can escape to significantly increase the heat retention of your home. The incredible performance of our doors will have you turning down your thermostat in no time.
By using less energy to heat your home, you'll enjoy a more efficient heating system resulting in lower energy costs. This makes our Residence 9 doors the perfect environmentally friendly choice as all the materials used to create these stunning doors are completely recyclable, with a manufacturing process that if fully sustainable.
The authentic timber appearance of these exquisite Residence 9 doors makes them so appealing to homeowners throughout the Thames Valley. Effortlessly recreating the beautiful style of 19th-century doors, you can further enhance the look through a broad selection of detailed hardware accessories such as monkey tail handles.
Ultra Low Maintenance Doors
These authentic doors are designed to withstand family life. Stylish yet practical, they will not rot or swell like timber, and there is minimal upkeep involved. Unlike wooden doors, there is no painting, sanding or varnishing required!
Superior High-Performance Design
Residence 9 Doors feature an intelligently constructed 9 chamber design. This allows them to attain an exclusive standard of security, noise insulation and thermal regulation, keeping your home secure, peaceful and energy efficient. Save money on those expensive energy bills while maintaining the character of your Berkshire home.
Offering generous maximum size allowances, Residence 9 Doors can cater for impressive and elegant entrance screens.
Residence 9 Doors accommodate a 62mm door panel in order to fully replicate a traditional timber door. Get the time-honoured look with all the modern benefits. Residence 9 craft quintessentially British doors.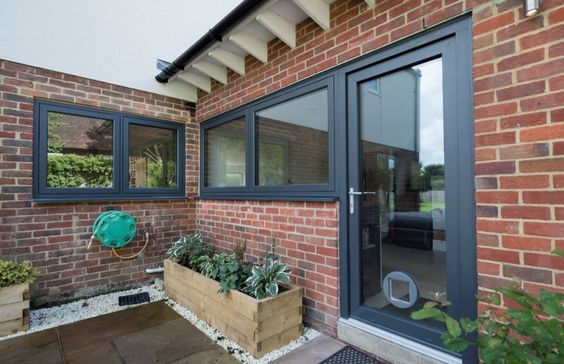 Residence 7 Doors
75mm thick profile (most are 70mm).
Seven chambers (most have three or five chambers).
Enhanced heat retention, noise insulation, rigidity and robustness.
Choose mechanically jointed for a traditional look or welded with a diagonal seam for a more contemporary appearance.
Perfectly flush design both inside and out to complement country cottages and new builds alike.
Beading options available to personalise your windows.
Our stunning Residence 7 doors combine the latest profile designs to produce high performance doors that add character to any style of property. Name after the innovative seven chamber profile design; the additional chambers provide an enhanced level of performance in heat retention, energy efficiency and security.
The slim modern design lends itself well to both historical and contemporary properties. These beautiful doors sit flush with the frame to offer a clean appearance. This sleek design will conjure a simple elegance that will enrich the appearance of your home while providing exceptional performance that will last for many years.
The smart seven chamber design traps pockets of warm air inside to create and thermal barrier that prevents cold transfer. No matter the style of door that you choose, you will receive an impressive degree of thermal and noise insulation that will improve the energy efficiency of your property, creating a comfortable living environment.
For a perfect combination of design, performance and style, choose from the Residence 7 doors collection from Abbey. Whether you want the appeal of traditional timber or you are looking to create a modern aesthetic, the R7 door is an excellent choice, providing homeowners with many benefits that can be enjoyed long into the future.
Low Maintenance
The intelligently designed Residence 7 doors are virtually maintenance free. Consisting of only premium grade materials, these expertly crafted doors are built to last, without the need for painting, sanding or varnishing. Easy clean rebates make upkeep effortless while preserving an authentic timber look.
Designed for Enhanced Performance
Residence 7 Doors feature an cleverly designed 7 chamber profile. This provides homeowners with exceptional levels of security, acoustic insulation and heat retention, to keep you and your family safe, warm and dry. Enjoy saving money on your energy bills while at the same time upholding the identity of your home in Berkshire.
Residence 7 Doors offer a perfectly flush appearance and can replicate traditional timber door to give you the best of both worlds. The elegant style and industry leading performance make our R7 doors the perfect choice for modern and traditional home throughout the Thames Valley.
Residence 9 Door Colour Options
Take a look at our other door styles