Conservatories
Our team at Abbey have a wealth of experience in designing and constructing beautiful conservatories for local homeowners and businesses like you. Thanks to the solar control glass roofs incorporated into our conservatories from Ultraframe, you can enjoy this extra living space throughout the year. Take your pick from our beautiful variety of styles. You can also browse through our dedicated conservatory pages to find out more about each design!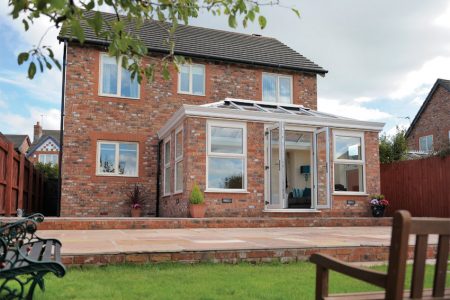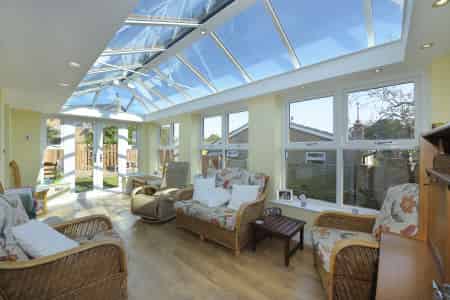 Orangeries
An Orangery is designed using a combination of conservatories and extensions. Just like a conservatory you will benefit from increased light and plenty of windows, whilst increasing privacy levels by using larger brick sections. With a lantern roof you can enjoy a light and bright orangery throughout the year.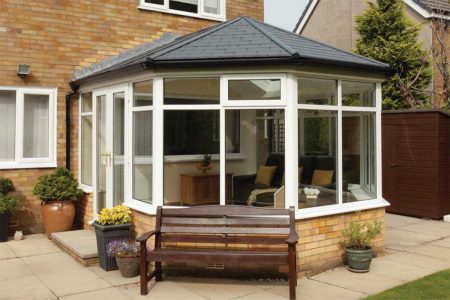 Victorian Conservatory
A Victorian conservatory offers your home traditional aesthetics whilst the curved bay design affords you superb outwards views of your garden. Victorian conservatories provide a sophisticated extension to your Reading home that can contain a choice of 3 or 5 facets to suit the space available. Add a finishing touch with our beautiful finials.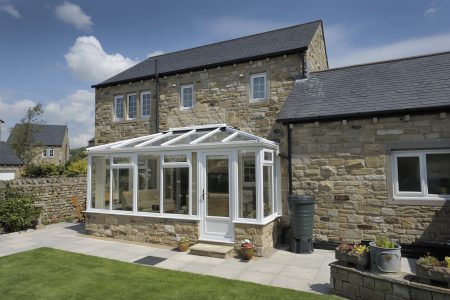 Edwardian Conservatory
An Edwardian conservatory provides a lovely square or rectangular design that allows you to make the most of your floor space. Let plenty of natural sunlight and fresh air enter your new conservatory and enjoy your additional space for 12 months of the year. Great for a dining room, living room or play room.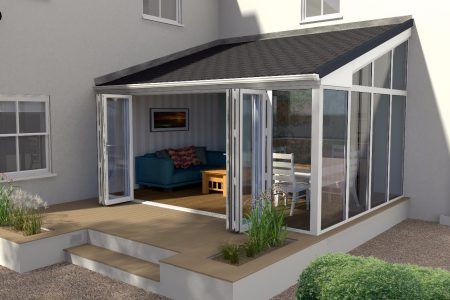 Lean-To Conservatory
A lean-to conservatory is a highly popular option and can be suited to a variety of property styles. Arguably the most cost effective conservatory, these lean-to conservatories are perfect if you have limited space available. Why not consider fitting
a whole length of one wall with bi-fold doors for a fantastic entertainment space.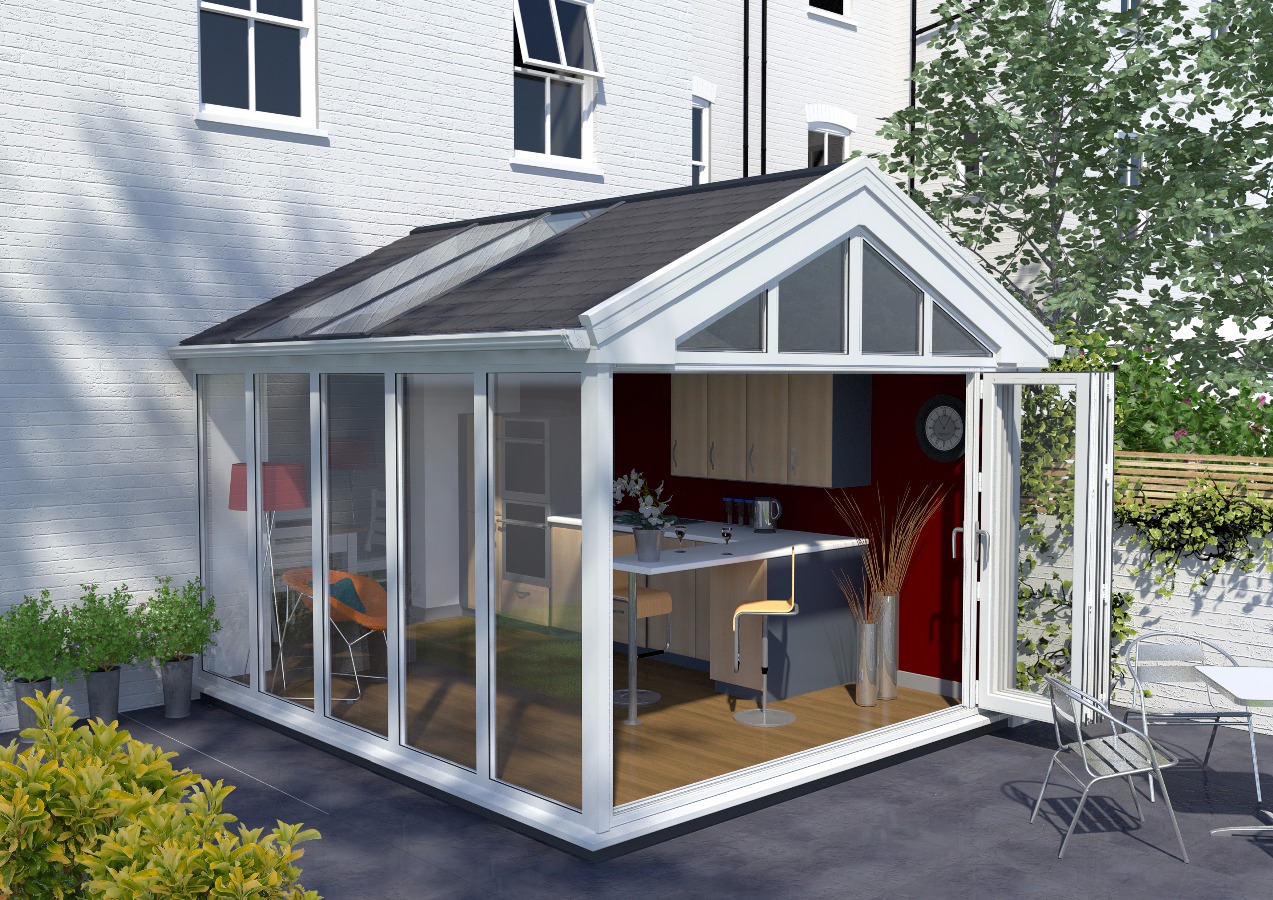 Gable-End Conservatory
A gable-end conservatory, also known as a gable conservatory or pavilion conservatory, creates a sense of grandeur to your home with the high-angled roof. This is a superb way of maximizing light and creating a welcoming ambiance for family and friends. You could include a rising sun detail for a charming design full of character.
P-Shaped Conservatories
A P-shaped conservatory is a form of bespoke conservatory design that is tailor made to fit into an awkward garden space. If you require a multi-functional conservatory then P-shaped is a great option. Combine two different conservatory styles such as a Victorian conservatory for your dining room and a lean-to section for the perfect lounge.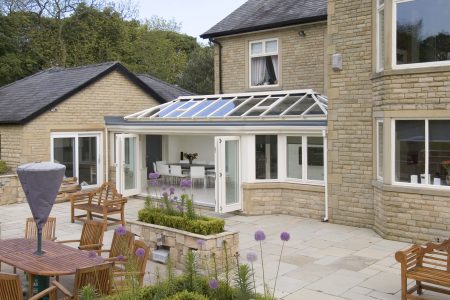 Bespoke Conservatories
Bespoke Conservatories are tailor made to perfectly complement your Reading home. Our talented team will take and enhance your ideas using our specialised design software to bring them to life. We can also refurbish and restore existing conservatories or provide an upgrade service; call us now to enquire about this service.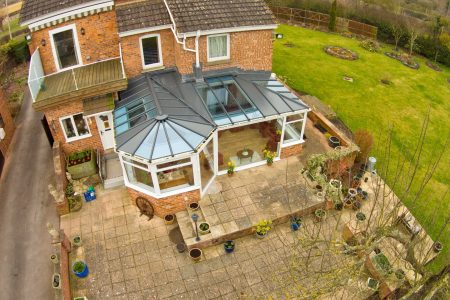 Conservatory Roofs
We offer a superb range of conservatory roofs for your Reading home. Our replacement roofs offer an affordable alternative to replacing your entire conservatory.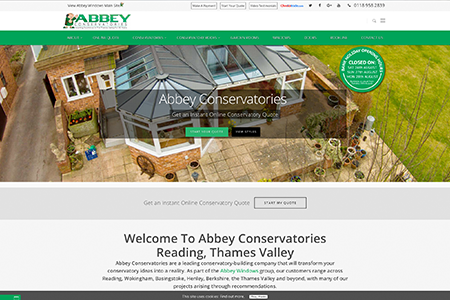 Abbey Conservatories
For more informatation check out our conservatories site over on Abbey Conservatories.
---
Durabase Conservatory Bases
At Abbey Windows, we pride ourselves on offering high quality products that can be manufactured and installed quickly and easily. This is why we have decided to work with market-leading company, Durabase. They specialise in improving the way your extension is built by offering a great alternative to traditional methods. Their alternative is guaranteed to be more cost effective than traditional methods, with your ordering being ready and waiting for installation in as little as one day. Durabase have designed their method to be easy to install yourself, which means you can save money and time by not having to hire a professional. Your kit will provide you with the exact materials needed to ensure there is as little waste as possible, helping to reduce your carbon footprint. To help preserve your extension for as long as possible, it comes with a 25-year manufacturer's guarantee.
Who Can Use Durabase?
Durabase offer versatile flooring and wall solutions that are manufactured to enhance any property. The systems created are easy to use for homeowners, builders and trade suppliers, offering a host of added benefits. The solutions Durabase offer are sure to be a cost-effective, worthwhile investment.
Shape and Size
Whether you have a lean-to conservatory, a gable-ended conservatory or an Edwardian conservatory, Durabase are here to offer you a practical solution. Using the latest technology, Durabase are able to make a floor and wall combination that will fit any size and shape.
---