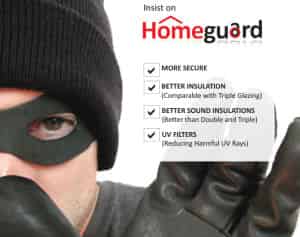 Homeguard is the amazing alternative to standard double and triple glazing. The Homeguard
system uses a standard double glazed frame, with an upgraded 6.4mm clear laminated glass outer pane, and a 4mm inner pane glass unit. This revolutionary but tried and tested system provides more combined enhanced security, heat and acoustic efficiency than triple glazing, at a lower cost.
Abbey Windows developed this specialised glass system for our glass units. These glass units benefit from a 6.4mm laminated external side and a key element of being Secured By Design.
Using the same glass as our A rated windows, you will benefit from a warmer property even throughout the coldest seasons.
Whether you choose Homeguard downstairs at the rear of the house for security, an upstairs bedroom for noise reduction or for the overall benefits, Homeguard offers great, all round value for money. Take a look at our comparison chart to see how you could benefit from Homeguard compared to standard double or triple glazing.
Any rating or figure given is based upon a set and sized standard Liniar uPVC window. Any differing profiles or alternative products may not provide the exact same values. More accurate values may be available but are not guaranteed.
Noisy road or neighbours? Homeguard is ideal for a home or just individual windows and doors. What's more, Homeguard is almost indistinguishable from normal glazing. Ratings for Homeguard are for guidance only, more information available upon request.

Insulating
Homeguard increases the WER Rating to A+ with our standard Liniar window and achieves U-Values as low as 1.2 W/m2.K – that's almost equal to standard triple glazing.

Security
A key element of the Police 'Secured by Design' specification, laminated is the same glass as used in your front car windscreen. It provides a substantial barrier against burglars as it holds together once broken. And burglars hate anything that slows them down, makes a noise and is dangerous for them to try and enter through.

Sound
In 30 years of glazing TV and Radio studios Abbey discovered that by using two different glass densities we could confuse sound waves. The result is that Homeguard sound insulation is better than standard double or triple glazing.

UV Protection
Up to 97% of harmful UV rays are cut out. That's not just good for us, it means less fading to carpets and upholstery too!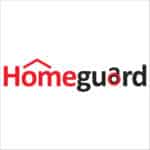 Get a Free Quote
Obtain a free quote
for our security-conscious, Homeguard double glazing. A safer home is only a click away!