Homeguard Double Glazing Reading
If you want to have the benefits of triple glazing without the need to pay an extortionate amount, we have a solution for you. Introducing Homeguard Double Glazing.
They are specialists in the industry for providing exceptional quality windows at an affordable price, making sure your home is kept safe and secure. Here at Abbey Windows, we use the Homeguard Comfort and Homeguard Comfort Plus range.
Using a standard double glazed frame, Homeguard Double Glazing has a unique way of providing triple glazing with a double glazing appearance. The system uses a 6.4mm clear laminated glass outer panel and a 4mm inner panel to lock in heat and keep the cold out.
From this high tech, innovative system, you will also benefit from enhanced thermal efficiency, heightened security and high performance functionality.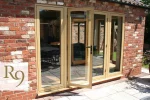 Highly Insulating
Insulating your home is quick and simple with the highly innovative product we have on offer. Homeguard Double Glazing is guaranteed to fit perfectly into the frame of any window, due to its customisation. You will benefit from warmer conditions and a comfortable environment almost instantly, making this window a huge success.
Homeguard Double Glazing is almost equal to triple glazing in every category, giving you peace of mind and increased protection. We have cleverly formulated our windows to make sure they are increasing the WER Rating to A+ alongside the standard Liniar windows, whilst achieving U-values as low as 1.2W/m2K.
Read More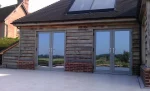 Heightened Security
We are proud to tell our customers that we adhere to the Police 'Secured by Design' specification, which means we are police approved. Our Homeguard Double Glazing windows feature the same laminated glass as used in the front of car windscreens, meaning it is effortlessly tough and stronger than other window options.
The Homeguard Double Glazing provides a barrier that is greater than their counterparts against any potential burglaries and intruders. This means you can be safe inside your home, knowing any unwanted guests cannot get in. Unlike normal windows, should the outer glass panel break on a Homeguard Double Glazing window, the broken pieces stick together.
Read More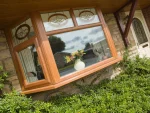 Soundproofing
While many claim that standard double or triple glazing can help maintain a high level of soundproofing, we at Abbey Windows have discovered a new way of soundproofing that is much more effective. Within the 30 years of glazing TV and radio studios, Abbey Windows found that by utilising two different glass densities, they were able to confuse soundwaves.
This resulted in Homeguard being one of the top ways to soundproof buildings. Which is why we are proud to offer the technology to you. Homeguard Double Glazing is highly effective in diminishing the sound produced from traffic outside, making the inside of your home a quiet escape from the turmoil of everyday life.
Read More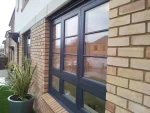 Protection Against UV
UV rays are not only harmful for humans, but for your home too. With weak windows and glass panels, harmful UV rays can enter your home and have the ability to fade carpets and furniture, making it look dull and lifeless. Introducing our Homeguard Double Glazing windows means you will benefit from new looking furnishings for much longer.
Homeguard Double Glazing can eliminate up to 97% of harmful UV rays from entering your home. That means that not only are your furnishings protected, but you are too. Homeguard Double Glazing windows are ideal for any type of property, due to their high-performance protection against the most harmful rays.
Read More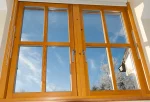 Homeguard Comfort & Comfort Plus Range
Both the Comfort Range and Comfort Plus Range enhance your home with extra security, better energy efficiency, superior noise reduction and give your furniture fade protection. The Comfort Plus Range further enhances your indoor living by helping to reduce overheating in your home, the special coating that we use on our glass is designed to keep the heat from the sun rays out.
This means even in rooms that have lots of glazing panels, the room with remains a nice temperature for you and your family to enjoy! You can enhance the energy efficiency of your home with the addition of both the Comfort and Comfort Plus Ranges, this means you can help to save money on your heating bills as the glazing helps to keep the warm air inside your home and the cold air out!
Read More
Homeguard Double Glazing Prices Reading
If you think Homeguard Double Glazing is perfect for you, give us a call today! We will be happy to go through the range of windows on offer, whilst making sure you are given bespoke advice tailored to your situation.
Call us today on 0118 956 6866 to get a no obligation quote today. You can also send us an email using our online form, or to [email protected].
Alternatively, if you want to get a quote in minutes, use the online quote generator to get a no obligation price, fast. Our cleverly generated system makes sure you are getting an accurate representation of what your dream windows will cost by factoring in all the necessary customisation options relevant to you.