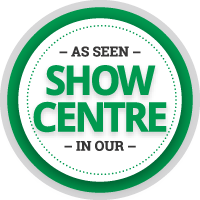 Our competitively priced uPVC cladding products from Freefoam provide an external layer to your property, creating a coating that will protect the structure of your building from damage. Our cladding panels present a decorative finish to your home, creating an aesthetically pleasing appearance for the exterior of your property.
Here at Abbey Windows, we know how important it is to protect your Reading property from the damage caused by weather and general wear. This is why we supply and install uPVC cladding in commercial properties throughout Wokingham, Henley, Bracknell, Basingstoke, Newbury and throughout Reading and Berkshire.
It's easy to forget about your uPVC cladding, but it can be expensive and time consuming to correct if neglected. We're here to help – Abbey Windows offer a range of uPVC cladding panels to guarantee your Reading property protection against the often harsh effects of Mother Nature.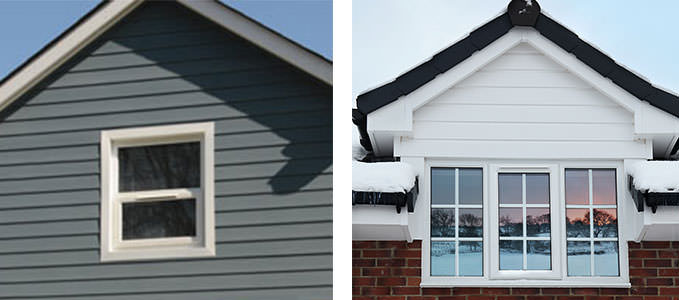 Why do you need uPVC Cladding?
uPVC Cladding is essential in keeping your Reading home thermally efficient, and here at Abbey Windows we specialise in the installation of quality cladding that will last your property many years to come. uPVC Cladding offers much better insulation than concrete, brick or timber, and offers a contemporary aesthetic to all kinds of Reading property styles.
Our uPVC Cladding is the perfect way to conceal problem areas of brick around the roofline of your home. As well as having excellent practicality benefits, our uPVC Cladding is specifically designed to blend perfectly into your Reading home.
Our expert installation team have been installing uPVC Cladding for many years, and they will be able to find the best cladding to suit your Reading property. It may seem like a small detail, but no detail should be forgotten when it comes to your home.
Refresh your Reading home
Update your uPVC Cladding to give your Reading home a new lease of life. The ideal replacement for timber cladding, our uPVC Cladding is far more durable, contemporary in appearance and thermally efficient. They require little to no maintenance, and there's no danger of rotting or warping, unlike wooden cladding.
uPVC Cladding helps rainwater flow freely from your home, preventing blockages or stagnation of water. This will keep the roofline of your property looking newer for longer, plus will prevent water ingress.
Available in a range of colours and designs to perfectly complement your Reading home, our cladding can be designed to perfectly suit your Reading property. With a comprehensive aftercare service, you can rely on Abbey Windows to keep your Reading property looking beautiful and up-to-date.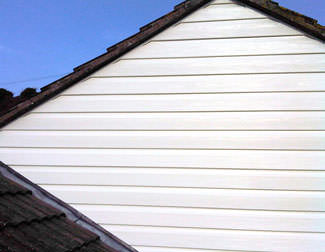 An Extensive Range of uPVC Cladding Designs
We supply a range of uPVC cladding panels to ensure that you can find the perfect look for your property. Whether you are looking to improve a modern or traditional home in Reading or Wokingham, we can provide you with the best products to complement the style of your building. Abbey Windows can supply a huge range of wood affects and colours.
While cladding may not seem as important as your uPVC windows and other double glazing features of your Reading home, they offer excellent weather proofing properties and shouldn't be neglected.
Competitive uPVC Cladding Prices
Our roofline services are very competitive, giving you the best price to accompany an unrivalled result. For more information on our cladding or other roofline services such as facias, soffits, guttering and uPVC window replacements, get in touch today. We're always happy to discuss ideas and prices with our customers.
Give us a call today on 0118 956 6866 or fill out our online contact form. We'll provide you with a quick response that will get you on your way to perfect rooflines in no time. Alternatively, pop into our beautiful showroom – we're open every day of the week!