uPVC Patio Doors in Reading
Sliding patio doors are a sleek and stylish uPVC door ideal for connecting your garden to your living area or conservatory.
uPVC sliding patio doors from Abbey Windows are available to homeowners like you in Reading, Wokingham, Bracknell & Henley areas. If you are looking to increase the amount of natural light and fresh air that enters your home then these uPVC 3 pane sliding doors are a fantastic solution. A highly desirable double glazed door for many homeowners and available in a wide range of colours and finishes to match your Reading home. Requiring very little maintenance or upkeep you will never need to paint these resilient 3 pane sliding doors; enjoy the new appearance of your stunning uPVC patio doors for years to come.
3 pane sliding patio doors are an ideal double glazed door for providing a great visual aspect onto your garden in properties where space is at a premium. At Abbey Windows, we have a great selection of sliding door options with two, three or four panels to choose from. We tailor our service to match your needs. Our expert double glazing fitters have a wealth of experience within the double glazing industry and can help you decide on the perfect door to suit your property. As well as this, your sliding patio doors are guaranteed for a minimum of 10 years.
Features And Benefits
Superior Strength – Each Sliders UK uPVC profile is manufactured from the highest quality, intelligently designed materials ensuring these stunning patio doors do not compromise on durability or security.
The Intelligent Partial Open – This locking system and thin profiles have proved to be a winning combination.
Glide Effortlessly – Innovative running systems keep the perfect balance and smooth and silent operation for your patio doors. We use tough tempered steel rollers fitted to a specially designed track.
Maximum Security – Exclusive six-point pincer action lock, patented interlock protectors and a unique security handle means these high security doors achieve Secured by Design status (optional).
Clever Thresholds – Optional low aluminium thresholds and access ramps.
Hugely versatile – Available in a two, three or four panel design.
Ventilation meets Security – Novel lock can enable a partially open secure position. Perfect for home security and refreshing your home. Or, upgrade to Homeguard for enhanced insulation combined with security and noise reduction.
Sliding Patio Doors Prices In Reading
External sliding doors are commonly used at both the rear of properties as a superb back door option and at front aspects of properties such as porches. Let the outdoors in, yet still maintain a warm, safe and secure entrance to your home with high-security Yale locking systems for your peace of mind. Our uPVC patio doors also make an excellent option as a conservatory door.
For more information about our patio doors you can visit our showroom which is open 7 days a week, or if you would like to speak to a member of our professional team then why not give us a call on 0118 956 6866.
We are pleased to be able to offer you a range of flexible finance options to suit your budget.
Finance Options Now Available
We are pleased to be able to offer you a range of flexible finance options to suit your budget.
Choose our '5 Years Interest Free on our Harmony Range' or opt for our 'Buy Today with Nothing to pay for a whole year' option. With an extensive collection of finance options available, you can be sure to find the right option to suit your home improvement budget.
Calculate which finance option best suits your budget by using our loan calculator. Alternatively, you can speak directly with one of our expertly trained team; we are always on hand to help with all your finance queries.
Find out more about our finance options.
uPVC Patio Doors from Abbey Windows, Reading.
How to get rid of condensation inside windows
[contact-form-7 id="" title=""]
uPVC Patio Door Colour Options
View our other door styles
Recent Projects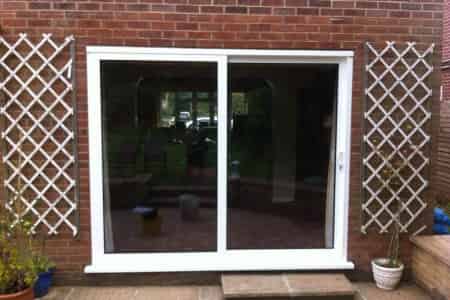 uPVC Patio Door Installation Pangbourne
Patio Door Installation Pangbourne
uPVC Patio Door installation carried out in Pangbourne by the Abbey Windows Team
A customer in Pangbourne recently had a set of beautiful uPVC Patio Doors installed as a fantastic exit at the back of their property. They were looking to create a superb design that brought light into their living room, while ensuring a space efficient design.
Their new uPVC Patio Doors has enhanced their Pangbourne home superbly, giving their living and outside areas a new lease of life. A very high quality finish was achieved that blends seamlessly with the existing features of the property, with a quick and easy installation service provided too!
Connect home and garden
uPVC Patio Doors are a fantastic way of connecting home and garden. Our customer in Pangbourne had their heart set on connecting an exit at the rear of the property that made their garden easily accessible all year round.
Our uPVC Patio Doors are perfect in the summer for garden parties, and are incredibly well-insulated to keep you warm in those cold winter months. The customer in question had limited space, so chose our uPVC Patio Doors as a way to open up their property as they slide within their own frame area.
Patio Doors are a great way of using space efficiently as they will never protrude into a room or patio area – perfect if you're looking to save space.
Bring additional light and space
Our experienced team of fitters had to knock down a wall to create space for the uPVC Patio Doors, which the customer said was carried out with care and areas were always tidied at the end of each day.
We use an excellent multi-wheeled 'air-glide' running system, to save space and create smooth, silent functionality for your new patio doors. uPVC Patio Doors are a superb way of bringing light into your Pangbourne home, as well as producing beautiful views of your garden area.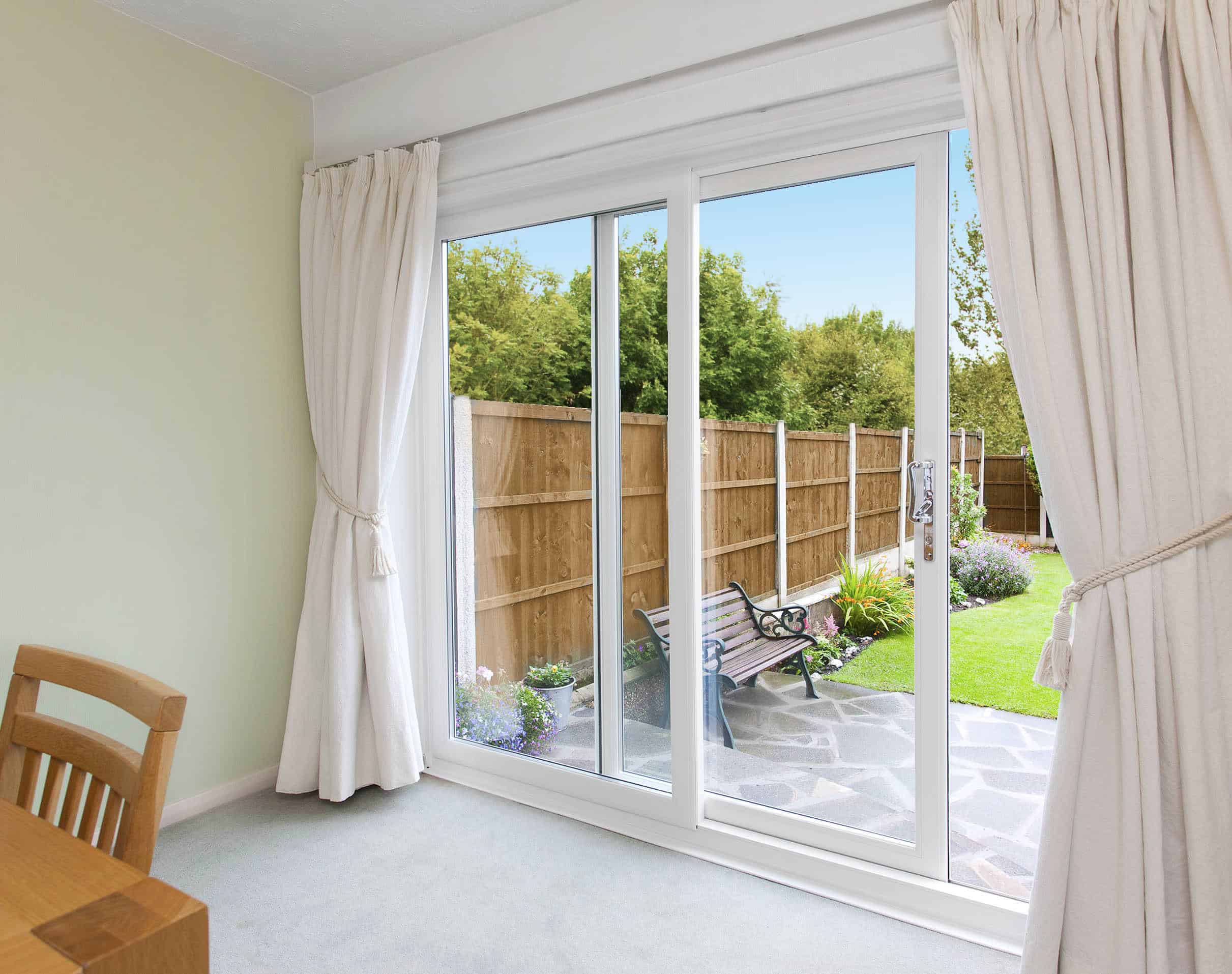 Quick and Easy
These uPVC Patio Doors took just over a day to install, which our Pangbourne customer was very impressed with. Our installers always take time to explain each process of the installation, and why they carry things out in certain ways. You can guarantee a quick and friendly installation process with Abbey Windows!
Using high quality uPVC from Sliders UK, our Patio Doors are incredibly durable, plus they are guaranteed for 10 years against warping, cracking or discolouration. Detail is incredibly important to us, which is why we always ensure you receive the best aftercare when choosing our uPVC doors.
High Security
Security was an important factor in our customer's uPVC Patio Door choice, which is why we recommended they try out highest security glass – Homeguard double glazing. A fantastic alternative to standard double and triple glazing, our Homeguard system uses a standard double glazed frame which incorporates 6.4mm clear laminated glass, with 18mm warm edge spacing with argon gas. Homeguard is accredited by Secured by Design, and is the same strength used on your car windscreen!
Our uPVC Patio Doors are made from superior strength uPVC, which ensures both security and durability. We've also included a Yale anti-bump cylinder, which allows our uPVC Patio Doors to be the most secure patio doors on the market!
With their exclusive six-point pincer action lock and unique security handle, our uPVC Patio Doors will keep your Pangbourne home and family safe and sound. Our customer was incredibly happy with the high level of security measures taken to improve the safety of their Pangbourne property.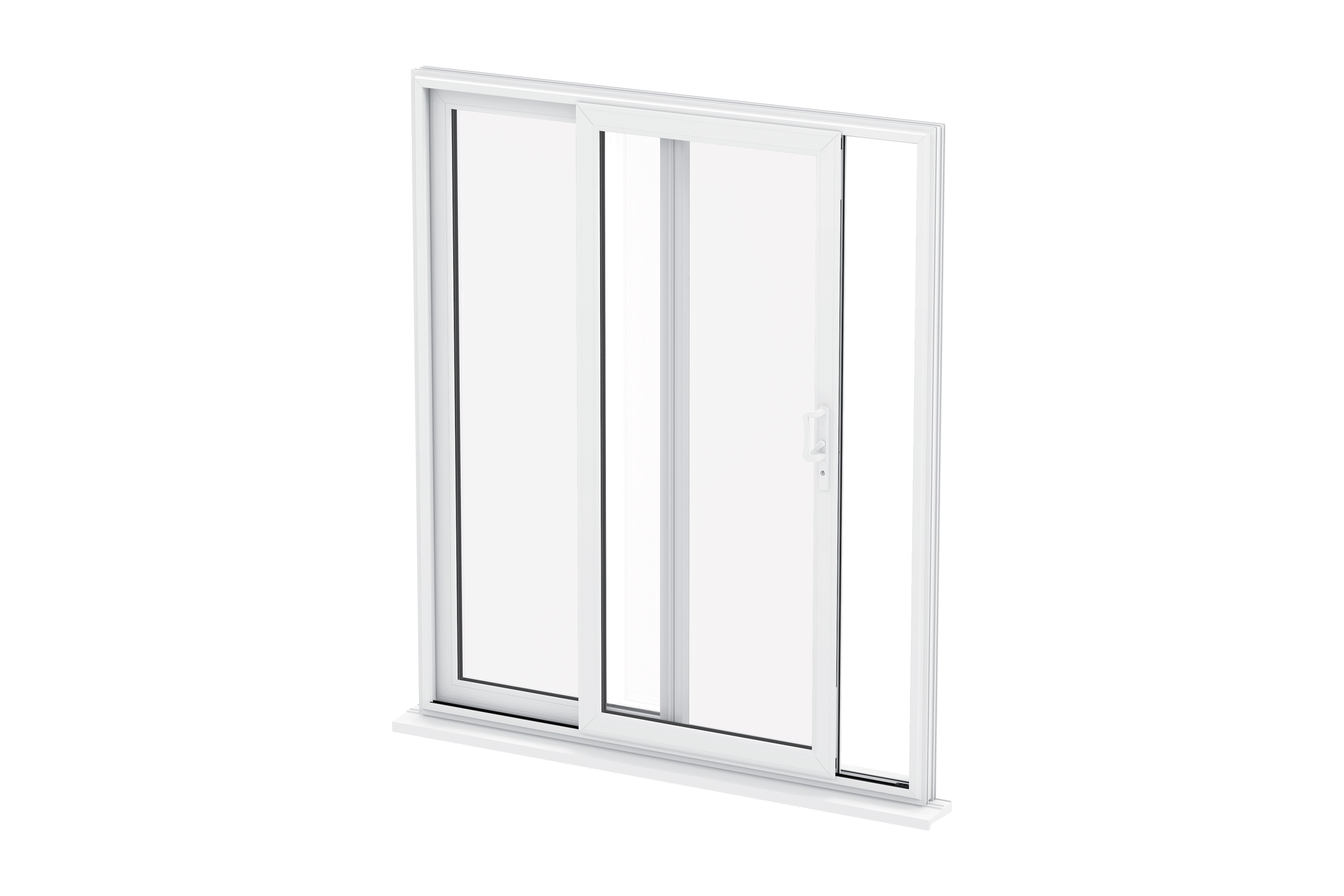 uPVC Patio Door Prices
Inspired to try beautiful uPVC Patio Doors for your Reading property? Here at Abbey Windows we offer very competitive prices, that don't compromise the exquisite quality of the product.
Start your instant online quotation today for incredible patio door prices, or get in touch now on 0118 956 6866 to speak to one of our helpful advisors. We're always happy to help!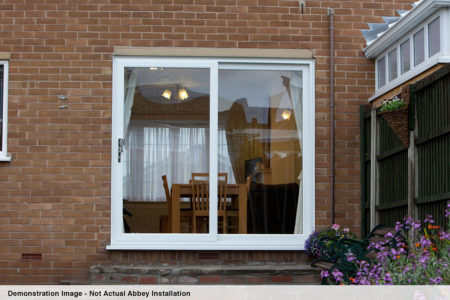 Lintel Installation for Patio Doors Purley, Reading
A Lintel is a structural support that sits above windows or doors. Lintels are required under current Building Regulations and must be installed where missing and any weight sits directly upon a door or window. Before and after examples here show how loose brickwork was removed, allowing a lintel to be installed and then another where we match mortar after cleaning and replace the original bricks.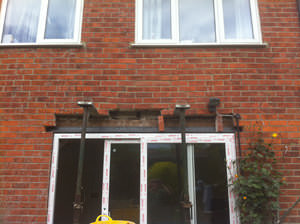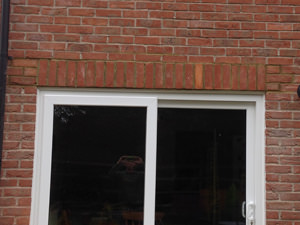 Leaving bricks without a lintel or adequate support or even worse, leaving them loose, not only represents a safety risk. Having no lintel above a window or door can also invalidate your building insurance and make a house sale difficult since ignoring Building Regulations is illegal.