Smart Glass
Our Smart Glass lets you switch between normal glazing and privacy glass in an instant! You can pair with your Alexa so, just with voice activation, you can swap between the two. Our brand new laminate switchable Smart Glass can be used as part of double glazed or triple glazed units.
The glass works by plugging into the main electricity of your home. Power on for viewing and power off for privacy glass, the transformer and wires are all included with the product so the units just have to be plugged into the mains supply when fitted.
You can flick between your switchable privacy glass by using the remote control, a light switch style panel that is fitted to the wall, an app on your smartphone, or through your Alexa. Quick and simple to switch between the two!
Features & Benefits
Alexa
You can use your Alexa to voice command your Smart Glass to switch between privacy and clear!
Switch
The switchable glass windows are fitted with a switch on the wall so you can flick between the two at the click of a button.
Smart Phone
Download our app and switch between privacy and clear glass from your phone, you don't even have to move from the sofa!
Easy to Use
Every way to use our Smart Glass is quick, simple and effective, the perfect addition to your home.
Perfect for Offices
The perfect way to keep some privacy in your office without the need for blinds, flick to privacy glass for your meetings with ease.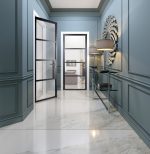 Privacy Glass
As well as Smart Glass, we can also offer privacy glass that comes obscured as standard. Ideal for bathrooms, bedrooms and other areas of the home where privacy is needed on a consistent basis, obscured glass can be patterned to ensure the visual appeal of your home isn't compromised. Select a design and an opacity to suit your preferences and needs with Abbey Windows.
Read More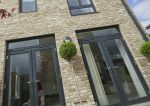 Heated Glass
Heated glass is one of the latest and greatest innovations in the glazing industry. As the name would suggest, the glass is engineered to emit heat internally, acting as another source of warmth amid the cold winters we experience here in the Thames Valley! There are choices to suit a wide range of window styles, so contact us today to discover how heated glass can change your home!
Read More
Smart Glass Prices Reading
Get in touch with our expert team who are on hand to help you with all your questions and queries about our Smart Glass.