Sliding Sash Windows in Reading
A traditional style uPVC window with the advantages of modern uPVC technology and functionality.
uPVC Sliding Sash Windows
You can take your pick from our extensive range of double glazed sliding sash windows in Reading – pulling together modern glazing technologies with all the classic appeal that sash windows can bring to your property. These frames and glazing options are ideal for bringing a touch of unique style to a new or modern property, while still benefiting from the latest glazing options. As well as this, all our sliding sash windows are guaranteed for a minimum of 10 years.
We understand that keeping the period charm and character of a traditional property is important when it comes to improving your double glazing. This is why Abbey Windows take great care and attention installing only the highest quality Liniar uPVC sliding sash windows in Reading and Thames Valley properties. You will benefit from the classic aesthetics of a timber sash frame but with all the advantages of improved energy efficiency, increased security levels and extremely low maintenance.
Abbey's uPVC sliding sash windows have been perfectly designed to emulate their character, which is further enhanced by the great care and attention paid to surrounding installation detail to sash windows in Reading and Thames Valley properties. Benefit from increased security and extremely low maintenance.
WER rating – uPVC Sliding Sash windows achieve a WER of A+14.
Superior Sliding Windows
Our sash windows are also perfect for updating an older property in Reading with ease; by removing older, wooden-framed single glazed windows and replacing them with our modern, A-rated double glazed sash windows you get the best of both worlds – brand new, secure and energy efficient windows with all of your property's original charm.
Thanks to the variety of designs on offer, you're able to get the perfect fit for your home – from something simple and white through to darker tones or wood-effect uPVC window frames, you can benefit from the durability and ease of maintenance that uPVC provides without compromising on style.
Your sliding sash windows in Reading will be as stylish as they are secure. All our windows are secured with Sac window locks. They meet Secured by Design standards as one of the most secure home improvements available on the market. This is due to their cutting-edge design, as they boast shootbolt locking systems that are up to 300% thicker than competitors' alternatives, making them highly secure.
Love the look and style of our sliding sash windows? We also offer sash horn windows, an authentic looking box-sash style window without the sliding functionality. Achieve the look and feel of a vertical sliding sash window with these cleverly designed sash horn windows.
Our sash windows in Reading and Wokingham are the perfect partner to other products within our double glazed windows range, allowing for complete consistency throughout your property. Our full range of frame designs and glazing options are available throughout our range – from standard double glazing through to our revolutionary Homeguard range.
Get In Touch
To find out more about our available double glazed sash windows in Reading please browse our site, check out our Homeguard brochure or contact your nearest Abbey Windows showroom.
You can also inquire online through our contact form – our team are always happy to provide everything from impartial advice through to pricing information on our windows and quotes for fitting our sash windows in Reading.
We are pleased to be able to offer you a range of flexible finance options to suit your budget.
Finance Options Now Available
We are pleased to be able to offer you a range of flexible finance options to suit your budget.
Choose our '5 Years Interest Free on our Harmony Range' or opt for our 'Buy Today with Nothing to pay for a whole year' option. With an extensive collection of finance options available, you can be sure to find the right option to suit your home improvement budget.
Calculate which finance option best suits your budget by using our loan calculator. Alternatively, you can speak directly with one of our expertly trained team; we are always on hand to help with all your finance queries.
Find out more about our finance options.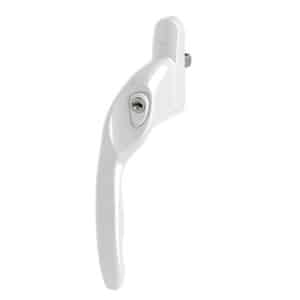 White Handle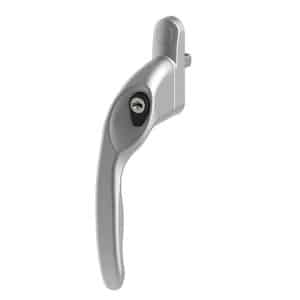 Silver Handle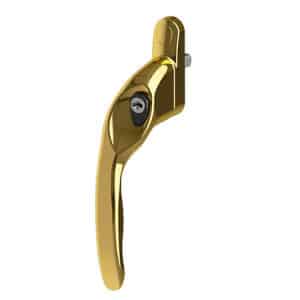 Gold Handle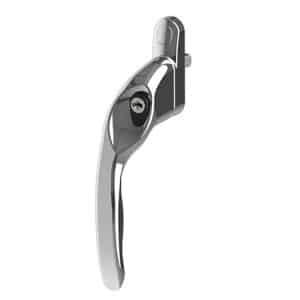 Chrome Handle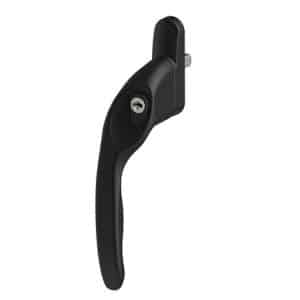 Black Handle
Liniar | The Market-Leading Choice For Your New Build.
This video shows why architects, specifiers and self-builders all over the UK are choosing Liniar for their new build projects.
Traditional uPVC Windows from Abbey Windows.
[contact-form-7 id="" title=""]
Sash Horns
Our sturdy 'run thru' continuous decorative sash horns are permanent (unlike others where parts are screwed or glued for effect) and improve the traditional appearance of sash windows in Reading.
Spring Balance
Spiral balances counteract the weight of uPVC sliding sash windows in Reading to create smooth and effortless operation.
Concealed Gasket
Low-level PCE gaskets are in place for sash windows in Reading to provide protection against the worst wind and rain and remain out of sight.
Safety First
Keep children and little fingers safe with added restrictors to stop the bottom of your sash windows from sliding fully in your Reading home.
High Security
uPVC vertical sliding sash windows are available in Reading with high security locking systems for complete safety.
Tilt Function
Optional pivot bars are built into sash windows in Reading to allow for a tilt function. Great for ventilation or easy cleaning at the push of a button.
Sliding Sash Window Colour Options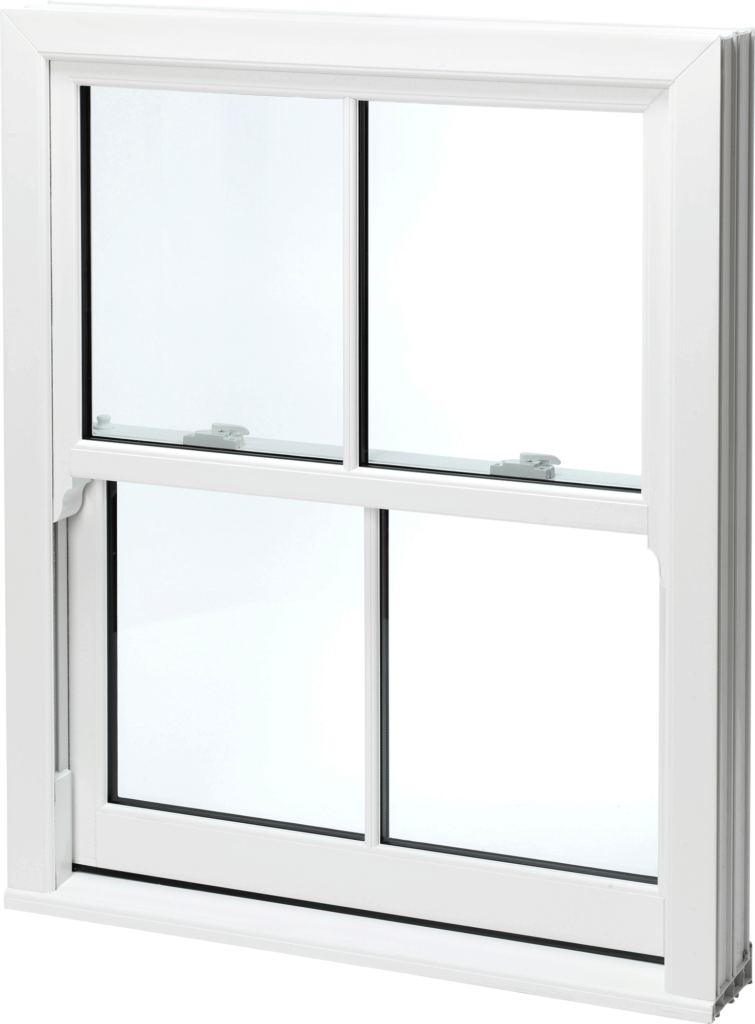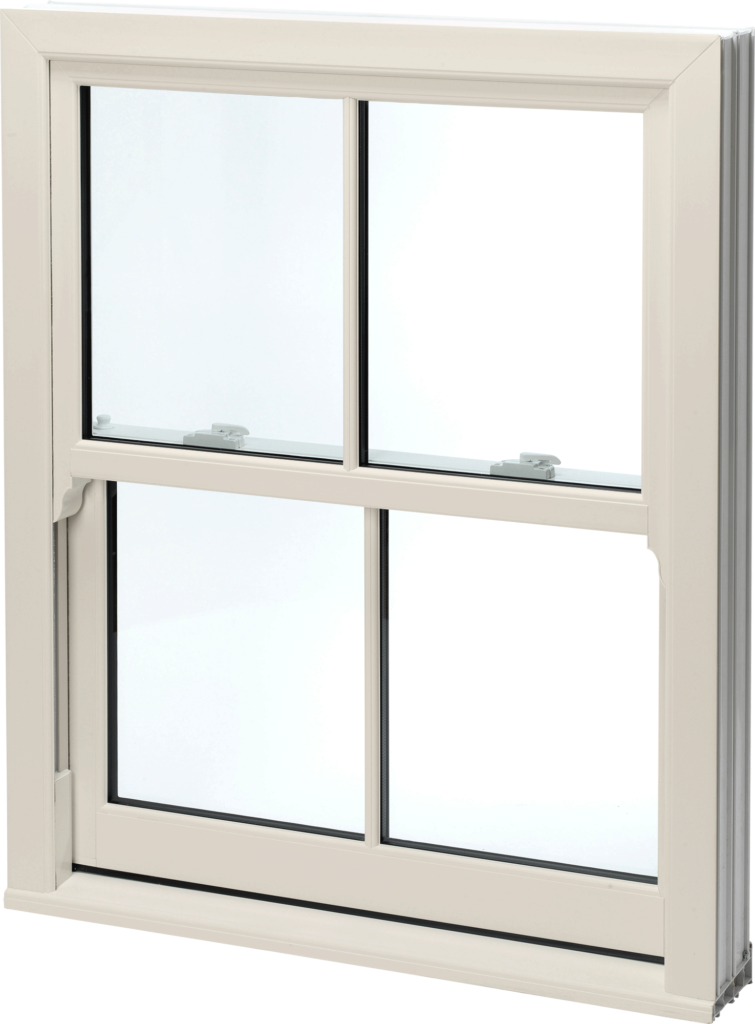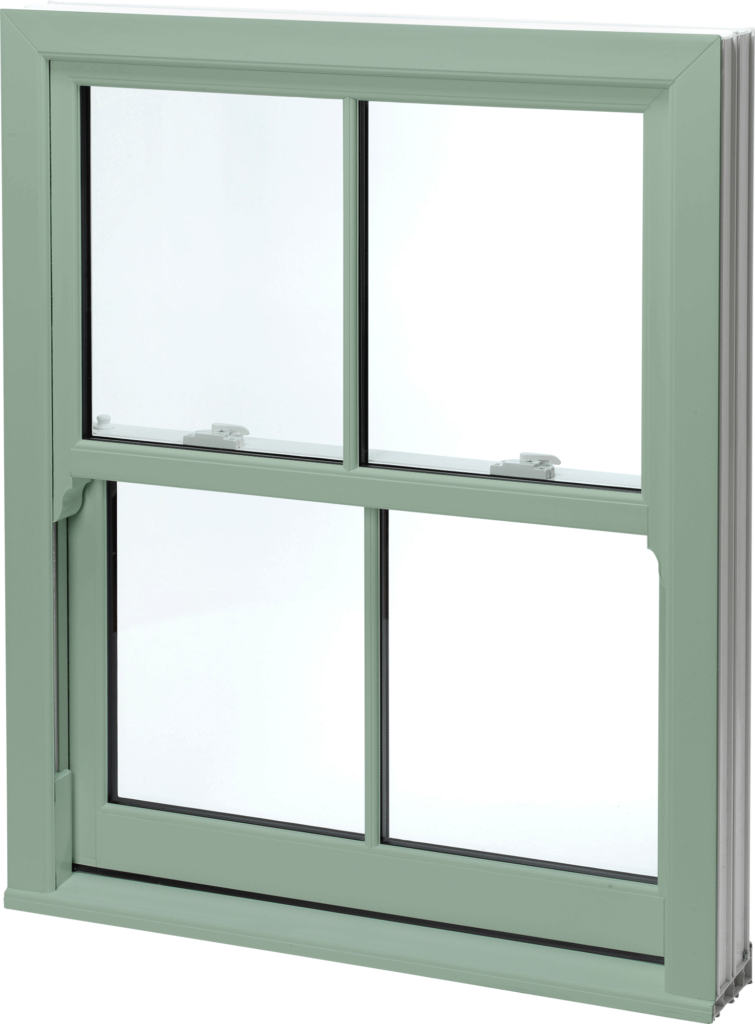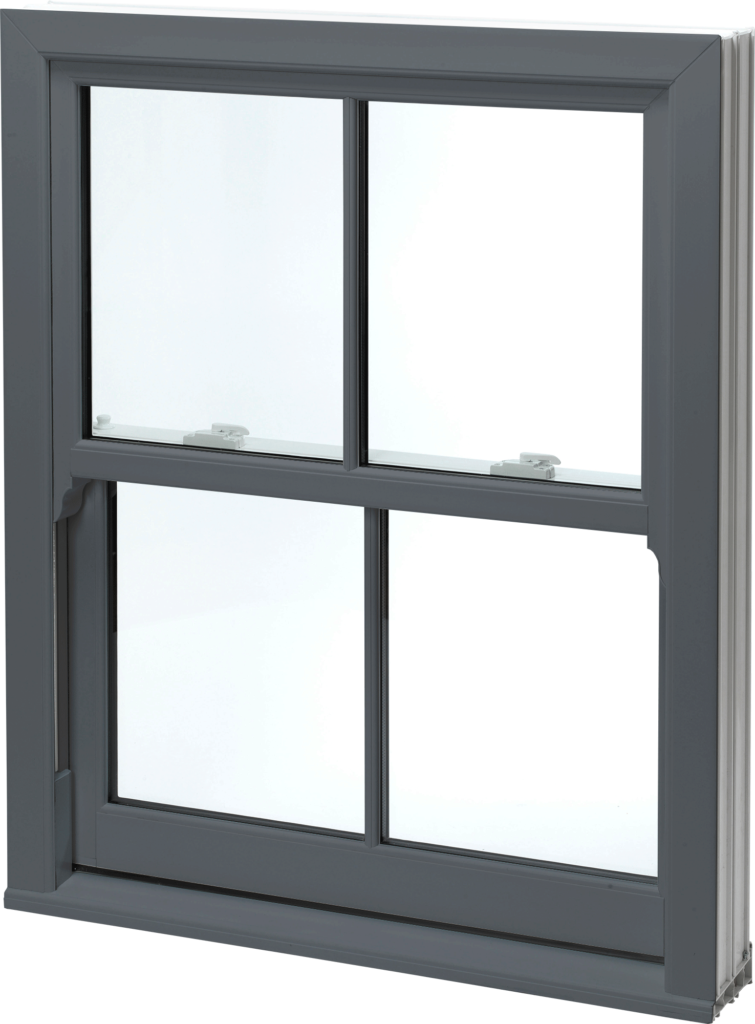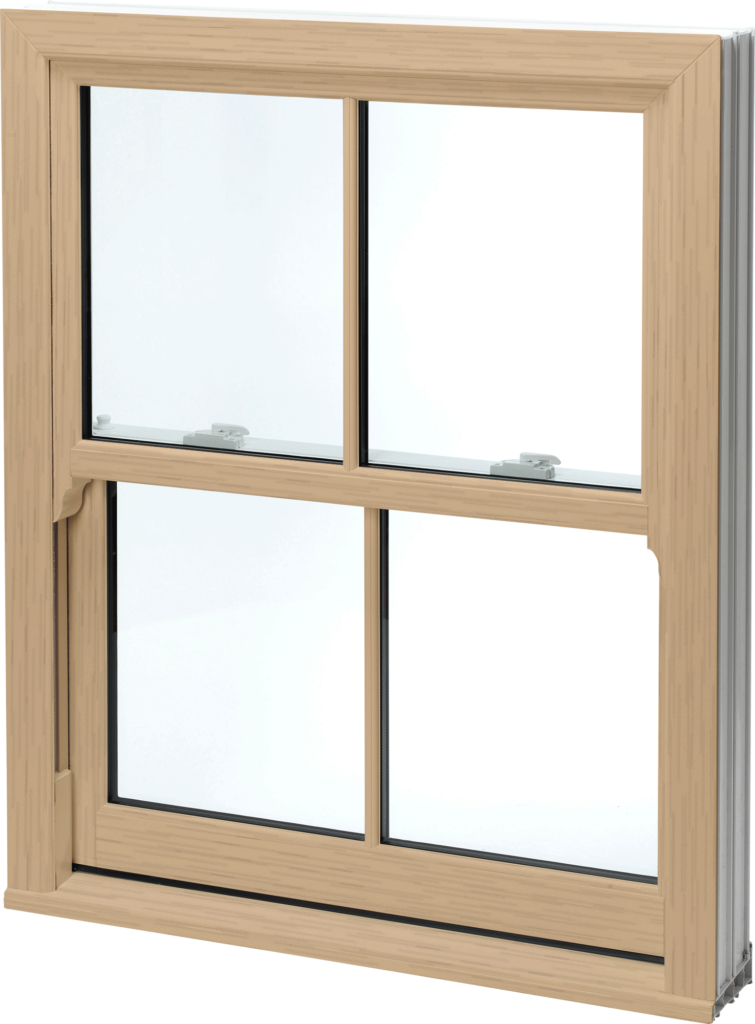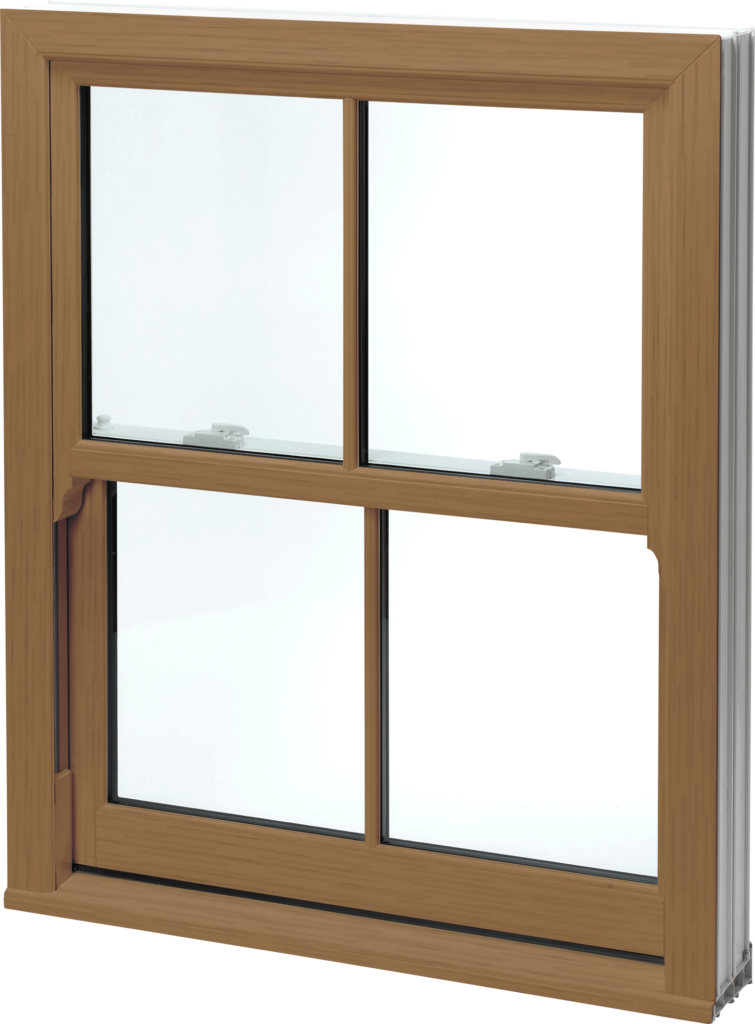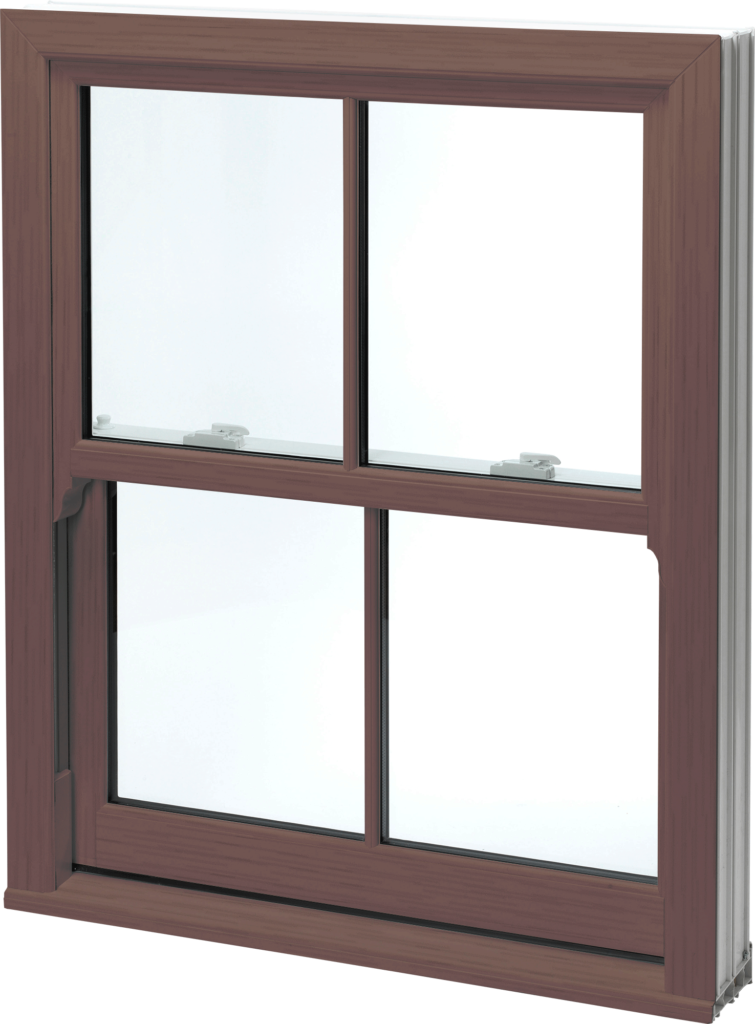 View our other window styles
Recent Projects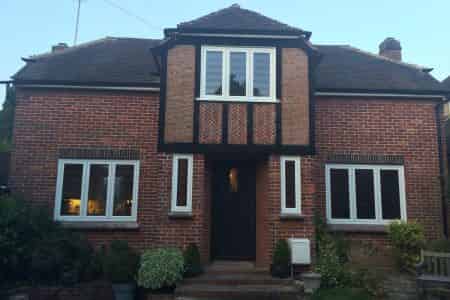 uPVC Windows Installation Reading
uPVC Window Installation in Reading, by the Abbey Windows team!
Our customers in Reading were looking to replace their outdated wooden windows with something more contemporary, that offered improved energy-efficiency and security for their home.
They were concerned they wouldn't be able to achieve the same traditional aesthetics that their old windows provided, but we explained that our exceptional uPVC windows could be tailored to their exact ideas and specifications.
BEFORE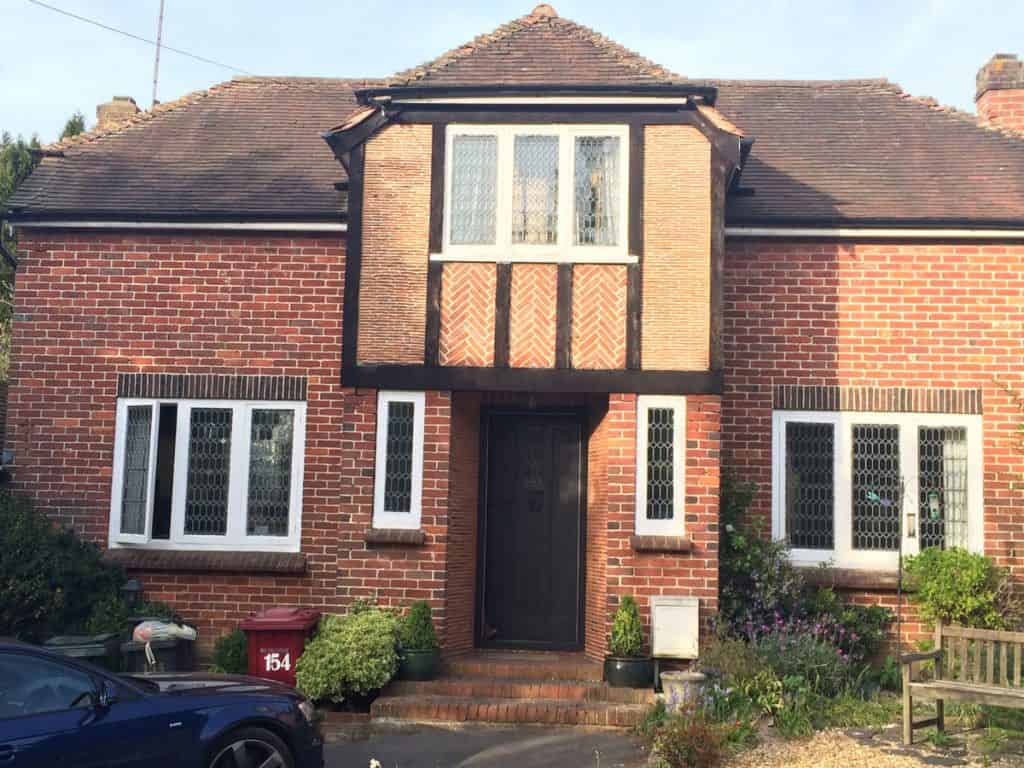 Smooth, Quick Window Installation
We showed our customers some designs and got started straight away. The installation didn't take long and our expert fitters took care to clean up after themselves as they went along, as well as after each day of work.
The installation didn't take long and our expert fitters took care to clean up after themselves as they went along, as well as after each day of work.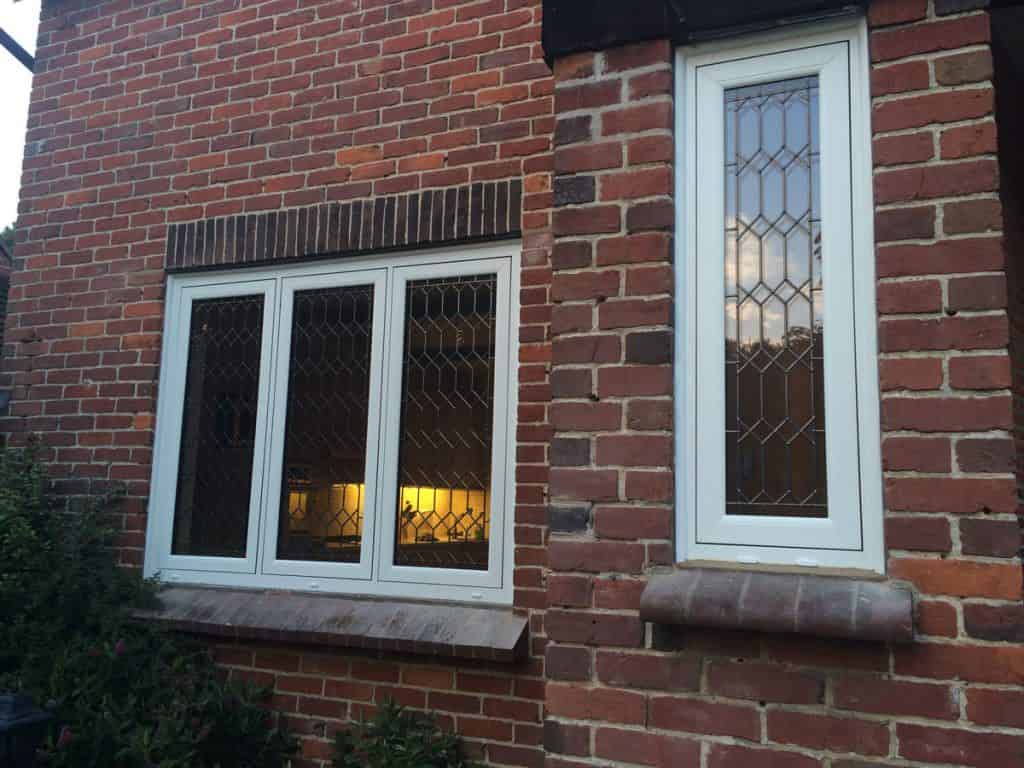 Secure and Energy Efficient uPVC Windows
Our uPVC window and door frames are of excellent quality, and our uPVC windows and doors feature a multi-chambered design to enhance heat retention and efficiency.
Accredited by Secured by Design, our uPVC windows have been designed to keep Reading property safe and sound.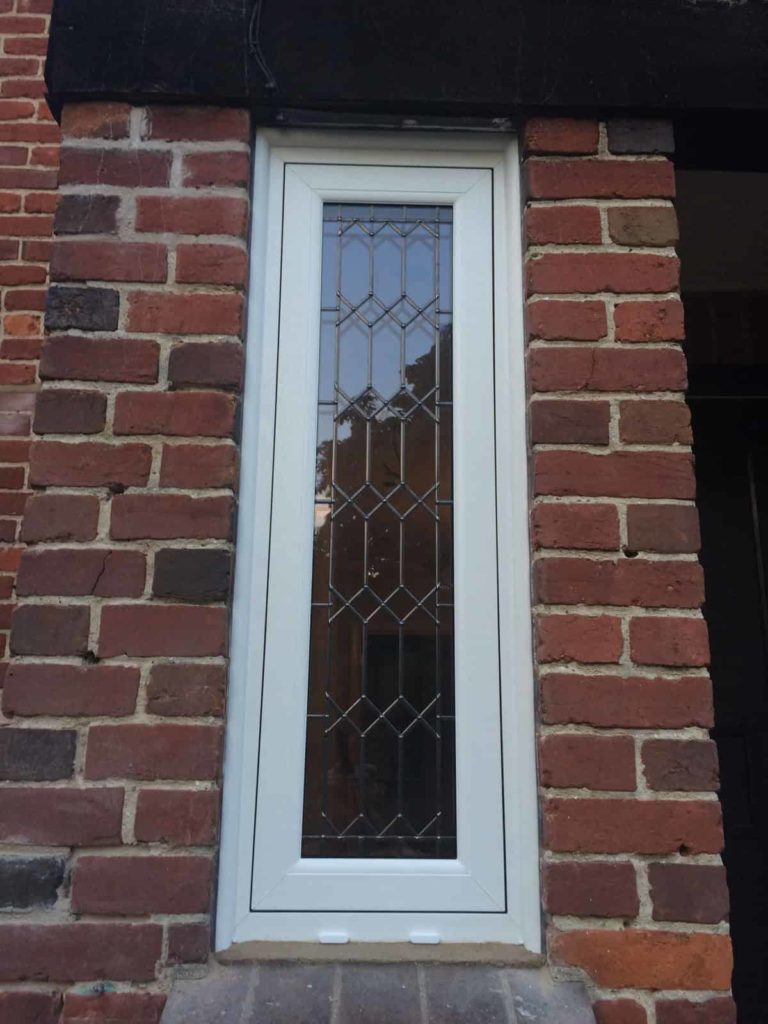 Happy Customers
Our Reading customers were so happy with the end result that they sent us some photographs and the following positive review!
'Hi Andy and Ashley
Just a quick note to say how pleased we are with the new windows and how the installation went yesterday.
The two Chris's and Liam were excellent. They worked really hard, were courteous, professional and did the job with as little fuss and mess as possible.
I thought I'd send you some pictures. The first one is how the original windows looked and the rest are the new installation. The whole idea was to replace the old, dysfunctional and rotting 1930's windows with new modern ones whilst keeping the style of the house the same, as the detailed leading was such a distinctive feature of the property.
As you can see this is exactly what was achieved and we really appreciate your hard work getting the frames and lead design just right. We like that we removed one vertical lead pattern from each window as this has also had the desired effect of increasing the light in the rooms.
If you want to take more professional pictures please feel free to do so and we would happily act as a reference for any future Abbey Windows customers with similar requirements.'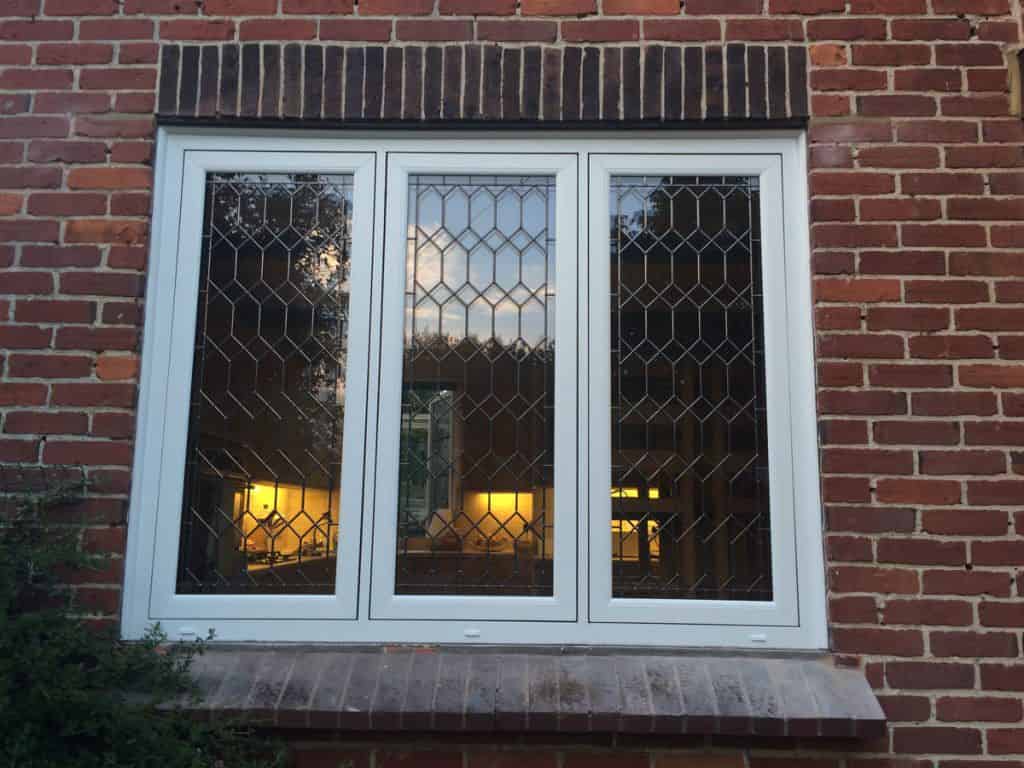 uPVC Window Prices in Reading
Have you been inspired by our happy customers' new windows? Call us today for your bespoke consultation! Our team of experts will be happy to arrange an appointment where we can go through some ideas and find the perfect uPVC windows for you and your home.
If you would like to make an online quote, visit our easy-to-use quoting engine! You can choose how your new windows will look and get competitive window prices in Reading and surrounding areas.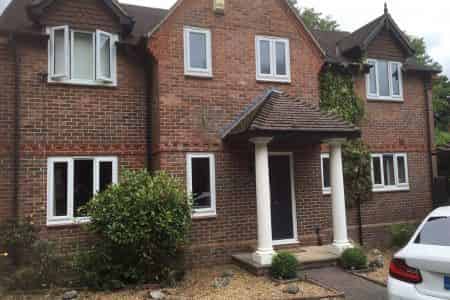 Replacement Windows and Doors Reading
Stunning replacement windows and doors in Reading by Abbey Windows!
Does your Reading home need better double glazing? We are the experts when it comes to replacement windows and doors, and we have an excellent double glazing installation story that we would like to tell!
We were approached by a couple that had recently purchased a large house on a maintained private estate. The existing double glazing included wooden windows, that offered little to no energy-efficiency and required constant cleaning and attention.
BEFORE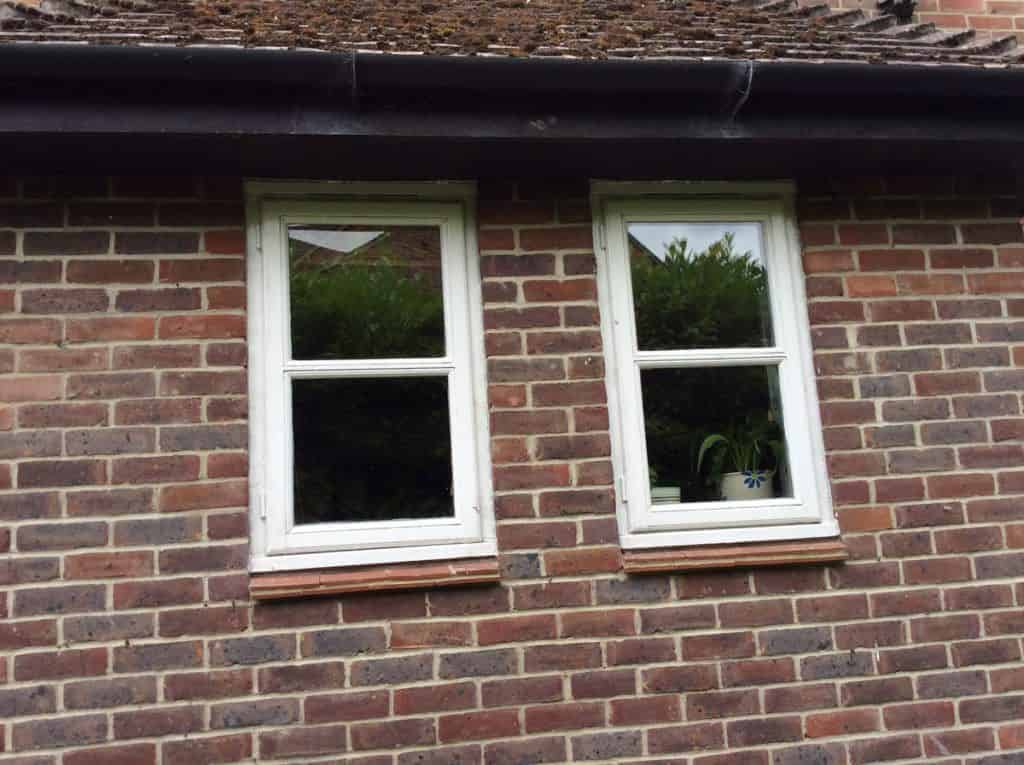 uPVC Windows and Doors
We recommended our beautiful uPVC window and doors range to our Reading customers, as they offer superb thermal-efficiency and can be tailored to all kinds of styles and property types.
The double glazing survey was conducted prior to the customer moving in to ensure that the customer could have their replacement windows as soon as possible after they moved in. We always want the installation process to be as simple as possible, which is why we listened to our customers needs and arranged the double glazing installation to suit them.
We always want the installation process to be as simple as possible, which is why we listened to our customers needs and arranged the double glazing installation to suit them.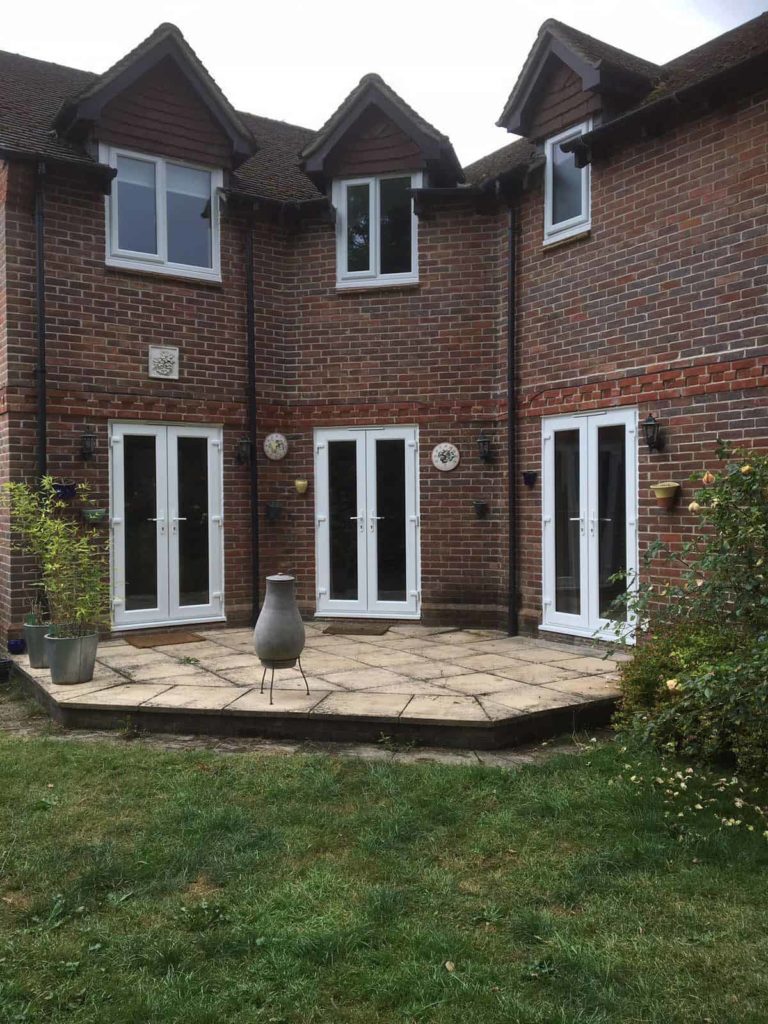 Smooth Installation
Abbey actually installed the windows and doors on the week the customer moved in allowing them to get on with all of their other renovation works without delay.
Our double glazing are always fitted carefully and with as little impact to your day to day life as possible.
They are incredibly secure, fitted with Yale locking systems that are Secured by Design accredited, and offer the very best energy ratings on the market.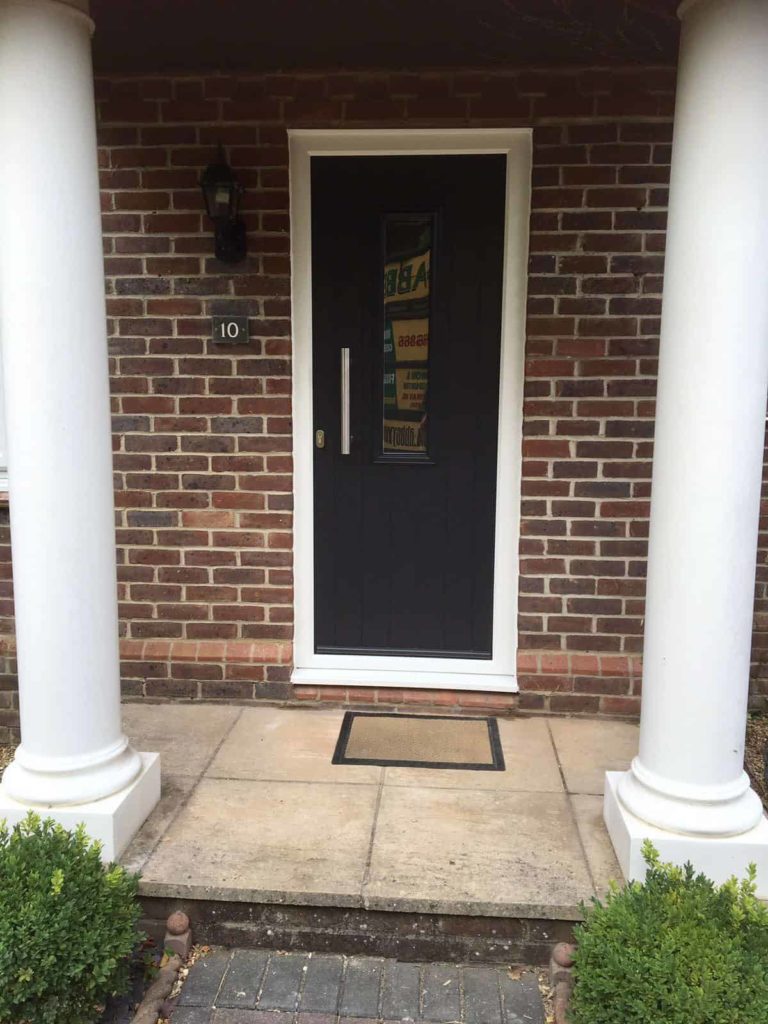 End Result
Our customer was over the moon with the products and the energy saving benefits over the old wooden windows as well as the fact that they no longer have those astronomical decoration bills.
Their new house looked far more contemporary than before, and has already benefitted their utility bills!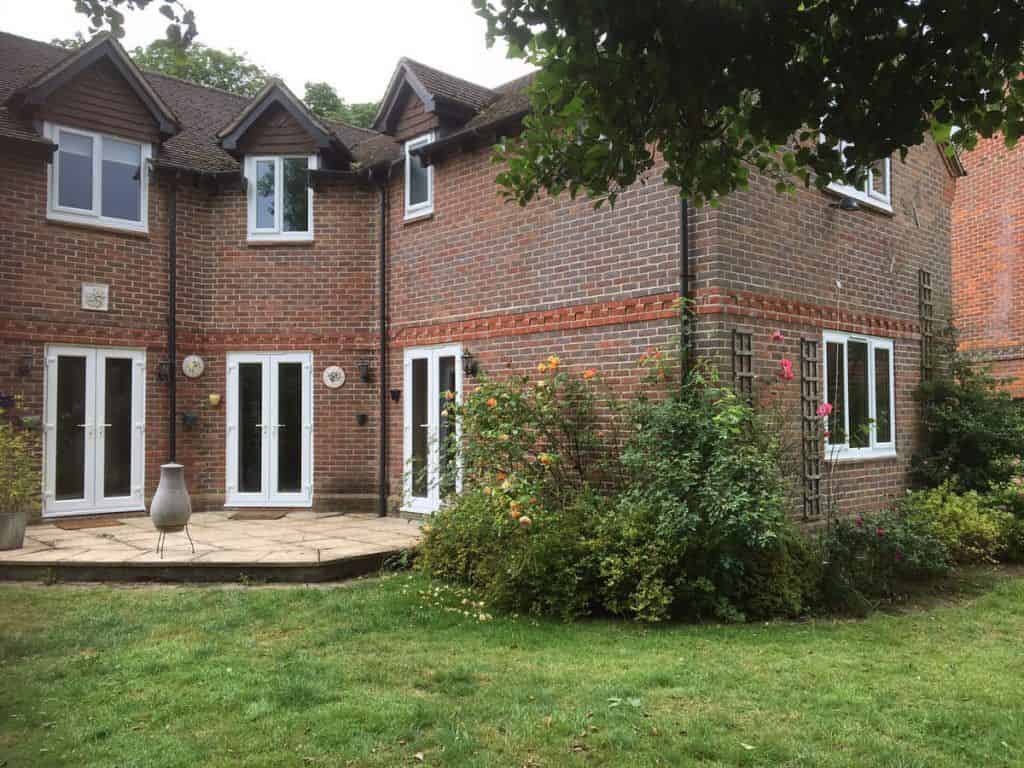 Replacement Window Prices in Reading
Have you been inspired by our customers' new replacement windows? Start your online quote today for competitive window prices in Reading – our simple quoting engine will give you double glazing quotes in Reading that are tailored to your design choices.
If you're looking for more information, call us on 0118 956 6866 or complete our online contact form. One of our helpful advisors will be in touch to discuss your new replacement windows!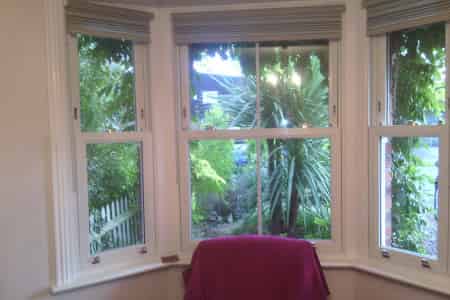 uPVC Sliding Sash Window Installation Pangbourne
uPVC Vertical Sliding Sash Window installation carried out in Pangbourne by the Abbey Windows Team
A couple in Pangbourne have recently had a uPVC Sliding Sash Window replacement for their Pangbourne home. They wanted a replacement that would keep the authenticity of their Victorian style home, with more modern, energy efficient equivalents.
Our stylish uPVC Sliding Sash Windows have given their Reading home a new lease of life in appearance and functionality, while in keeping with the classic aesthetics.
Badly Insulated Windows
New uPVC Windows were necessary in this case, as the couple's existing windows held little to no thermal-efficiency benefits. This meant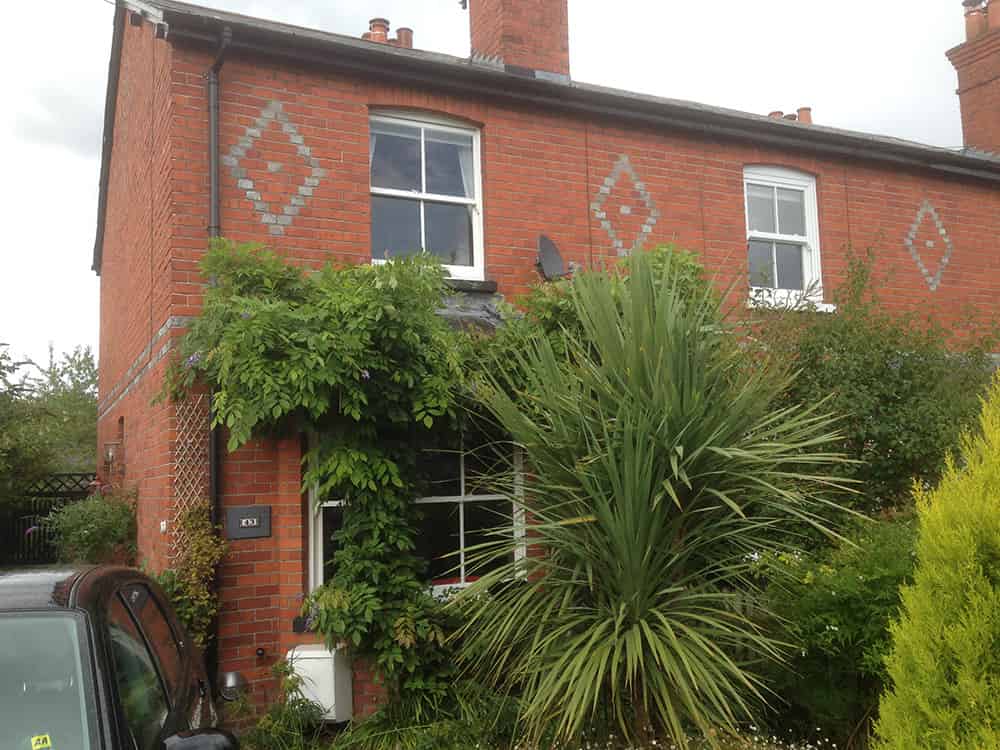 they regularly suffered a frustrating breeze coming through their Pangbourne home, which affected the overall temperature of their home.
Owning a beautiful period property, the couple wanted to maintain the authenticity of their home, but were in desperate need of contemporary benefits including thermal-efficiency and security.
uPVC Sliding Sash Windows Replacement
We made an initial visit to the property to show the couple a sample product to display how it would blend with their property and the benefits they would be achieving. The customers commented on the fact that there was 'no pressure, no fuss', and 'the whole process [was] very easy'.
Following the visit, the customers decided to contract Abbey Windows to install their new uPVC Sliding Sash Windows into their Reading property. So what did the installation entail?
Quick and Easy Installation
Installing the new uPVC Sliding Sash Windows was underway within a couple of weeks, with our dedicated in-house fitters working hard to create a beautiful end result with as little upheaval to our customer as possible.
The couple were extremely pleased with the expertise and technical skills of our craftsmen, content that 'the fitters were friendly and experienced' and 'explained every step of the works from start to finish'.
Here at Abbey Windows we always endeavour to keep you aware of the installation process as much as possible, while making sure we always keep your home tidy throughout the installation and cleaning all debris after ourselves.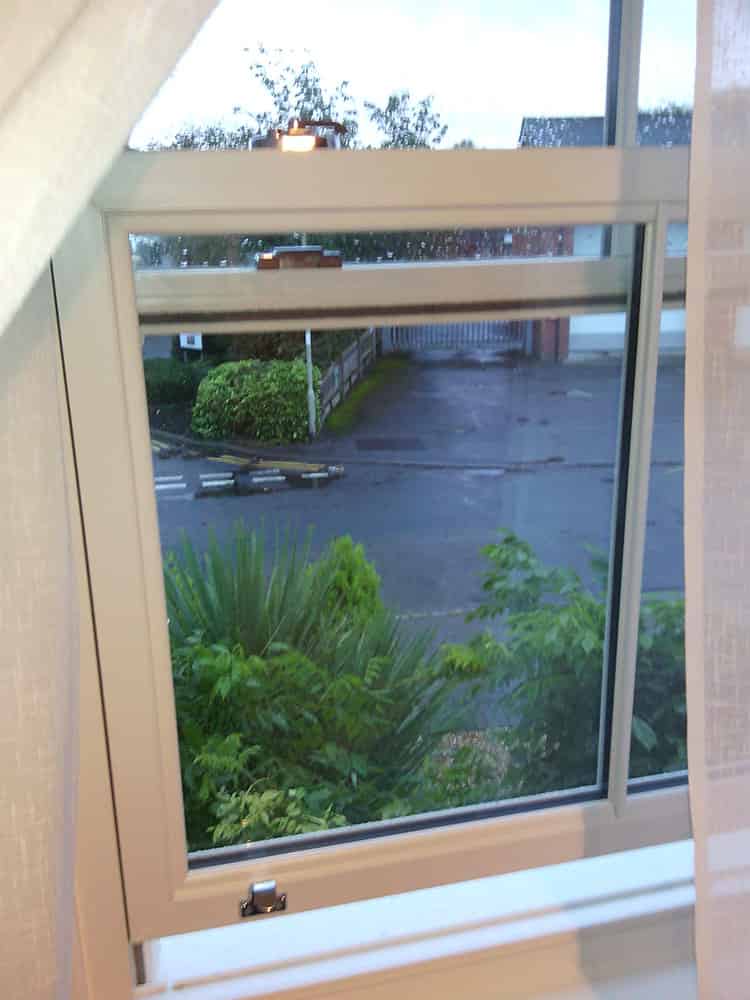 uPVC Sliding Sash Windows – The End Result
The work was completed efficiently and with a beautiful end result. We think you'll agree, the uPVC Sliding Sash Windows look beautiful on the couple's Pangbourne home.
Since installing their new uPVC Sliding Sash Windows, our customers have found their heating bills have significantly decreased. Using multi-chambered technology, our uPVC Sliding Sash Windows trap warm air in their uPVC profile and actively keeps cold air out. Our double glazed windows are a fantastic way of keeping your Reading home warm while keeping the authenticity of period aesthetics.
Our Pangbourne customers were so happy with the standard of work and high quality result that they have contracted Abbey Windows to add a new front door to their property! Much of the work we carry out is based on previous installations and recommendations, which makes us incredibly proud that our high standard of work creates such a loyal customer base.
uPVC Sliding Sash Window Prices
Have you been inspired to update your Reading property with uPVC Sliding Sash Windows? Start your instant online quote today for competitive double glazing prices – it's easy to find the perfect double glazed window for you.
Alternatively, it's easy to get in touch for more information on our fantastic uPVC Sliding Sash Windows. Our friendly team are always happy to discuss your design ideas and specifications.
Give us a call on 0118 956 6866 or fill in our online contact form. We'll respond with a quick reply in no time!