uPVC French Doors in Reading
View our uPVC French doors. A timeless design and the perfect entryway onto your garden.
Abbey offer a superb range of uPVC French doors to homeowners like you in Reading that will look great in both traditional style homes and more contemporary new builds. French doors offer a sense of sophistication to your home and with their unrestricted views you can enjoy fresh air and natural sunlight to your Berkshire home throughout the year. Capable of achieving an energy rating of A+ you will benefit from a warmer property even throughout the coldest seasons. For your convenience, we fit a simple and stylish cabin hook to help hold your door open. We even fit a simple handle operated lock to the second door for your convenience.
The Abbey Windows installation team supply and install these stunning French Doors in Reading, Wokingham, Bracknell, Henley, Basingstoke, Wallingford, Didcot, Newbury, Maidenhead, Windsor and throughout Berkshire.
uPVC French doors in Reading homes make an excellent addition to a conservatory or simply as an elegant back door, creating a seamless connection to your garden or patio area. Extremely robust and structurally secure, these uPVC French doors are fitted with high security locking systems from Yale and are built to last a significantly long period of time, so you can enjoy your new doors for many years.
French Door Advantages
There are numerous advantages to choosing our Liniar uPVC French doors in Reading. Designed to help you save money on your heating costs you will notice how much warmer your home is by simply having new double glazing installed. Old and tired windows and doors are prone to letting in draughts and cold spots, but with our brand new uPVC double glazing your home will remain warmer and much more sound proof for longer.
French Door Prices
Are you looking for instant French door costs? Use our free online quote generator to benefit from our competitive French doors prices in Reading.
If you require any additional information, you can get in touch via our contact form, or call us on 0118 956 6866
We are pleased to be able to offer you a range of flexible finance options to suit your budget.
Finance Options Now Available
We are pleased to be able to offer you a range of flexible finance options to suit your budget.
Choose our '5 Years Interest Free on our Harmony Range' or opt for our 'Buy Today with Nothing to pay for a whole year' option. With an extensive collection of finance options available, you can be sure to find the right option to suit your home improvement budget.
Calculate which finance option best suits your budget by using our loan calculator. Alternatively, you can speak directly with one of our expertly trained team; we are always on hand to help with all your finance queries.
Find out more about our finance options.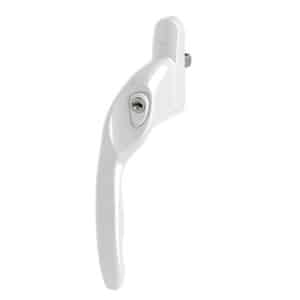 White Handle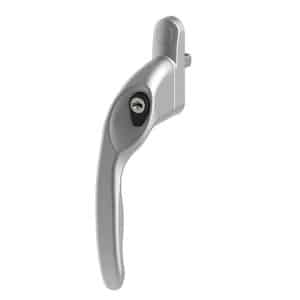 Silver Handle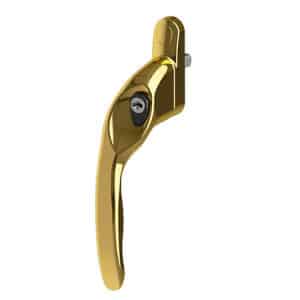 Gold Handle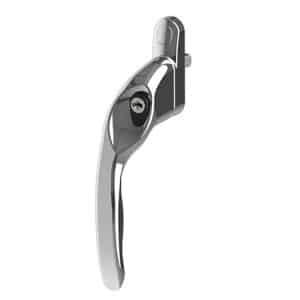 Chrome Handle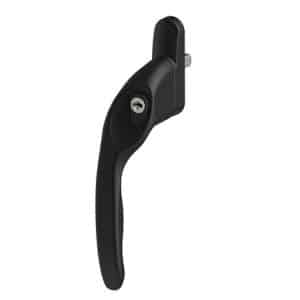 Black Handle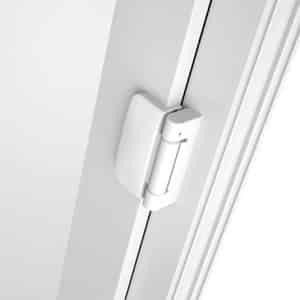 White Hinge on White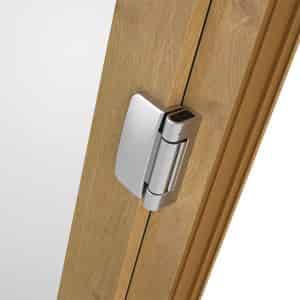 Silver Hinge on Irish Oak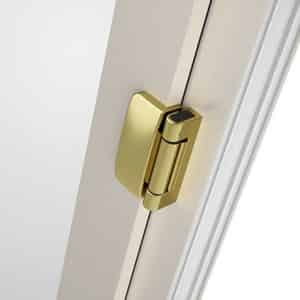 Gold Hinge on Cream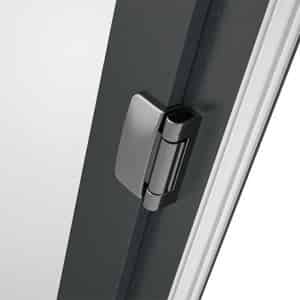 Smoked Hinge on Anthracite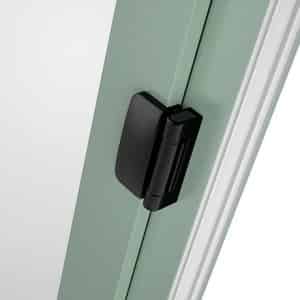 Black Hinge on Chartwell Green
Setting the Standard with Abbey Windows.
Safety Glass for your Doors and Windows.
[contact-form-7 id="" title=""]
Get Prices for Your French Doors Online
It's quick and simple to use, all you have to do is enter your French doors options, measurements and post code and you'll see your instant, free and no obligation guide price.
Start Your Quote
Security Shootbolts
Fitted as standard with Yale Lockmaster multi-point locks with high security shootbolts supplied as standard.
10 Year Guarantee
French doors come with a 10 year manufacturer's guarantee against cracking, warping or discolouration.
Milled Threshold
Exclusive milled frame-to-threshold jointing systems are fitted which eliminates moulded plastic end caps.
Door Restrictors
Choose optional fitted restrictors for your doors to avert damage by stopping opening past a set angle.
Hinges by SFS Intec
Available in 8 different colours and Premium Italian 'Dynamic 2D' door hinges for a slimline design.
Cohesive Colour
We offer a great collection of RENOLIT foils available across the whole Liniar products range.
Liniar French Door Colour Options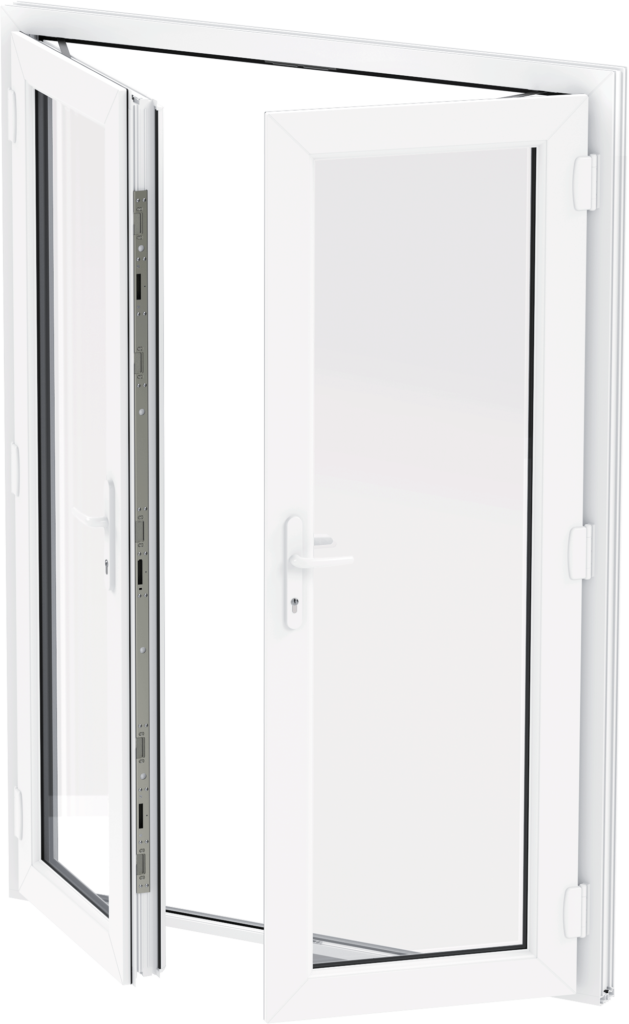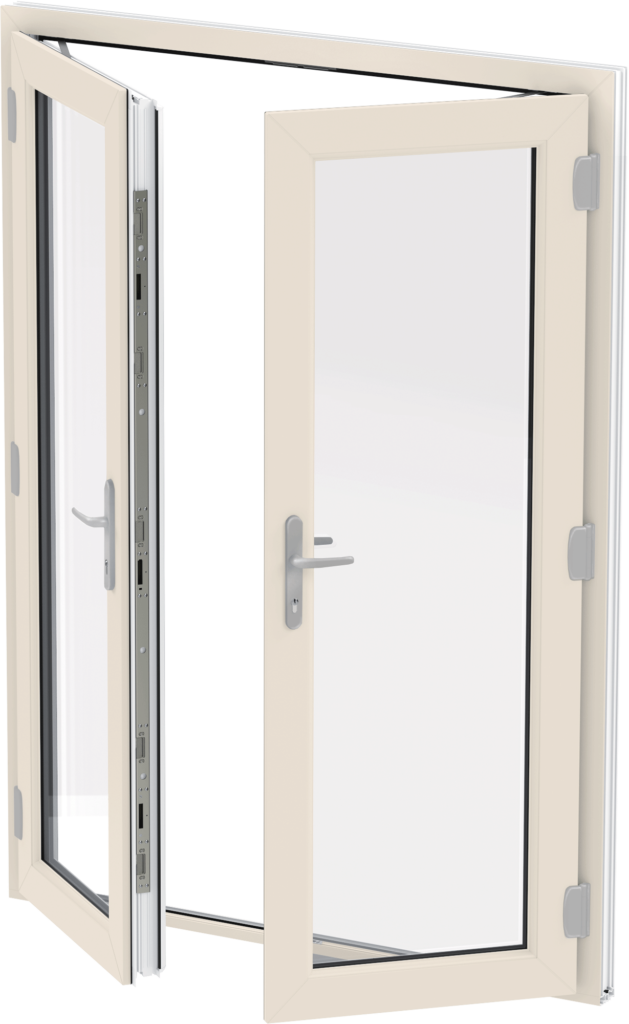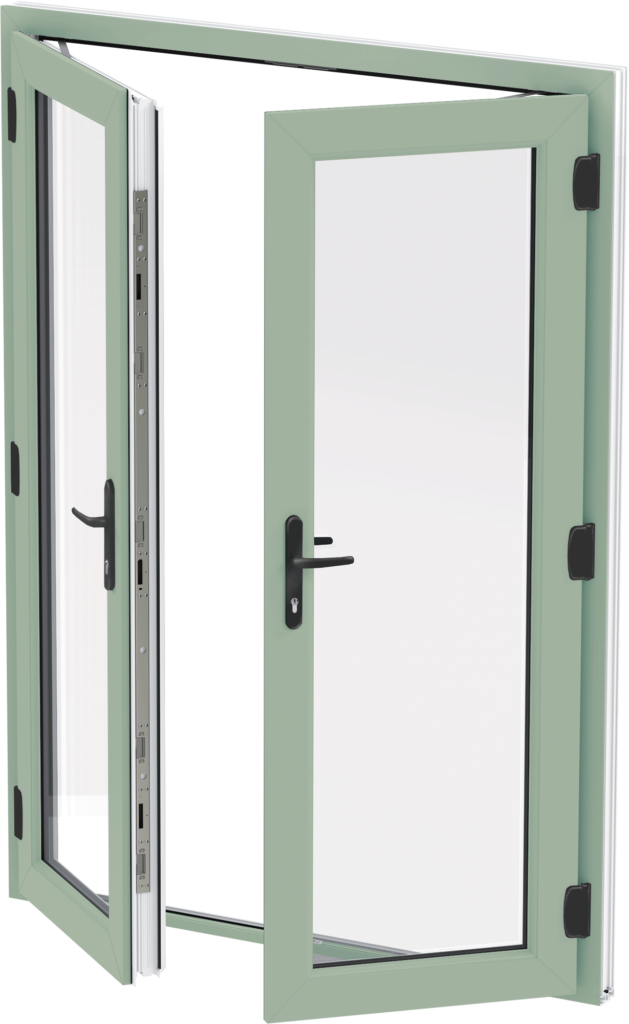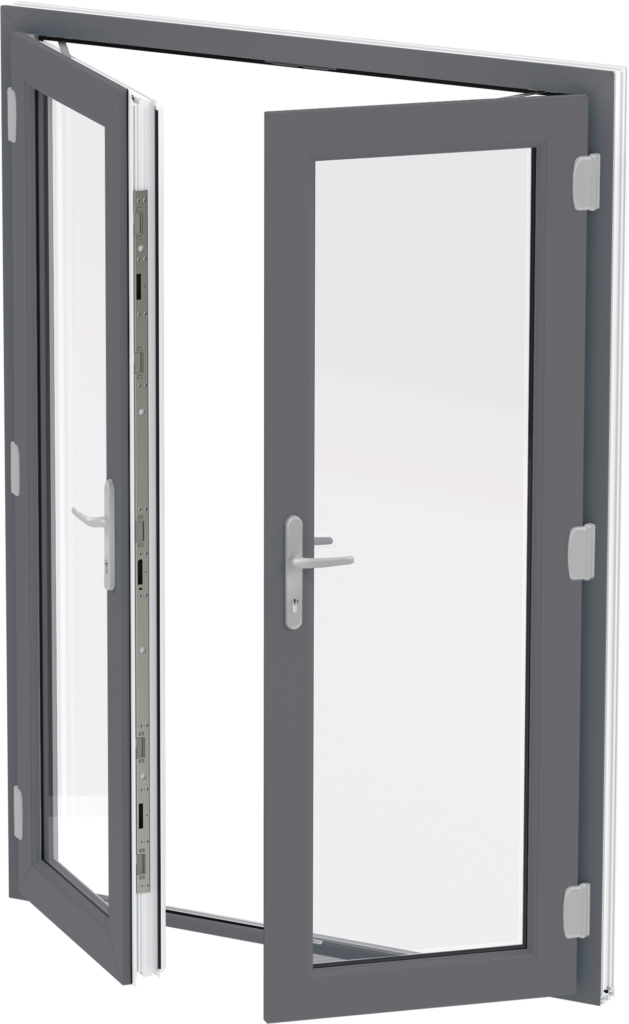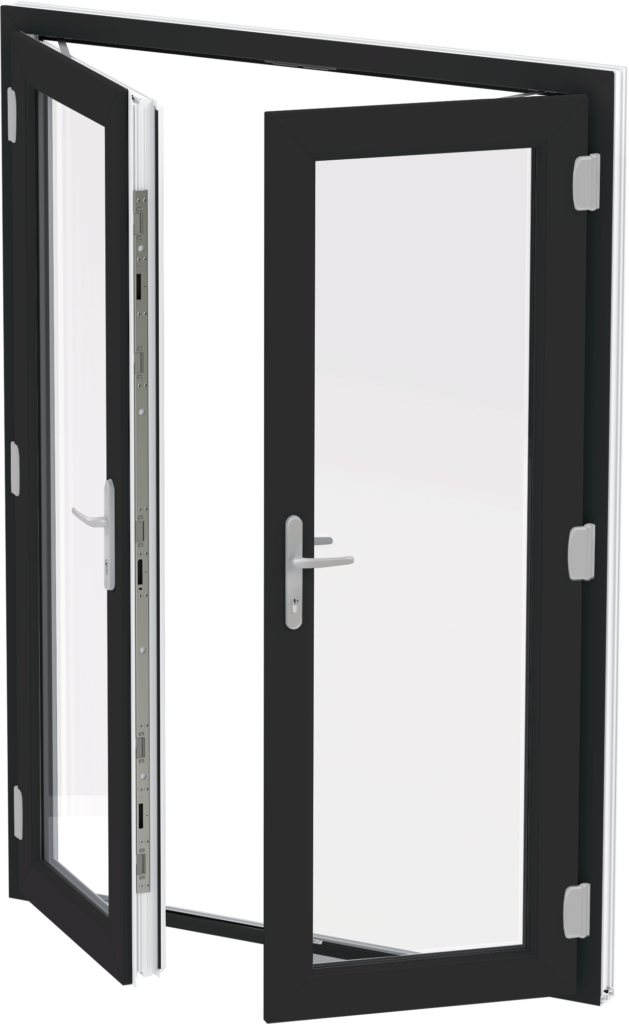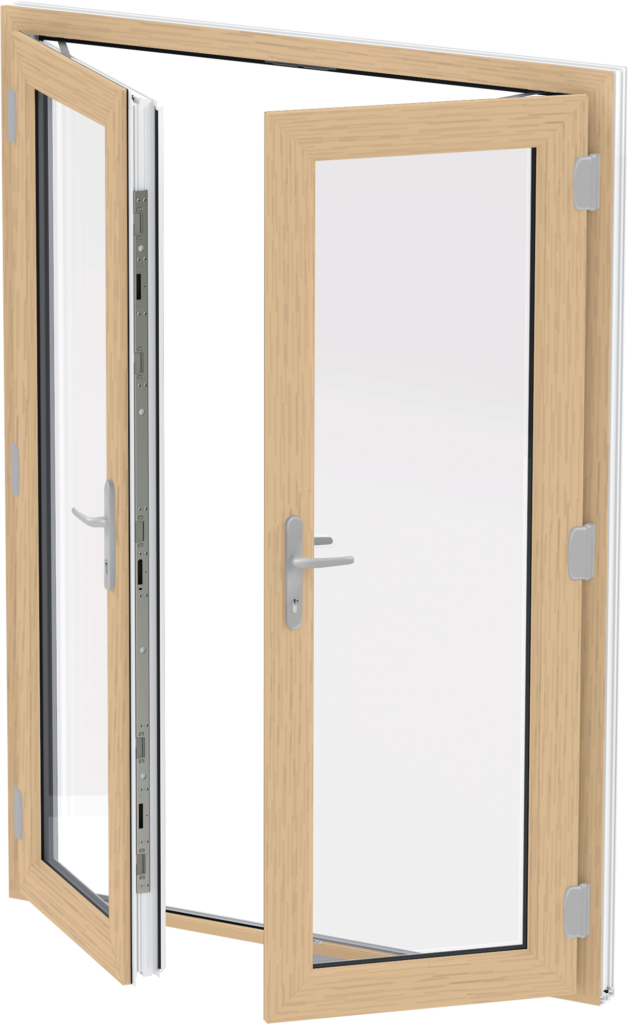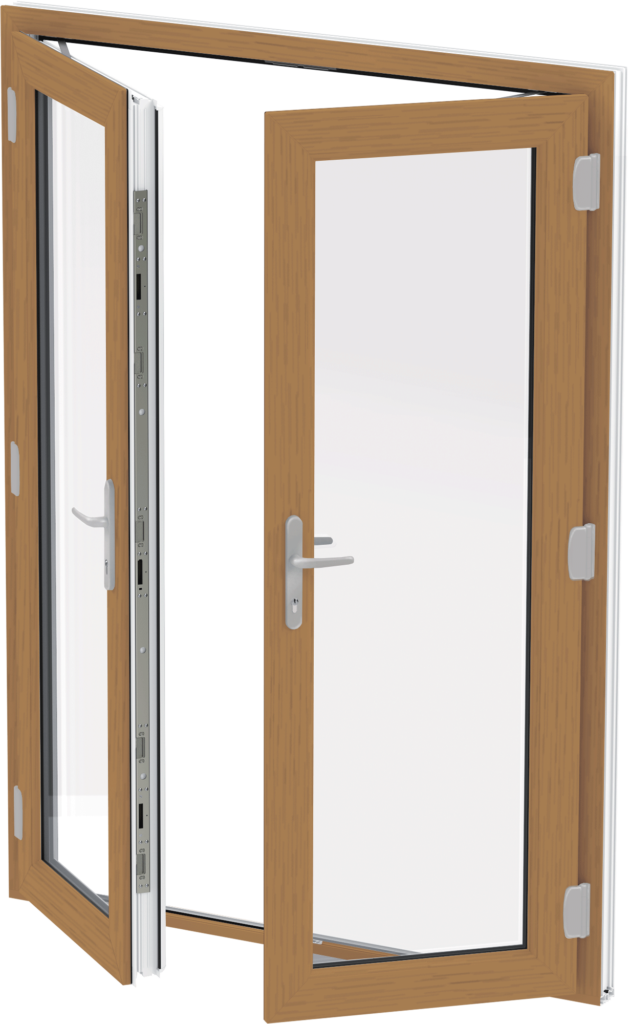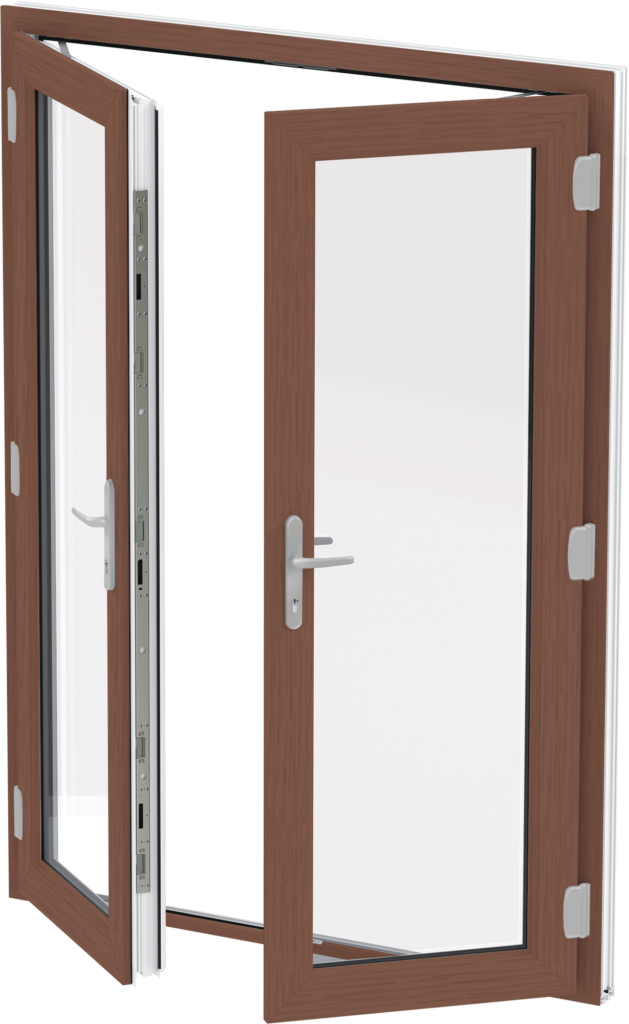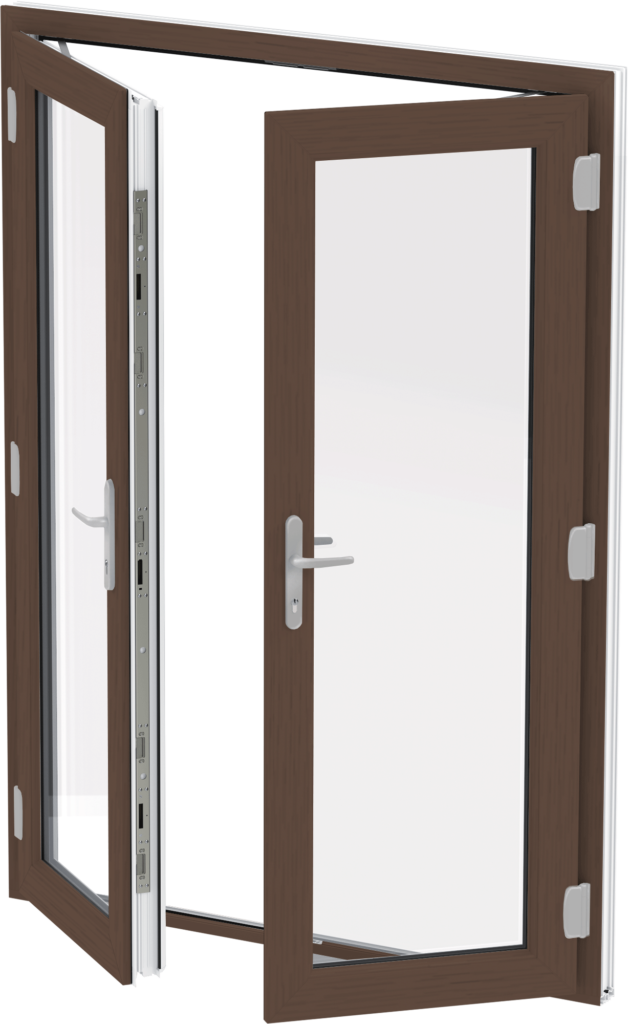 View our other doors styles
Recent Projects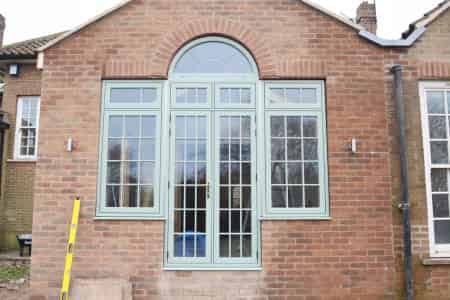 French Doors and Sash Window Installation Wokingham
Beautiful Extension with French Doors and Flush Sash Windows carried out by the expert Abbey Windows installations team.
Our Wokingham customers wished for more space out the back of their property, as they were looking for a bigger area for their children to play in but they really weren't keen on the idea of moving house.
They opted for an extension to solve this problem, complete with large flush sash windows and Liniar French doors to the rear of the property. They also decided on some glass windows within the roof to let in more light.
Keen to get started, the Abbey Windows installations team paid our Wokingham customers a visit to take measurements and ensure the customers were happy with the double glazed windows and doors they had chosen.
Flush Sash Windows
The family chose our ever popular Flush Casement Windows for the rear of the new extension. Flush sash windows are the latest exciting development from Liniar, offering the realism of a traditional pre-1932 timber window combined with 21st century thermal benefits.
Many property owners require a traditional timber window frame, sometimes due to planning or environmental restrictions. Liniar saw the need to develop a casement window frame that would fit into any property where the sash fitted flush into the frame – and which could be foiled to look like traditional timber or to offer a sleek, contemporary finish.
Opting for the beautiful 'Chartwell Green' foil finish, our Wokingham family went for a classic finish with a pop of colour. Available in a range of colours, our Flush Casement Windows can be designed to suit all kinds of Wokingham homes.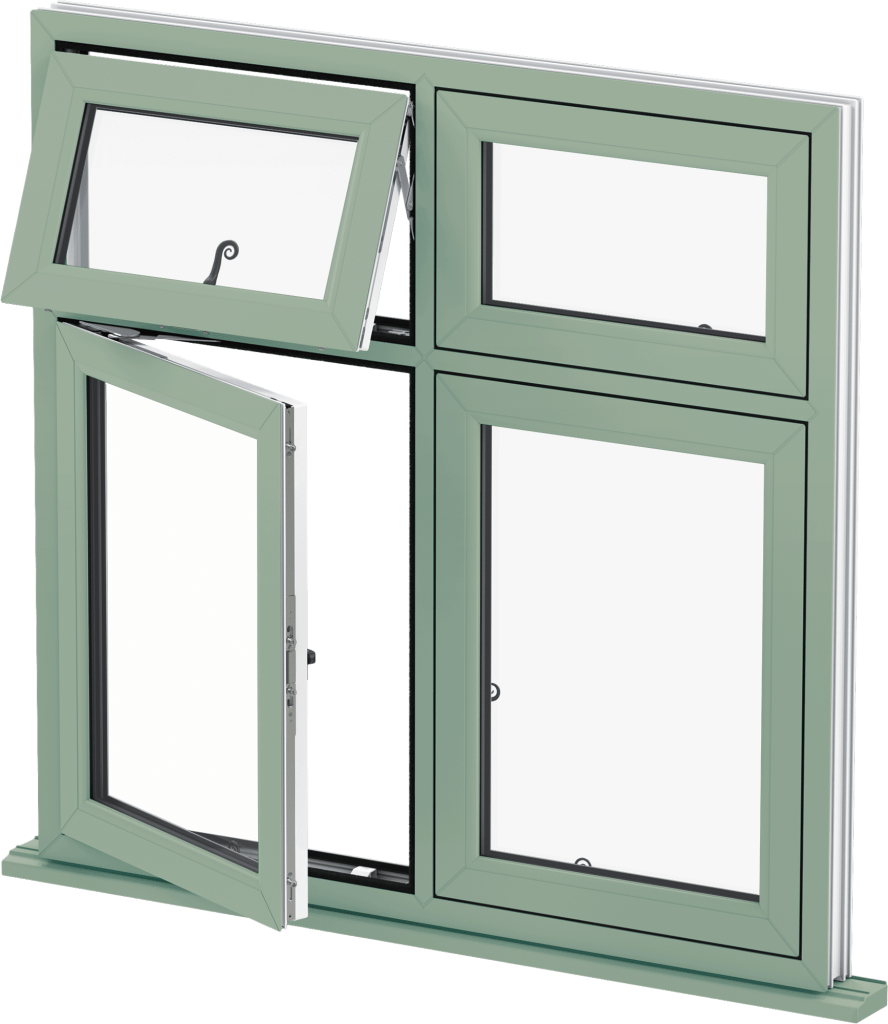 French Doors
Choosing a set of uPVC French Doors for the rear of the property, our customers were looking to bring light and the illusion of space to their Wokingham property.
They chose a matching 'Chartwell Green' to complement the windows, and wanted to create a seamless connection between their home and the outside world.
Our uPVC French Doors are an excellent addition to an extension, as well as conservatories or living rooms.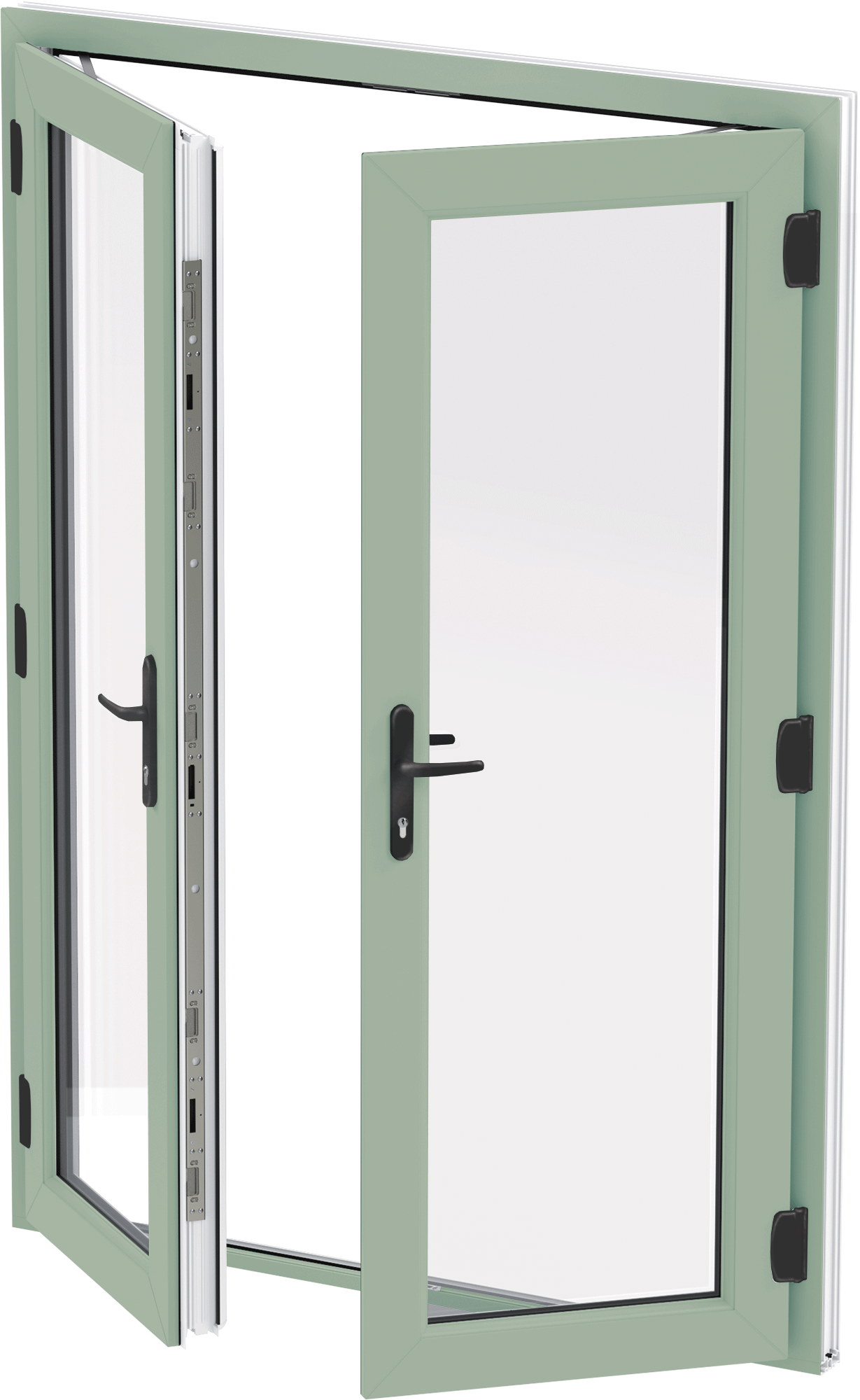 Quick Installation Process
Once our customers had decided on their double glazed windows and doors, the Abbey Windows installation team got straight to work.
Famous for quick installations that are always of high quality, our team worked very quickly with care and consideration not to impact on our customer's daily lives.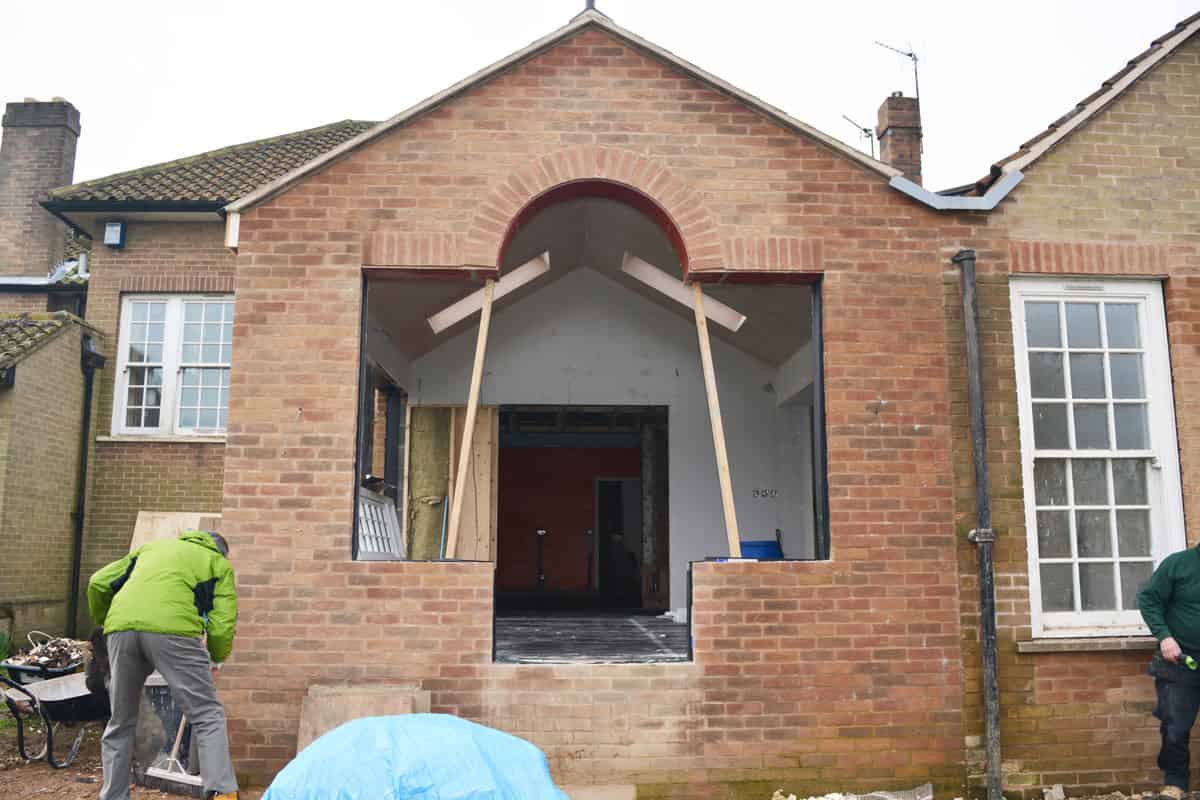 Happy Customers
Our customers were incredibly happy with the installations, and are very pleased they now have a bigger area to relax in that their children can use as a play room all year round.
They're pleased to have added value to their Wokingham property in case they decide to move in the coming years, and will certainly return to Abbey Windows for any future installations or home improvements they may have.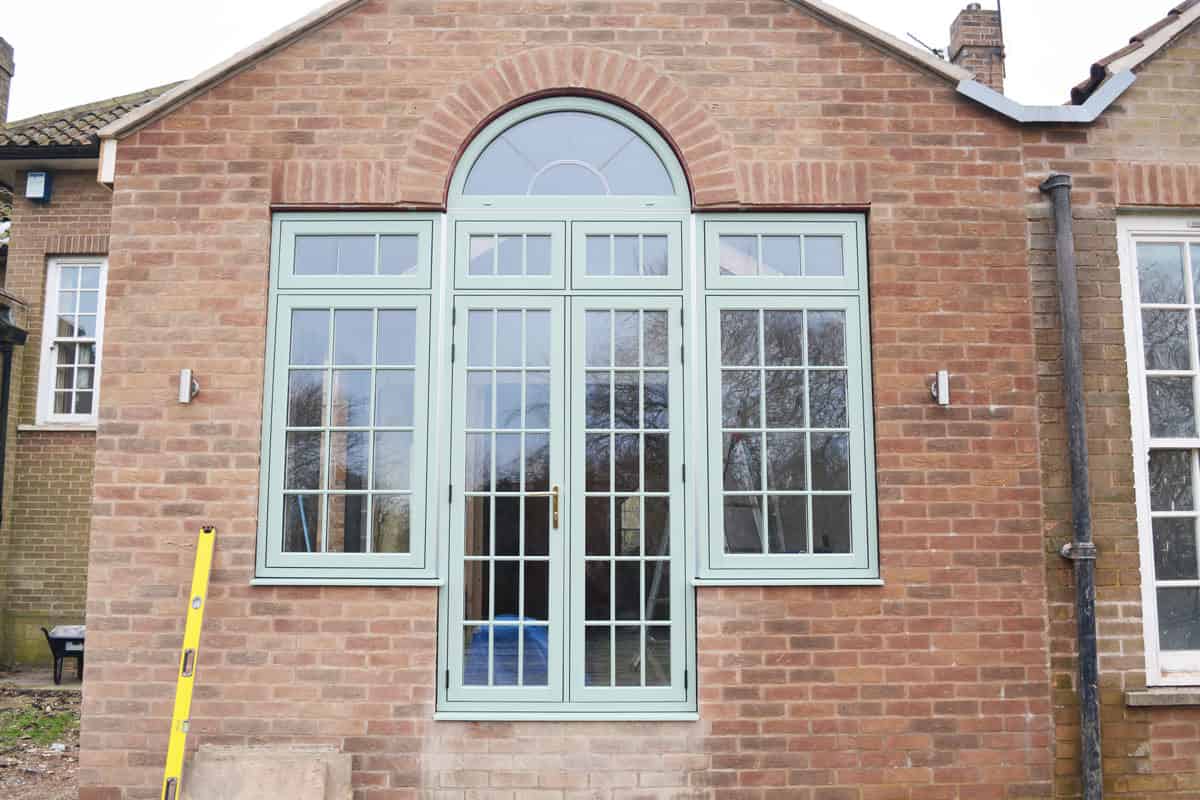 Double Glazing Prices in Wokingham
If you're looking to add value to your home with our beautiful double glazed windows and doors, start your instant online quote today. It's easy to input your measurements and obtain competitive double glazing prices in Wokingham.
For more information on our beautiful double glazing products, give us a call on 0118 956 6866 or complete our online contact form. We'd be delighted to assist you in your latest Wokingham home improvements.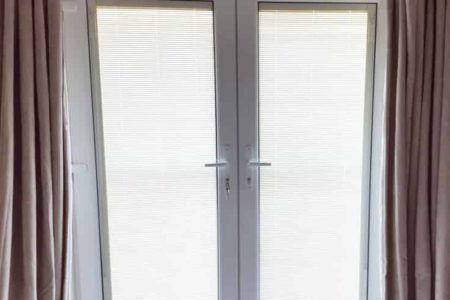 Integral Blinds in Reading
Integral Blinds Installation in Woodley, Reading
A stunning integral blinds installation in Woodley by the expert team at Abbey Windows. Beautiful venetian style blinds installed for bi-fold doors and French doors in Reading.
After a beautiful French Doors and Bi-Fold Doors installation, our loyal Reading customers were looking to create more privacy within their Woodley home.
Additional  Privacy
Like with most contemporary properties in populated areas, our customers we concerned with being overlooked. We had previously installed beautiful Liniar French Doors with a Juliet balcony for their main bedroom, and agreed an integral blinds installation would be perfect to ensure more privacy with as little maintenance possible.
Morley Integral blinds in Reading are an excellent choice, as our customer's home is now more private, yet still welcomes the presence of natural sunlight into their living areas.
Prevents Bleaching
Window blinds also help prevent the unsightly bleached effect from ultra violet rays hitting furniture and carpets.
The upstairs of our customer's Woodley property was a north west elevation, resulting in the upper level becoming excessively hot in the afternoons and early evenings. Our integral blinds installation has perfectly solved this problem for our Reading customers, while still letting a sufficient amount of sunlight to enhance their home beautifully.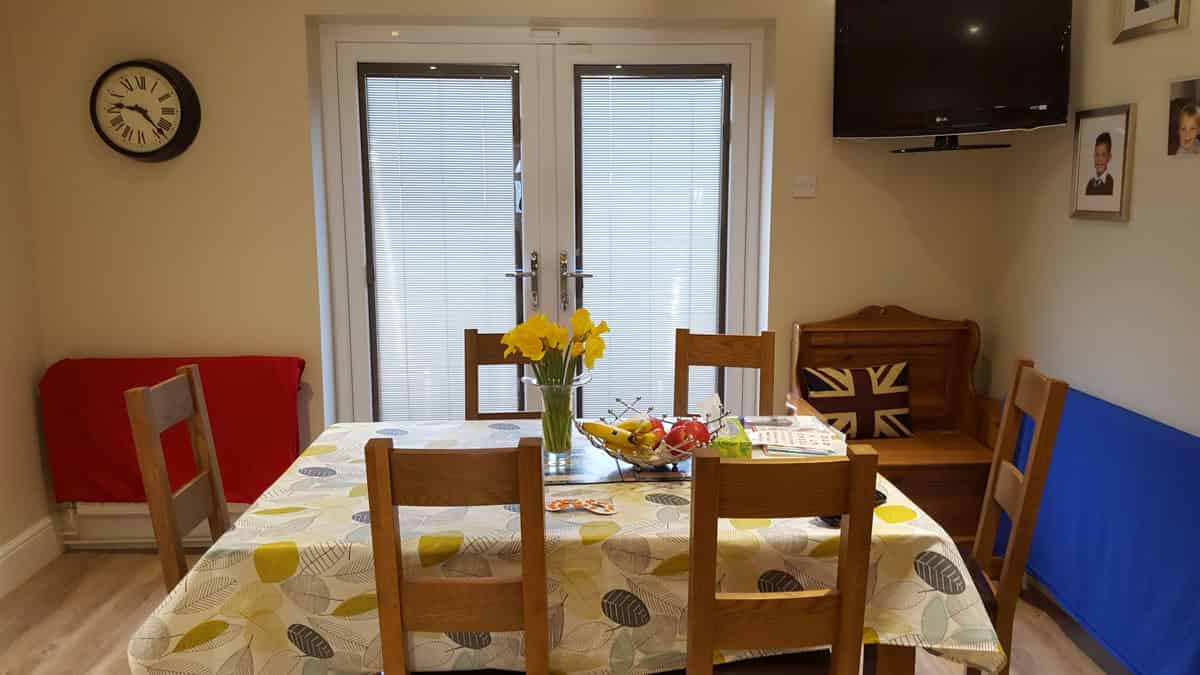 Superb Functionality
While the between glass blinds are concealed, they can be controlled from the outside, allowing our customers to tilt the blinds according to the position of the sun and adjusting how private they wished the room to be.
With the blinds being integral, this means practically no cleaning is required! Because of this they are incredibly durable, and will last our Reading customers for many years into the future.
Customer Thoughts
Our customers were incredibly happy with the results, leaving us the following postitive review:
'We are thrilled with the finished Morley blinds product. We truly didn't expect the results we have received – despite tilting the blinds to their closed position this really doesn't effect a sufficient amount of sunlight entering our Reading home.
A truly genius idea that we thank Abbey Windows for! When we compared other options available to us this was by far the most simplest and cost-effective solution.
We didn't understand quite how easy the process would be in removing old units and replacing with integral blinds in glass units. Once we understood how simple this would be, we have now ordered integral blinds for our Liniar French Doors you installed downstairs in our Breakfast room, and also for our Bi-Fold Doors in our study.
It is a little embarrassing that we didn't take your advice at the time, but with your competitive prices and swift service were very pleased to have now made our decision. We're thrilled!'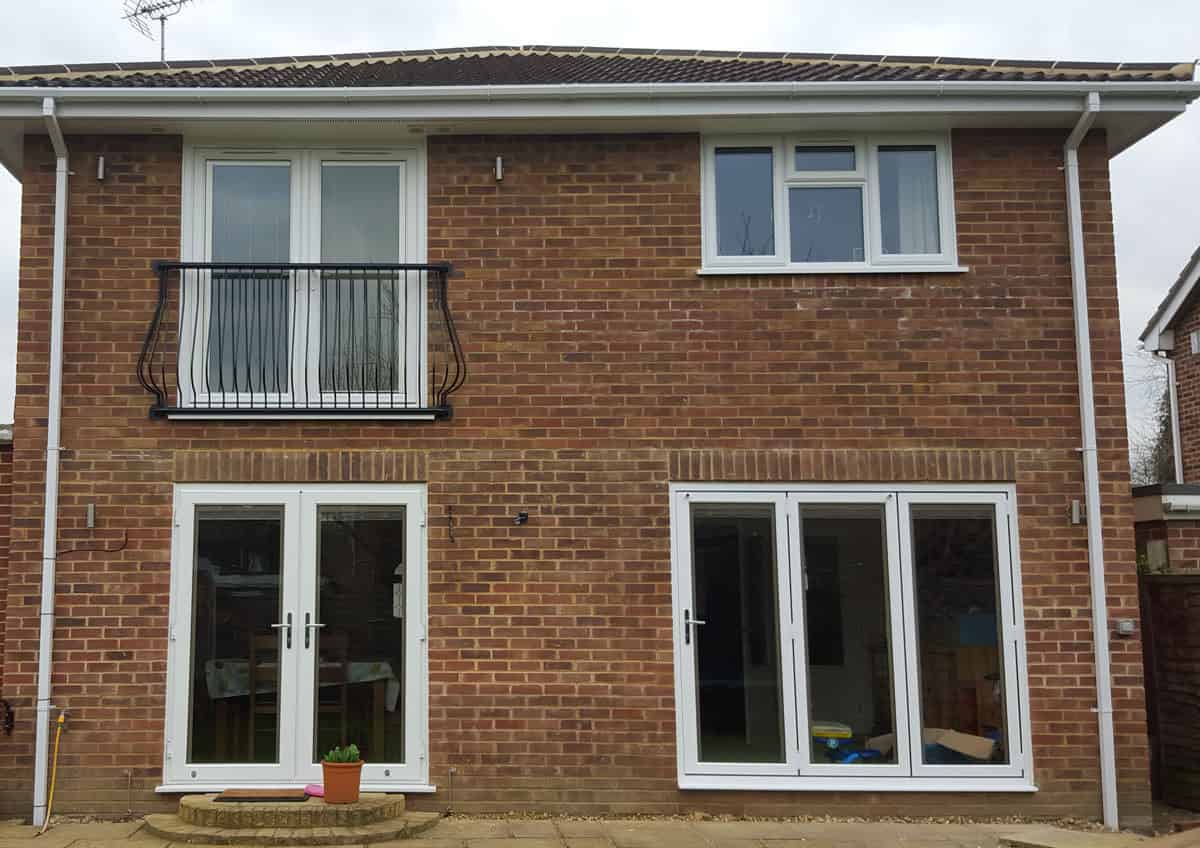 Integral Blinds Installation Prices in Reading
Choose Abbey Windows for your Integral Blinds installation in Reading today, to achieve the same exceptional results as our happy Woodley customers!
Give us a call today on 0118 956 6866 to speak to our helpful advisors – they've always happy to discuss your design ideas and specifications.
If you'd prefer to get in touch online, don't hesitate to fill in our online contact form. You'll be provided with a quick reply that will get you on your way to beautiful integral blinds in no time at all!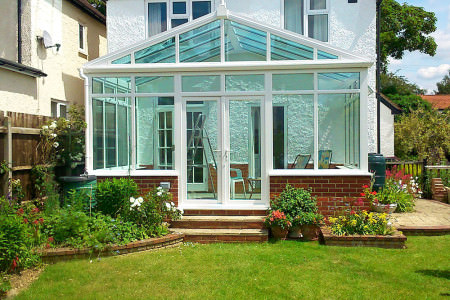 uPVC Conservatory Whitley, Reading
uPVC Conservatory Replacement Carried Out In Reading By The Abbey Windows Team
A couple in Reading have recently chosen a stunning uPVC Conservatory upgrade for their Reading Home. Their old, flat-roofed leaking conservatory has been skilfully replaced by our expert conservatory installation team to a sophisticated Gable End Conservatory.
This stylish and charming style of uPVC Conservatory has completely rejuvenated their Whitley home whilst maintaining the authentic charm of their character property.
Leaking Conservatory
The couple's flat-roofed uPVC conservatory had been in place for over twenty-five years, but a leaking roof and a frame which let in draughts meant the outdated structure could no longer be the hub of their Reading home.
With seven grandchildren, the couple were now looking for a room with functionality. A space that could be used throughout the seasons, whatever the weather.
Bespoke Conservatory Refurbishment
Our double glazing team talked through the exciting conservatory styles we have to offer including our bespoke conservatory styles. It was important to the couple that we keep to a similar footprint to the original uPVC Conservatory. Together we began to design the couple's ideal conservatory, in keeping with the look and feel of their Reading home.

A brand new conservatory plan was drawn up with a number of amendments to enhance the look of the Reading home. The new plans would bring the uPVC Conservatory up to date, whilst retaining the lines of the house.
Gable Ended Conservatory
The couple opted for a stunning Gable End Conservatory; a modern style of uPVC Conservatory offering maximum space and height within the room. The double glazed front window panel of this cleverly designed uPVC Conservatory remains upright rather than sloping back towards the centre. This, coupled with the new high-angled double glazed roof, maximises light and creates a feeling of great height within the uPVC Conservatory. Check out the before and after photographs below.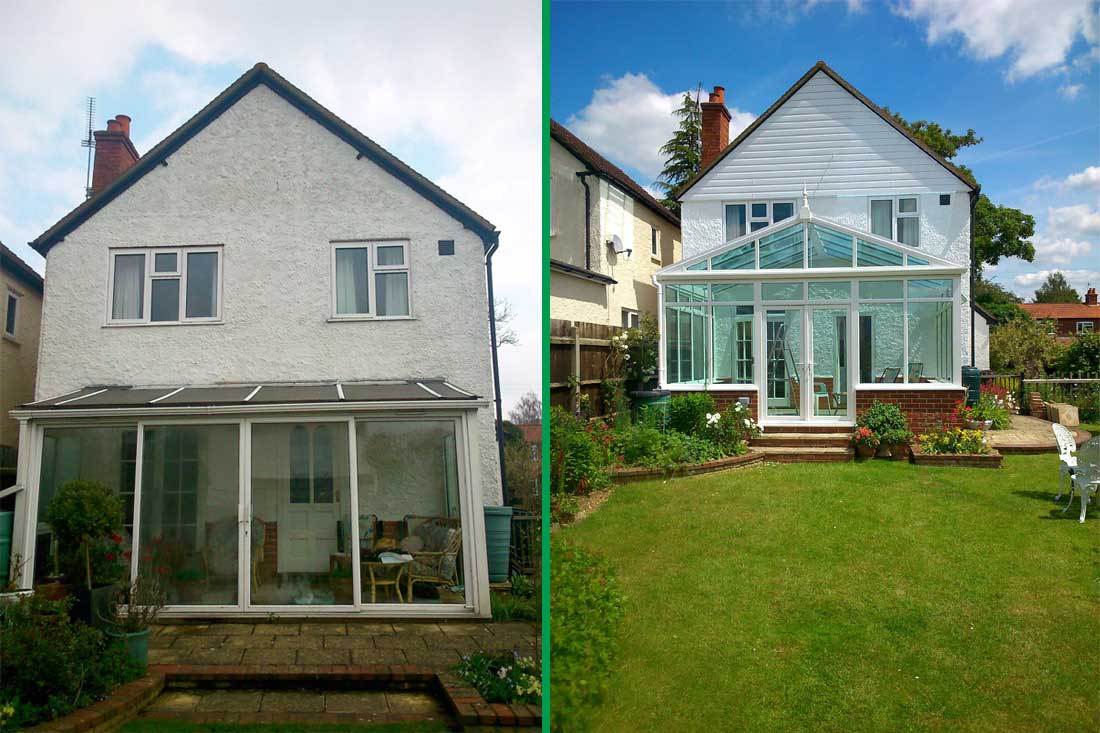 The conservatory roof replacement will further improve the functionality of the new uPVC Conservatory in Reading. We wished to give the couple climate control with high performance glass. The old, leaking roof was replaced with an UltraFrame double glazed roof, providing the couple with a uPVC Conservatory they can use all year round. No longer will this family room be hot in summer and cold in winter, with the innovative four-season double glazing.
uPVC French Doors Fitted on New uPVC Conservatory
The Abbey Conservatory installation team lastly fitted a pair of stylish uPVC French Doors from Liniar into the new uPVC Conservatory. An elegant addition allowing easy access to the garden on hot summer days.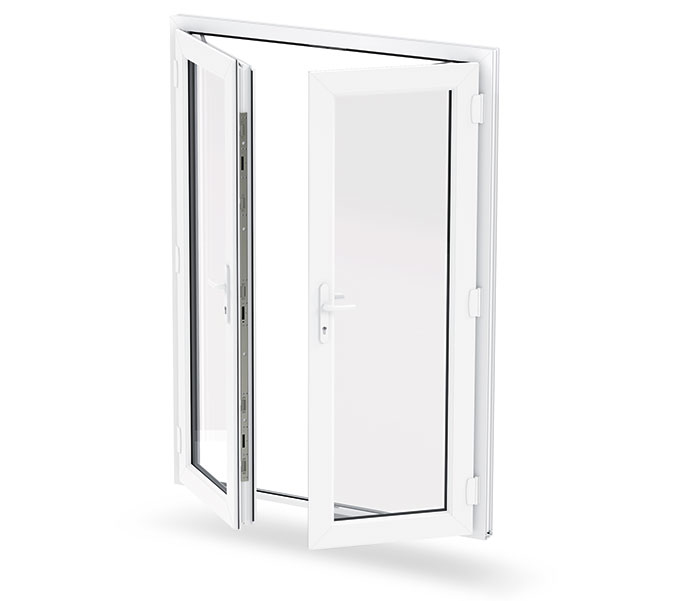 We built practical hardware into the uPVC Conservatory design allowing the new uPVC French Doors to be easily latched back on a windy day.
Further security features were included with a Yale Lockmaster multipoint lock incorporated into the uPVC French Doors, the ultimate shield against would-be intruders.
Reading Conservatory Replacement – The Verdict
The couple worked with Abbey in a dynamic fashion, getting involved with all details to find a solution which would suit both their Whitley home and their living style.
The verdict, a success! The couple can enjoy their new uPVC Conservatory to the full, all year round.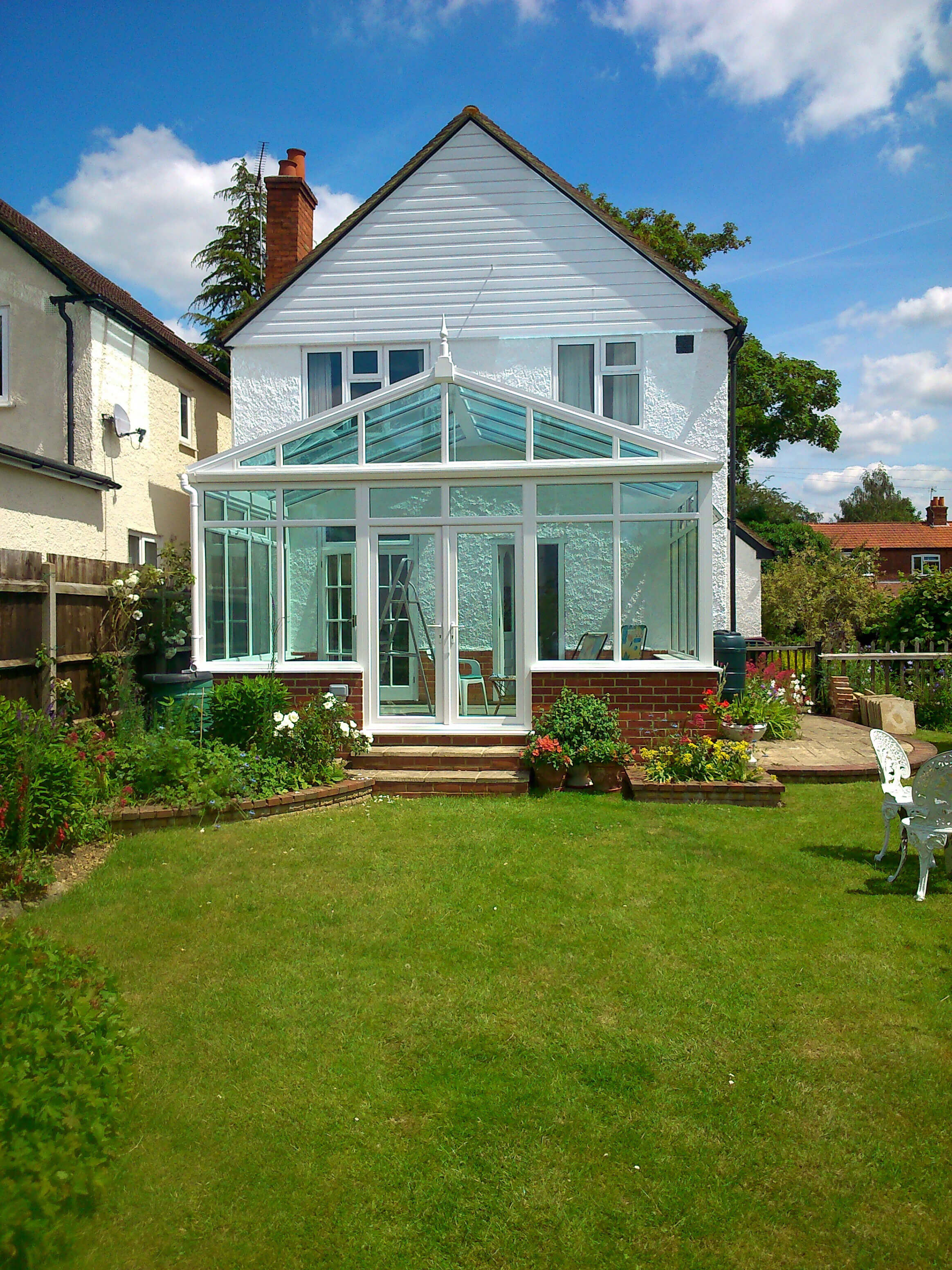 The couple are particularly pleased in the size and feeling of spaciousness in the new conservatory. Having previously had pinoleum blinds on the uPVC Windows, the couple have delayed their decision to put new conservatory blinds in. Simply appreciating the bright, airy feel of their new living space.
The conservatory is now used as a family room and is certainly the new heart of their Reading home.
Conservatory Prices
How Much Does a Conservatory Cost?
Inspired by our conservatory success story? Get instant online conservatory prices today with our free and easy to use conservatory quoting engine. Alternatively, get in contact with our friendly team here at Abbey Windows to find out more.