Start Your Online Quote
Free Online Quote
Get an Instant Online Price for Composite Doors in Maidenhead and Windows, Doors & Conservatories.
Composite Doors Maidenhead
Here at Abbey Windows, we are proud to offer homeowners throughout Maidenhead an excellent selection of market leading composite doors. Our exceptional designs offer the perfect combination of style and performance for your home, meaning that a composite door installation will benefit you in more ways than one. We are committed to ensuring your composite door is the right fit for your home.
Market Leading Manufacturers
Abbey Windows are proud to work with a number of market leading suppliers to deliver our fantastic range of composite doors. Trusted manufacturer and supplier Solidor offer an amazing selection of composite doors in over 11,000 colour combinations. Choose from a number of eye catching designs and options to make your front door stand out in the street. Coupled with an expert installation from Abbey and you will have the perfect new front door.
We are also extremely proud to work closely with Endurance in delivering our extensive range of composite doors. Endurance offers a wide variety of doors in Classic, Urban and Country styles so you have the freedom to choose the perfect aesthetic for your home. Each option is available in a range of custom colours so that you can blend your composite door colour perfectly with your Maidenhead home. Not only are these designs stunning, but they also offer incredible strength and resilience.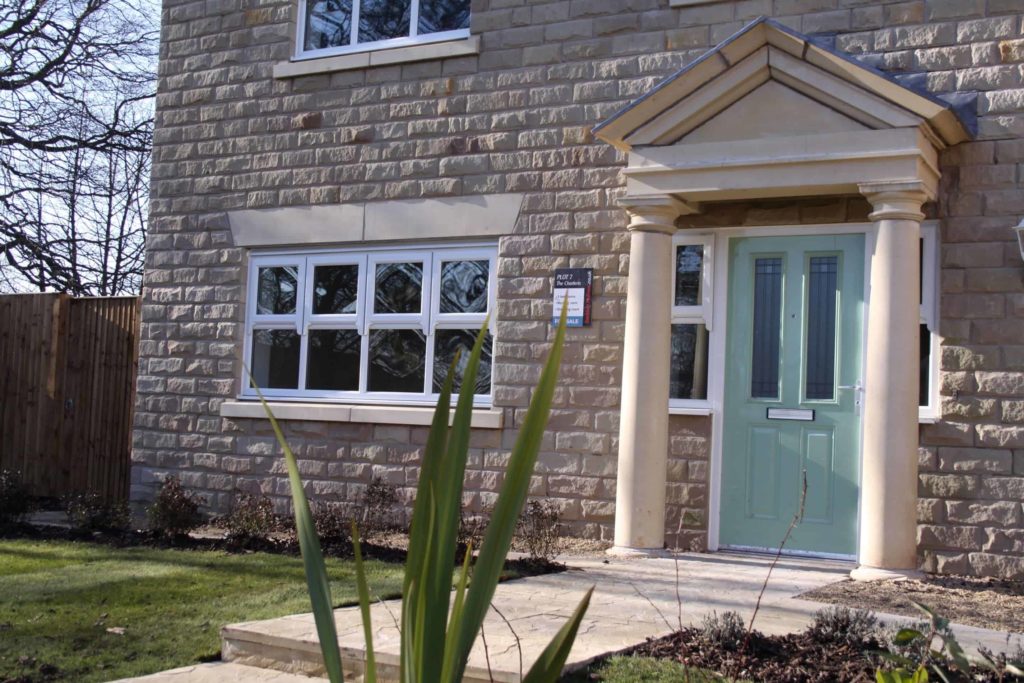 Modern Security
Your front doors is all that stands between the inside of your home and the outside world. Therefore, it is important that your new composite door delivers exceptional security benefits to keep you and your family safe.
Our composite doors' solid timber cores will give you complete peace of mind that they have been designed with security in mind. Boasting a 10% thicker core than our competitors, our composite doors are a solid option for anyone homeowner concerned about the safety of their home.
Furthermore, both Endurance and Solidor doors feature market leading locking mechanisms that can withstand the unlikely event of a sustained and prolonged attack. Endurance provide a UK accredited lock range that will stand the test of time and deliver exceptional security to your home. Solidor composite doors feature the reliable Ultion locking system that boasts one of the highest performing locking systems in the country.
Take a stroll around our showroom and check out our range of doors without needing to step through ours. Get some ideas with our virtual reality tour and find the perfect composite door for you.
Thermal Efficiency
The solid timber cores and insulating features on our composite door range mean that you home will benefit from exceptional levels of thermal efficiency. You will enjoy a warmer indoor environment throughout the year with our outstanding doors.
Bespoke Designs
Whatever style you are looking for, our composite door designs in Maidenhead can be completely tailored to suit your desired aesthetic. Choose from a range of striking colours, finishes and accessories for a totally unique composite door look.
Expert Advice
Here at Abbey Windows, we are proud to boast over 30 years' experience in the double glazing industry. We understand what goes in to the perfect composite door and are always on hand to help you make the most informed decision.
Solidor
Solidor are a fantastic composite door manufacturer and were founded in 2004. They have been consistently supplying market leading composite doors to homeowners throughout Maidenhead and feature market leading Ultion locks and a vast array of custom colour options.
Endurance
Endurance Doors boast the most stylish composite doors available on the market today. Whatever your style, you can choose from a vast range of custom colours and styles to suit your Maidenhead home. These doors offer unrivalled security benefits and consistently deliver high standard composite door solutions.
Certified Security
Our composite doors have been fitted with the Federal UCF Locking Cylinder which means that our composite doors offer some of the safest security elements available to Maidenhead homeowners. Q Compliance is a government-sanctioned approval that outlines the physical strength of the lock.
Setting the Standard with Abbey Windows
High quality products that are often copied, never beaten. Abbey Windows.
Watch Video
Thermally Efficient Conservatory in Reading
High quality conservatories that save you money, with Abbey Windows.
Watch Video
Composite Door Installed in Reading
High quality composite doors fitted by Abbey Windows, Reading. Get a free online quote today!
Watch Video
Composite Door Prices Maidenhead
We want the best for homeowners in Maidenhead. That is why we are committed to consistently delivering excellent composite doors to homeowners that offer a host of benefits. The quality of our products is uncompromising and we guarantee that any installation carried out by Abbey Windows will be market leading.
Are you looking to get started in improving your home? The best way to get started is to get a better idea of your composite door costs. We are proud to offer an exclusive online tool that will allow you to generate composite door prices online. Head over to our online quoting engine to calculate your Maidenhead composite door price instantly, tailored to your exact specifications.
Alternatively, if you are looking for further advice or have any questions, then give our highly-trained team a call on 0118 956 6866. We will be able to help you with informed and expert advice. You can also complete our online contact form if you would prefer. Get your creative build underway today!
Testimonials
The project was the replacement warm roof to our existing conservatory. A first class job was produced by enthusiastic and professional craftsmen. Timekeeping was excellent and I would have no hesitation in recommending this company.
Eric
Berkshire
I recently had a new conservatory glass roof built by Abbey Windows to replace an old polycarbide one and I was really pleased with the quality, service and cost. The price we received from them was very competitive and the whole process from start to finish was excellent. The survey was carried out within 1 week of initial deposit payment and each stage clearly explained and what extras were available with no pressure selling at any stage. The work was undertaken in a very professional manner by the team and the electrical work was well co-ordinated so that there were no delays. The guys worked hard to complete most of the work in a day and half leaving no mess at all. You would not have known they had been here apart from the new roof. Finally and most important of all we are pleased with the new glass roof and the gable end design. It has opened up our conservatory which now looks much more spacious and modern. Great result. Many thanks Abbey Windows.
Doug
Reading
We recently had our new front door fitted by Abbey Windows and also purchased some windows on a supply only basis. To start with their customer service is excellent - I felt that nothing was too much trouble, and they were happy to alter the quotes until we were 100% happy with the product. It was easy to order and some of the windows were even ready earlier than expected, which was great. They also offered to deliver the windows for us for free, a huge bonus as we are not just around the corner. When the door was fitted they came on time, the fitter was excellent and has done a lovely job. We absolutely love the new door and it really finishes off our new porch extension nicely. We have had so many neighbours and even random people walking past complement us on how lovely the door looks. I wish we had known about Abbey windows when we replaced the other windows in our home, their windows are so much better quality than the ones we bought before. We will definitely be back to order more windows from them in the future and would not hesitate to recommend the company to anyone who wants quality products for a very reasonable price, and excellent customer service. Lovely local company! Thanks.
Rosie
Reading
The staff are friendly and knowledgeable at Abbey. We've experienced seamless service throughout and the front door is great quality - really important for us as Abbey replaced a competitors door (that we had fitted only 6 months prior). Installers were punctual, curteous, tidy and their attention to detail was impressive (other half is a tradesman with a high attention to detail and even he was impressed!) We are so happy that we have just booked for Abbey to do our glazing for our extension. ABBEY WINDOWS COME HIGHLY RECOMMENDED!!!
Kayleigh
Reading
Great service, great windows. Well our windows and door replacements are done, and it went very well indeed. They team were very careful and tidied up as they went. The windows are so much better than the old units, and despite the cold weather we have had no condensation on the inside at all.
Michael
Reading
Very happy with the service from Abbey Windows. The sales team were helpful not pushy and the quality of the windows and the door are great. The fitters were fast and cleared up immaculately. Would be happy to recommend.
Eviecat
Reading
We had some UPVC Bi-Fold doors fitted. They look amazing, the whole company were lovely to work with and kept me informed. Trusted Trader indeed! Thank you.
Mr Smith
Reading
Brilliant job. Very good service quick, left no mess, highly recommended.
Christine
Berkshire
Prompt/clean/professional. Arrived on time. Very clean workers. Tidied up after job completed. Great job from Phil/Toby and Andy.
Michael
Berkshire
Repeat customer for Abbey. As per last time all work completed within the time guidelines, to high standard and with just the minimum contact as required. They will be first on my list for any future projects.
Jrodger
Reading
Brilliant job. Excellent service from purchase to installation which was carried out in a prompt and professional manner.
Edith
Berkshire
Prompt and professional. The replacement unit was installed very efficiently without any mess. Good job done in no time at all.
Barbara
Berkshire
Very happy from start to finish and an easy process. We found all staff friendly, helpful and with no heavy sell. Installation team excellent and nice people to have at the house. We also found it good to be able to see and discuss the products in your showroom before making a decision. Would definitely use again and recommend.
Mr_Ian
Reading
Excellent service and competitive pricing. Excellent service from initial contact through to completion of installation.
Anthony
Berkshire
Brilliant, as usual. Arrived promptly, Clean and tidy worker. Answered all queries. This is the second job done by Abbey. They were great both times. Thanks guys!
Caroline
Berkshire
Excellent service from meeting Rob in the showroom to having the doors fitted by Chris and his colleague. Rob listened to what we wanted and offered options based on what we said rather then selling to us. Chris and his colleague where very happy whilst working and did an excellent job. Friendly, professional and excellent results at a great price. Will always recommend Abbey Windows and use their services again.
Tina
Reading
Right from our initial meeting with Neil Humphries our experience in dealing with Abbey Windows has been first class. Neil gave us some great ideas which enhanced the conservatory design beyond our expectations. Neil then passed us over to the installation team where each stage of the build was overseen by Elaine who kept us up to date throughout. Every trade person who came to our house during the process was extremely professional, punctual and discreet. I would have no hesitation in recommending them.
John
Reading
Replaced my 25 year old Edwardian Pshape conservatory with a more modern design and top of the range Ecoclean Blue Sunshield roof but on the exact floor space, thus saving on new foundations etc. The whole process from design, quotation , build and snagging went to plan and I always felt like a valued customer. Drawings, specifications, pricing and expectations were emailed at every step so there were no surprises or misunderstandings for either side. Named individuals allocated for each step with one person as a prime contact for the whole process. Well done.
Vyv
Reading
Absolutely love my new windows and doors professional service from quote through to fitting lovely company to do business with. - could not find fault. Chris Coxhead gave me designs/concepts I'd not even contemplated and they are brilliant. Graham Gibbons happy to change any window designs before fitting. The 2 teams of fitters arrived 10mins early refitted the whole house within 5hours and hardly stopped for any breaks - even though I made them coffees throughout. They even cleaned up inside and out so you'd not even know they'd been. They explained everything from maintenance serviceability, went around with me testing every window and door making any adjustments there and then re-tested to ensure I was happy with everything before they left - I have to say this was definitely a 5 star rating! Thank you.
Sara
Reading
The customer is most definitely the focus of the staff at Abbey, brilliant job well done. Special thanks to Danni your a star for looking after us.
Lee
Reading
Really happy with our new back door, the cost to supply and fit was pretty reasonable and the showroom is open on Sundays which was really helpful.
Lauren
Reading
I have used this company on three occasions and the work is of an excellent standard. The staff are very friendly and professional. I would highly recommend this company.
Pauline
Reading
Right from our initial meeting with Neil Humphries our experience in dealing with Abbey Windows has been first class. Neil gave us some great ideas which enhanced the conservatory design beyond our expectations. Neil then passed us over to the installation team where each stage of the build was overseen by Elaine who kept us up to date throughout. Every trade person who came to our house during the process was extremely professional, punctual and discreet. I would have no hesitation in recommending them
John
Reading
Pleasant company to deal with , everyone i spoke to friendly and helpful. The fitting of 1 x window was done in quick time to a high standard to match the existing house windows. Communication was also very good and they are easy to get hold of to ask questions. Wouldn't hesitate in recommending.
Tiffany
Reading
Friendly, professional and excellent results at a great price. Will always recommend Abbey Windows and use their services again.
Tina
Reading
I highly recommend Abbey Windows for there fast, friendly and reliable service. Fantastic quality craftsmanship and great value. If you want peace of mind, I would give Abbey Windows a call!
George
We have worked closely with Andy from Abbey Windows over the years on many different events for varying charities and his support and enthausism is second to none. These charities really have benefited from his dedication. I have also used Abbey Windows on a personal level and have found their service, install and after care support absolutely fantastic. No need to look any further than these guys!
Dan
Having worked with Abbey window since nearly the beginning They never fail to impress me with the quality of product , craftsmanship, professionalism and general efficiency that runs through the whole company. We use Abbey windows often and when we do they offer us peace of mind knowing that when they are instructed the job will be done well and on time and with a great aftercare.
Dunne & Co. Ltd.
We have visited the showroom on two occasions, once without booking an appointment. Both visits were positive experiences and the front room staff were both welcoming and knowledgeable. Anna, in particular was extremely helpful and offered me a chair without waiting for me to ask. On our 2nd visit Andrew helped us through the complexity of the ordering process and he proved to be a mine of information. Abbey sell good products and give an excellent service. They also have a good showroom.
Nigel
Great service. Friendly, efficient and competitive
Andrea
Excellent product, service and installation. Totally professional and efficient at all stages of the work.
Alan
Great company to deal with, professional at all times - thank you!
Sue
Great service, all done on time with very little mess. Very hard working team, and a great price as well Thank you Abbey!
Michael
Great Company, staff are excellent very professional, with great customer service. I would highly recommend Abbey Windows.
Karen
Had new doors and windows - great service. Arrived when they said they would and very happy with the products supplied.
Lorna
Am so pleased with my new windows and door. Having had problems with double glazing companies in the past I have no hesitation in recommending Abbey to everyone. They are friendly, reasonably priced and efficient. I particularly like their attitude to no pressure sales.
Rhia
Abbey Windows are a really great company to work with. Very professional and friendly. I would recommend!
Lucy
I would highly recommend Abbey Windows. They have such a great range of quality products coupled with outstanding customer service that is second to none. I would highly recommend.
Stephen
I was so impressed with the fitters, Toby and Phil who did our windows a couple of days ago. Not only did they do a lovely job and make sure I was completely satisfied, they also had a nicely professional and courteous way of being with each other.
Rachel
The customer is most definitely the focus of the staff at Abbey, brilliant job well done. Special thanks to Danni your a star for looking after us.
Lee
I have had my family use Abbey Windows over the years and I am more than happy to recommend them to anyone. The staff are always helpful, excellent customer service. Very efficient!
Jodie
They were great fitted French doors and would use them again in heart beat
Grant
Fantastic team at Abbey Windows, very helpful staff and great products!
Kirsty
Neil at Abbey was first class sent a query on Facebook on Sunday and he came back to me on a Sunday amazing and quick wasn't expecting that! Quote came on Monday and very entailed and easy to read thanks again
Jason
Really friendly staff and helped out a lot considering I don't know much about the products. Highly recommended
Jodie
I would highly recommend abbey windows! Customer service, the quality of work and how fast they was! No messing around! Best job in town
Yunus
This is the second time I have used Abbey Windows products. The service and the products were excellent. I will definitely use Abbey Windows for any future products.
Pauline
First class service and top quality installer providing excellent products. Highly recommend this Company.
Sean
I cannot thank this place enough they were so helpful and efficient thank u so much for a great service and great price. ;)
Andrea
Received a great service from Abbey Windows. Would highly recommend.
Lisa
Excellent service from start to finish, 100% professional and great value for money. Wouldn't hesitate to recommend.
Jamie
We have been really impressed with the abbey windows team and would definitely recommend them! Polite, conscientious and friendly staff from the office team to the fitters!
Sarah
Highly recommend! Was a little sceptical at first as it's a smaller company and their quote was unbeatable but will definitely call on them again to do further work. They did a fantastic job of our front and patio doors, everything finished to perfection. They were professional, tidy and polite too.
Nana
I would highly recommend Abbey windows. Friendly service from the office and from the team who fitted my front window. Quick and easy job with no fuss. Great prices too. Thank you Abbey Windows.
Charlotte
Abbey Windows replaced all my windows and doors. They look amazing! Staff are so friendly and reliable. So happy! Thank you!
Lauren
Had new doors and windows - great service. Arrived when they said they would and very happy with the products supplied.
Lorna
From the first meeting with the very knowledgeable sales guy Neil Humpries to the fitting of my new windows and soffits I couldn't be happier the guys arrived on time and were very polite which was important for me as I have three young children in the house, my fusspot neighbour is that impressed that he has just place an order for a new composite front door Thanks again guys
Ted
5* service from start to finish. The team from Abbey were friendly, professional. Great communication and the front door is outstanding quality. We will certainly be using Abbey Windows again!
Betty
We had our current windows installed by Abbey nearly 20 years ago and have never had any issues. So when it came to getting our patio door replaced (following an accident) with some French windows plus some soffits work, we went straight back to Abbey who were not only competitive but very friendly, constructive and professional in their approach. We are delighted with the work they have done....and are now actively considering the next refurbishment with them. If you want it done to a high standard at a fair price, from a reliable / dependable company who you know will be around to honour any guarantee....then you don't need to look further, in our view!
Neil
Abbey Windows recently fitted all of our doors and windows for house, extension and garden room. There were 2 phases to this project. A team of 4 completed the 1st phase in 1 Day it was amazing watching the them at work. We were super impressed by the speed, efficiency, and professionalism of the whole team. Not only did we have everything put back exactly as it was the windows looked so good it was though there was no glass a total inside, outside experience. Phase 2 was just as good Craig and Callum from the Reading branch excelled by completing the extension and garden room ie fitting 1 bifold, 3 windows, and 2 French doors over 2 days. Their work is exceptional apart from achieving a brilliant finish they were punctual, respectful, polite and they worked almost nonstop throughout the entire project. A very special thank you to Craig great co-ordination and hard work and to the rest of the team. We now have fabulous aluminium frames and great double glazed windows and doors. WELL DONE ABBEY WINDOWS.
Susan
Abbey windows carried out replacing my Soffits, Facia Boards and Guttering. An excellent job was done by a fitter called Andy, and the finish and look of the work he did was outstanding. If you want a quality job done for a quality price I recommend get Abbey
Ged
Abbey Windows just fitted our new front door and it looks amazing. Quality product, excellent and friendly service. Thanks so much. Would recommend you (and will do!) to family and friends.
Rosie
We can not recommend Abbey Windows strongly enough. Wonderfully professional, experienced and friendly from start to finish. Very helpful every step of the way, ensuring the right product for you. Extremely happy with our installation of windows, front door, back door & patio windows. Thank You All at Abbey for transforming our house. Go Abbey, truly epic!
Lisa
I'm over the moon with my new Orangery purchased from Abbey Windows. I was so impressed with the whole process from ordering through to completion. Abbey Windows took all the stress away from me and kept me informed of every step. The professionalism and customer care was astounding. I'm so thrilled and will definitely recommend Abbey
Debbie
THANK YOU.... THANK YOU.... THANK YOU...... I am one happy customer!!! After suffering from a whistling window for nearly a year and having my sleep disrupted every time the wind blew.... Abbey Windows fitted a bedroom window for me and solved the issue. I had originally had a new bedroom window from a different local Bracknell Window company a year and a half ago and a couple of months after installation the window started to make a noise when it was windy. Needless to say the other company did not resolve the issue after contacting them several times and have lost my business now. Abbey Windows' service has been polite and efficient and they managed to fit my new window quicker than quoted.... much to my delight. They didn't leave any mess and explained how the fixtures and fittings worked. Very thorough indeed. I have waited a couple of weeks before writing a review as I wanted to be sure my whistling window noise has gone.... and it has... whoop whoop! I would definitely use Abbey Windows again and wouldn't hesitate to recommend them.
Linda
Abbey Windows came and replaced all windows and doors on my house and the annex attached - all members of staff were so friendly, overall a great company to deal with. Would recommend to anyone!
Milliee
Just had a new front door fitted and couldn't be more delighted with the results. Good strong solid door. The gentleman who fitted it arrived bang on time. Worked cleanly and efficiently. Made sure it was all neat and tidy before he left and that we were completely happy with it. Would 100% recommend them and would use Abbey Windows for other jobs I need doing. Thank You it has changed the whole look of the house. Wished we had it done earlier.
Fe
The service we received was very good from beginning to end. The process was clear and straightforward from the point of order through to installation. We are delighted with our new windows and doors and we would recommend Abbey Windows to other people.
Lindsay
I have nothing but positive comments about this company. They were the first and only company we contacted for the work. The reason I know they gave us a good price was because we had other windows fitted by a well known company that charged us a ridiculous amount and we weren't even happy with the work! There was no pressure sales and I just felt comfortable with the whole process. Highly recommend.
Rhia
Abbey windows installed a new front door for my 82 year old mother. The service we received was exceptional. Neil the salesman was very knowledgeable and there was no hard sell as there is with other providers. Every time they came to the property they phoned me before hand so I did not have to take a large part of the day off, this is priceless if you work. They were always on time, the installation was excellent and they went out of their way as we had to make a couple of adjustments to the door due to my mums arthritis. I really felt that they cared about me and my mum as customers. They take the view that this is a long term relationship and you really do feel in safe hands. I am now getting my door done by them as I was so impressed.
Helen
Customer in Reading
Really pleased with the service. We requested a quote for 1 window to be replaced. Abbey Windows were very competitive in price, seemed genuinely interested in taking care of their customers and did not try to convince us to get other windows done at the same time, unlike some of the bigger companies who visited us.The window itself is great - good quality and well-fitted. Everyone we had contact with in the company was helpful, polite and professional. No complaints at all. Thoroughly recommended. Thanks for doing a great job.
Bono Hodge
Just a quick note to say how pleased we are with the new windows and how the installation went yesterday. The two Chris's and Liam were excellent. They worked really hard, were courteous, professional and did the job with as little fuss and mess as possible.
Customer in Reading
Having had our windows installed by Abbey, they were first choice for our conservatory. We revised the design several times, but Abbey patiently kept up with us and helped us to improve the design until it was perfect. They arrived on time for the fitting and finished on time as well. The result is excellent quality and just what we wanted. Well done!
Customer in Reading
"Excellent and polite installation."
Customer in Reading
"We chose Abbey Windows for our new windows and doors - we're very glad we used Abbey."
Customer in Caversham
"New composite front door fitted - work was completed quickly and efficiently, and the fitter was polite and friendly. Cleaned up very well afterwards."
Customer in Wokingham
"The installer was very careful in fitting all the units in my Edwardian home and took endless care to make sure the modern replacement was expertly and superbly fitted without damage to the main porch structure."
Customer in Reading
"The fitters Gavin and Liam both carried out a good install. Good workmanship, tidy and courteous. Highly recommend them."
Customer in Thatcham
"Abbey Windows fitted my new windows and doors. They have provided a fantastic and excellent job in fitting the new doors and windows, plus they explained everything in complete detail."
Customer in Reading
We chose Abbey Windows for the removal and fitting of 10 double glazed windows and one door. They were exceptionally friendly and offered excellent service from ordering in the showroom to fitting. All staff were very professional and polite throughout the entire process.
Customer in Henley
"Excellent company right from the start of the process. Each person we came in contact with from Abbey Windows, from the sales people to the surveyors to the fitters were brilliant. Always courteous and flexible to changes in plans and ideas. The fitters went beyond their remit by fixing a door that wasn't being replaced that they didn't need to. Very pleased, they really went above and beyond."
Customer in Wokingham
New back door - very good, extremely pleased with the result.
Customer in Ascot
Abbey Windows removed my old bi-fold doors and replaced them with new ones - I'm extremely pleased with the finished result.
Customer in Henley-on-Thames
"Fab local business with incredible community values and spirit."
Becca Sowten
Reading
"A very caring community business!"
Jackie Megarity
Reading
"I would really recommend Abbey - they replaced all the windows and doors in my house and did a fantastic job. Great people and a great service, very professional and helpful."
Charlotte Louise Craddock
Reading
"Very happy with the installation, no hard sale and a pleasure to deal with!"
Mr Fernandes
Southcote, Reading
"Very pleased with all contact level of company helpful/friendly and professional!"
Miss Thomas
Reading
"A 'no hassle' service, good price, installation on time and quality work!"
Mrs Dixon
Pangbourne
"The main installer was of the highest quality and in our opinion worked really well on his own. First rate workman and a credit to your company!"
Mr & Mrs Fenner
Reading
"We would have no hesitation in recommending your fitters and yourselves, Abbey Windows, to anyone else in the future"
Mr & Mrs South
Lower Earley, Wokingham
"We would like to say that we were very impressed by the product and service you supplied, especially impressed by the installation completed by your installer."
Mr Paxford
Tilehurst, Reading
"Straight forward Sales and efficient clean installation. Well Done!"
Mr & Mrs Sillitoe
Purley On Thames, Reading
"We are absolutely delighted with the service, quality and outcome"
Mr & Mrs Yeo
Caversham, Reading
"Very pleased by prompt, clean and tidy installation."
Mrs Hepburn
Reading
"I was very pleased with the excellent result your installer and his assistant carried out despite the foul weather conditions they worked in. What great ambassadors for Abbey Windows."
Mr Rex
Tilehurst, Reading
"Very happy with the service and product, insulation team were a pleasure to have around."
Mr Coleman
Caversham, Reading
"Comparing prices with other companies I found you gave a very good price for good quality windows and workmanship"
Mrs Singh
Caversham, Reading
"We were particularly pleased with the quality of the installation work, the need for any making good was minimal."
Mr Mrs S
Emmer Green, Reading
"The following day after installation I noticed one door was not closing properly, I contacted your company and an appointment was made for 3 pm the same day. A member of staff arrived on time and rectified the fault within minutes."
Mr Mrs W
Earley, Wokingham
"I was very happy with the no pressure service I received."
Miss H
Lower Earley, Wokingham
"Your installer did a wonderful job. He took great care and attention to detail. He was very polite and tidied up afterwards. He is a credit to your company and I hope to use him again on my next phase of windows maybe sometime next year."
Mr W.
Tilehurst, Reading
"This is the second time we have used Abbey and once again have been completely satisfied with the service you have provided."
Mr Mrs B.
Caversham, Reading
"It is really appreciated that you quote one price, and not use the selling techniques of many national companies. Thanks."
Mr & Mrs I
Purley, Reading
"Cannot fault the installation, exactly on time, minimal mess and considerate installers."
Dr L
Reading
"Very clean, efficient and pleasant fitters. The whole business and installation was conducted without a hitch."
Mrs D.
Sonning, Wokingham
"It is really appreciated that you quote one price and not use the selling techniques of many National companies. Thanks."
Mrs & Mrs I
Purley, Reading
"We were very pleased with our new front door and the service right throughout and from the beginning was excellent. Thank you."
Mr & Mrs S
Woodley, Reading
I particularly appreciated knowledgeable staff and helpful booklets.
Miss E
Calcot, Reading
"We were extremely impressed by both the cleanliness and tidiness of the installers. Overall an extremely satisfactory job. Many thanks."
Mr & Mrs S
Pangbourne, Reading
"The patio door runs freely and quietly, not like the old one. We were very impressed with your service and all your staff, from the Salesman onwards were friendly and efficient."
Mrs P
Calcot, Reading
"Many thanks for a great job at our shop. Our tenant was really impressed with the team and professionalism. We will certainly recommend you to our friends."
Mr & Mrs W
Beenham, Basingstoke
"Thoroughly professional job!"
Mrs S
Fleet, Hampshire
"Excellent quality and service. I have no hesitation in recommending Abbey."
Mr & Mrs O.
Tilehurst, Reading
"Everything was perfect. The men cleared up after themselves and were very polite. An excellent service."
Mrs W
Tokers Green, Reading
"Excellent Service & quality. Thank you very much."
Mr B
Reading
"Difficult to improve on the attention to detail of your fitters and the diligence shown in leaving the site clean and tidy."
Mr & Mrs S
Earley, Reading
"Very happy with the installation and with the professional and diligent manner of the fitters. Nothing too much trouble."
Mr & Mrs C
Calcot, Reading
"The salesperson did not keep phoning 'his boss' for price reductions – one fixed price given suited us – no fuss or fibs!"
Mr S
Calcot, Reading
"We found the fitters to be excellent workers who took a real pride in their work. It was a real pleasure to work with them."
Mr S
Swallowfield, Reading
"Bob and your installation team do you proud. Your two installers were two if the nicest and most professional workmen I have ever had work done by."
Mr P
Tilehurst, Reading
We were very pleased with the quality of products and service we received.
Mr W
Pangbourne, Reading
"Abbey windows. No hard sell, competitive and I love my new windows and door. Had it done about 3 weeks ago and my sister is getting hers done in the next few weeks."
C Rodriguez
Wokingham
"We were happy with all aspects of Abbey's service. Keep up the good work."
Mr & Mrs O
Bracknell
Installation of front doors - "Very efficient job. Very happy with work completed."
Customer in Reading
Fantastic local company, that cares and invests in staff & community.
Customer in Reading
Installation of porch and front door - "Very happy with the service. Would definitely recommend Abbey."
Customer in London
Replacement windows - "Excellent product, excellent service and excellent fittings."
Customer in Hungerford
Fascias, soffits and guttering - "Very high quality finish. Installer took time to explain what they were doing and why. Premises left clean and tidy at the end of each day."
Customer in Reading