Are uPVC French Doors Secure?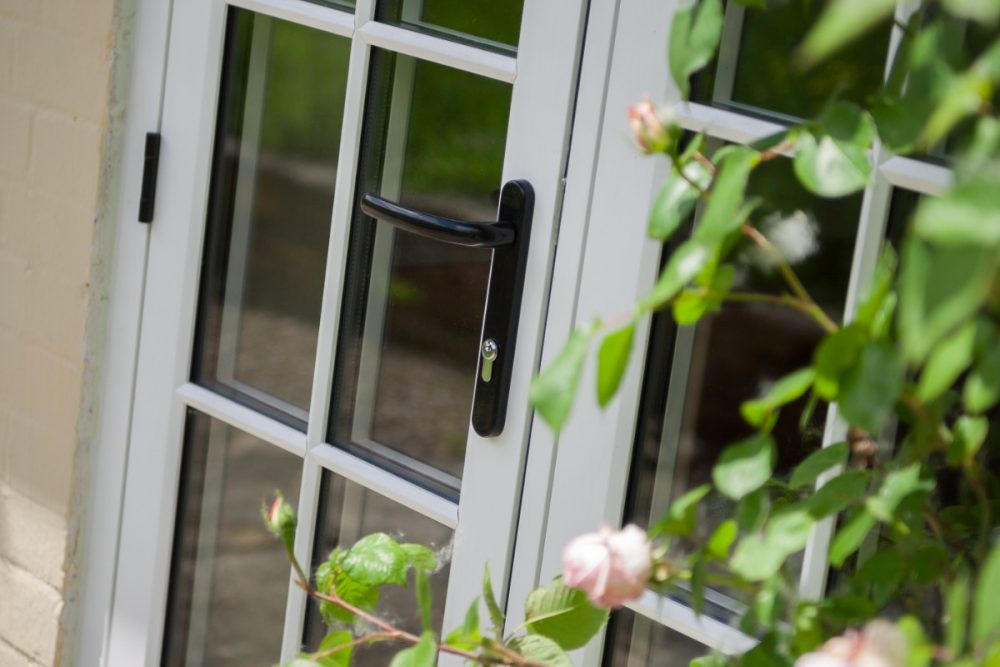 Are uPVC French doors secure? A genuine concern for many homeowners is 'are their doors secure?' Home security is a pressing qualm that we here at Abbey Windows intend to bury. How? Through our amazingly secure uPVC French doors. Below we will be discussing in detail on how secure our French doors are and how they can vastly improve your home security. Find out below why you, as a homeowner, should be interested in our uPVC French doors.
Security Shootbolts
We make sure our uPVC French doors perform the best by working with the best. We achieve this by fitting our French doors with security shootbolts. These are fitted as standard with Lockmaster multi-point locks by Yale to ensure that our valued customers are given total security and peace of mind. What is a security shootbolt? They are a locking mechanism that extends outwards from the top and bottom of your uPVC French door. This means that even if a would-be intruder were to suddenly yank your door open, our shootbolts would prevent it, keeping them at bay outside and you safe inside.
uPVC Frame
Our uPVC French Doors utilise a uPVC frame, which is short for un-plasticised Poly Vinyl Chloride. This means that the frame of our French doors is incredibly strong and resilient. Incredibly lightweight, they place minimal amounts of pressure on the door itself, allowing for a significant lifespan that ensures your uPVC French door will last for a minimum of 10 years. In fact, we're so confident in this claim that we offer homeowners a 10 year guarantee against cracking, warping and discolouration.
The incredible resiliency of our uPVC French doors is achieved without the need for either lead or steel reinforcement; rather, their enhanced robustness stems from integrated reinforcement. This makes our French doors not only a cost-effective choice for a secure door, but they are also the perfect choice for environmentally-conscious homeowners looking for a greener choice in their home improvement solutions.
The uPVC frames of our French doors are not only secure but are also highly customisable. Thanks to the versatility as mentioned earlier of the uPVC frames, your French door can be customised to your personal liking. Available is a wide range of colour and RENOLIT wood finishes such as White, Cream, Chartwell Green, Grey, Black, Irish Oak, Golden Oak, Rosewood and Mahogany. And it does not stop there either; our valued customers can further their customisation further and create a totally bespoke uPVC French door by deciding what colour of handles and hinges they would like. Choose from iconic finishes such as White, Silver, Gold, Chrome and Black to make your uPVC French door truly yours.
Milled Threshold
Our uPVC French doors don't just protect you from potential home invaders, but the outdoor elements too. We utilise a milled threshold jointing system that is fitted onto the frame, which helps eliminate moulded plastic end caps. This creates an airtight fitting between your French door and the floor on which your door stands, which means that there is no gap to allow any unfavourable aspects of the outdoor to seep inside your property. Halt draught, insects and vermin in their tracks as our uPVC French doors acts as an impenetrable barrier between you and the worst of British weather.
Door Restrictors
We also think about the little ones. A door can be dangerous, especially if it were to swing suddenly and hit someone. We prevent such accidents with our door restrictors. Homeowners can now choose optimally fitted restrictors to prevent sudden closures or openings, circumventing any patenting damage not only to the uPVC French doors themselves but also to the little ones in your property. We take all measures to properly ensure that everyone in your home feels safe and accounted for with our secure French doors, providing safety and security across the board.
Are you looking for instant uPVC French door costs? Use our free online quote generator to benefit from our competitive French doors prices in Reading. If you require any additional information, you can get in touch via our contact form, or call us on 0118 956 6866 We are pleased to be able to offer you a range of flexible finance options to suit your budget.