Here at Abbey Windows, our designers and installers make sure that everything we put together is unique for you and created to meet your needs and exceed your expectations.
Recently, our valued customers approached us with some existing news – their family had recently expanded, so they needed a larger living space in order to accommodate the new arrival. After some consultation and collaboration with our experts, we decided that a stunning glazed extension would offer the ideal solution.
Expertly installed by Abbey Windows, our glazed extensions are increasingly popular for homeowners in Reading, Basingstoke and the surrounding areas. With vast glazed panels, you can fill your living space with natural light, making your home look brighter and feel even bigger.
With glazed extensions, advanced double glazing has never been more popular. Our energy efficient glass helps your home retain its heat in the winter months and stay cooler in the summer. This was a key selling point, as it means our valued customers here would be able to use their new glazed extension all year round.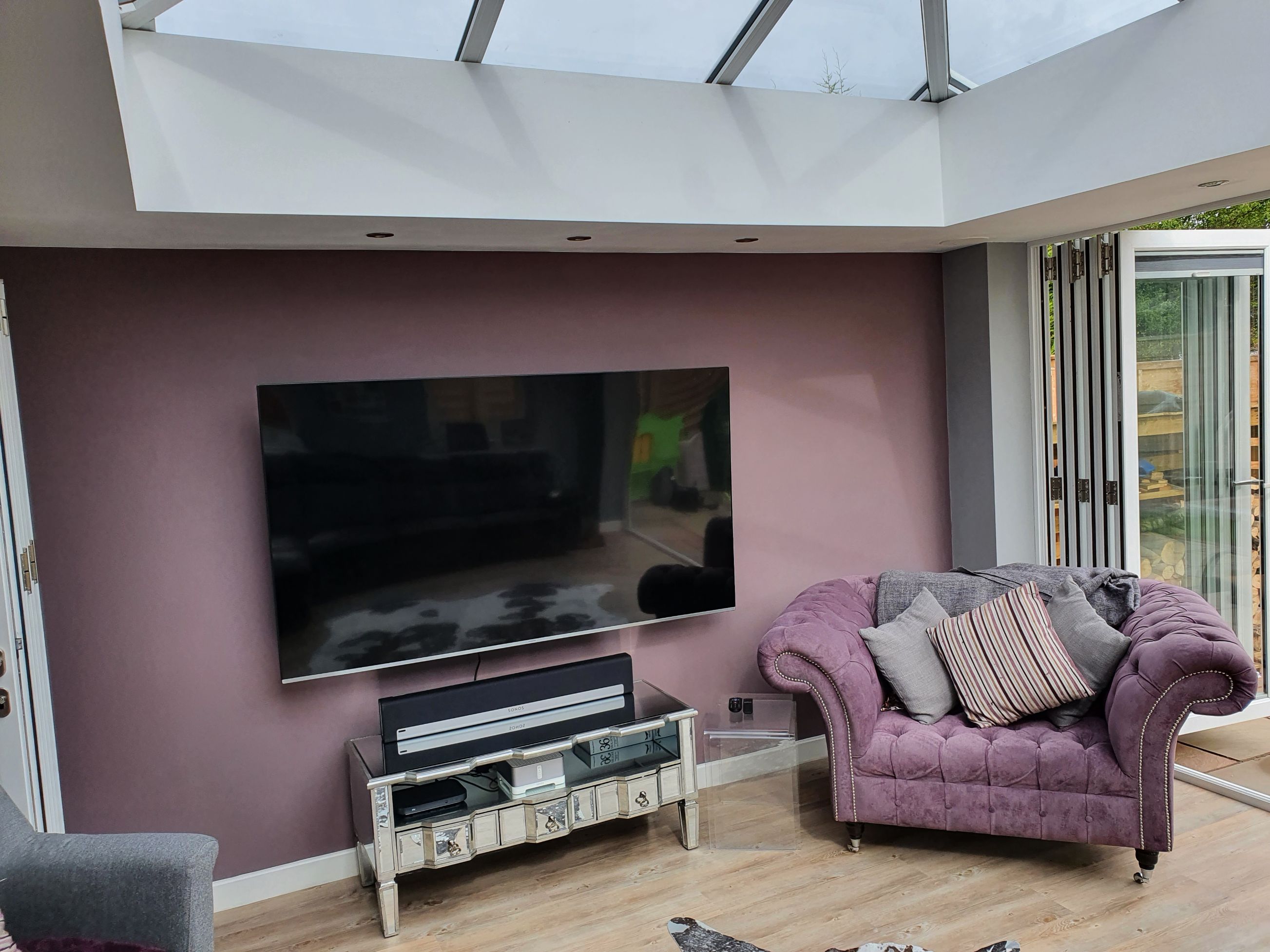 Market-Leading Service
At Abbey Windows, we work with market-leading suppliers to bring their superior products to you, expertly installed by us. For this project, the customers wanted the sleek and modern aesthetics of aluminium bi-fold doors to fill their home with even more light. For this, we knew that the superior products from Origin were the ideal choice.
For total peace of mind, these Origin bi-fold doors come with a 20-year guarantee. With their new arrival, our customers wanted a product that's built to last and will require little upkeep compared to other profiles on the market.
They opted for bi-fold doors finished in Hipca white with striking stainless steel hardware – with these low maintenance doors, it's easy to keep them looking their best with this elegant aesthetic.
What's more, these aluminium bi-folds were fitted with integral blinds between the advanced double glazed panels. This features an external magnet to give our customers total control over the amount of light that fills their home and the levels of privacy they have. To further the low maintenance profiles, these blinds are sealed within the panes of glass so there is no need for them to be cleaned.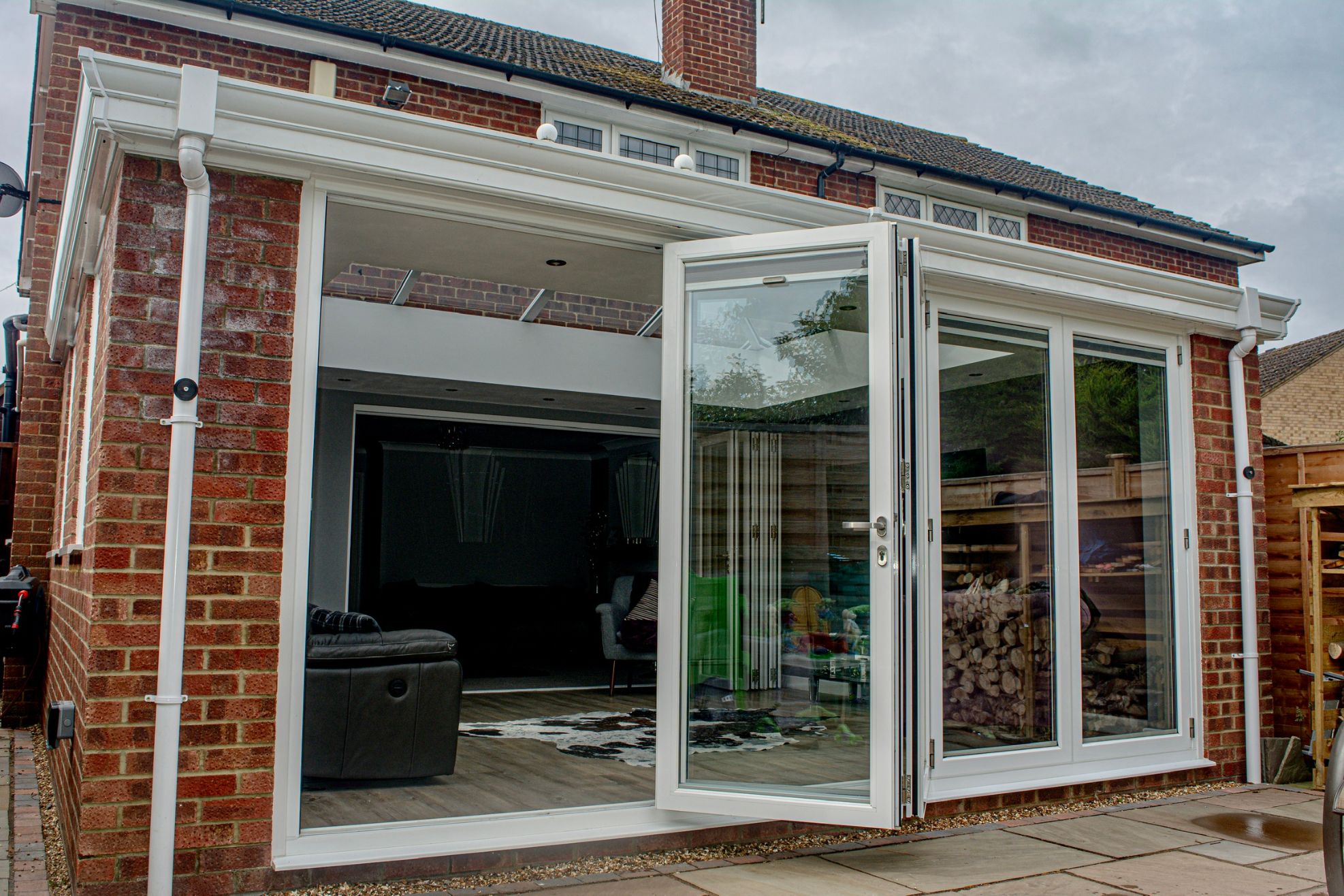 High Performance Products
For this project, our customers' glazed extension was manufactured by Ultraframe. They are Europe's leading manufacturer of roof systems, and one of the most widely recognised and lauded names in the home improvement sector. As part of our commitment to superior products and service, this made Ultraframe's Classic roof the perfect choice here.
We were able to refine the design of the roof with stylish and functional additions, including a decorative external cornice. This brings the highly desirable style of an orangery to this glazed extension while also masking any unsightly guttering for a stylish glazed extension that looks as good as it performs.
The addition of Ultraframe's Livinroof light pelmet in the room adds to the overall aesthetic and ambience of the space. It allows this glazed extension to appear more like a traditional orangery for a highly desirable aesthetic. Our homeowners here now have the ideal place to house spotlights and speakers in their room's pelmet, helping to set the mood for a welcoming social space for friends and family.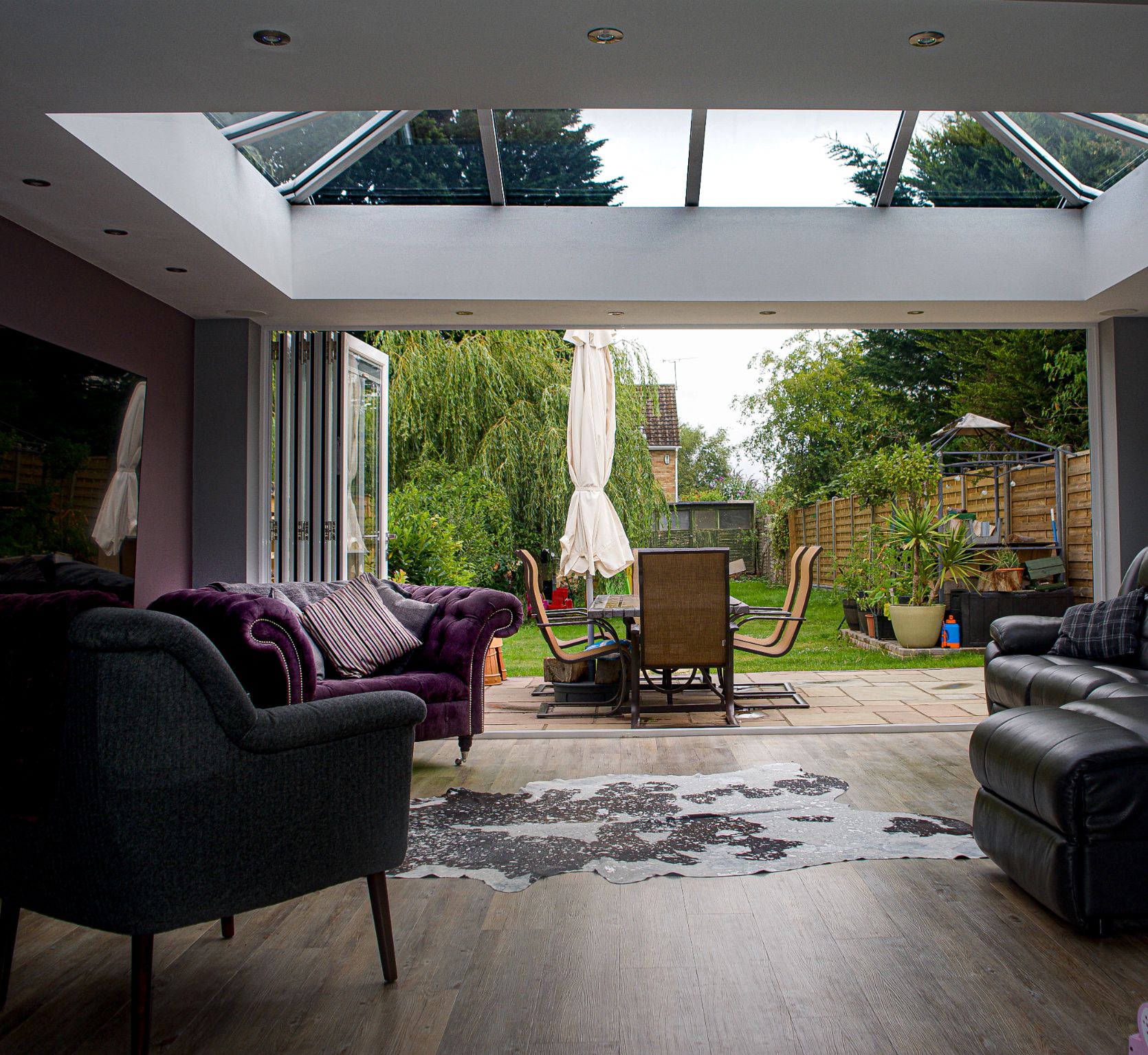 Enhanced Aesthetics
To add to this aesthetic further, our customers wanted to look out the views of their property through new windows. Our high-performance tilt and turn windows from industry leaders Liniar were the ideal choice. Made with modern uPVC, they're a versatile choice when it comes to style and performance. For this project, as with any we work on, our uPVC windows are highly customisable, so you can choose the colour and finish that works for you and your space.
Every home is different, so every installation project we carry out is unique. If you're thinking of improving your home with Abbey Windows, you can be sure of some exceptional qualities across the board. We're committed to working with the finest suppliers around to deliver superior performance.
At this project, the installation of this glazed extension was overseen by building control, so it adds not only space to the property but value as well, making it an excellent investment in the long term. Our Abbey Windows project manager was on-site to oversee the work and ensure our trusted sub-contractors met our high standards, so we would exceed your expectations.
Our customers were thrilled with their new glazed extension, and we're sure that the new addition to their family will be equally delighted – even if they can't fully appreciate the craftsmanship for a few years. If you're feeling inspired, you can start the process of your next project today by contacting us online, calling our team directly on 0118 956 6866 or getting your free and instant online quote.
Get an Instant Online Price
Get an instant online price for uPVC double glazing with our easy to use quoting engine.
Start My Quote