Aluminium Bi-Fold Doors Project, Pangbourne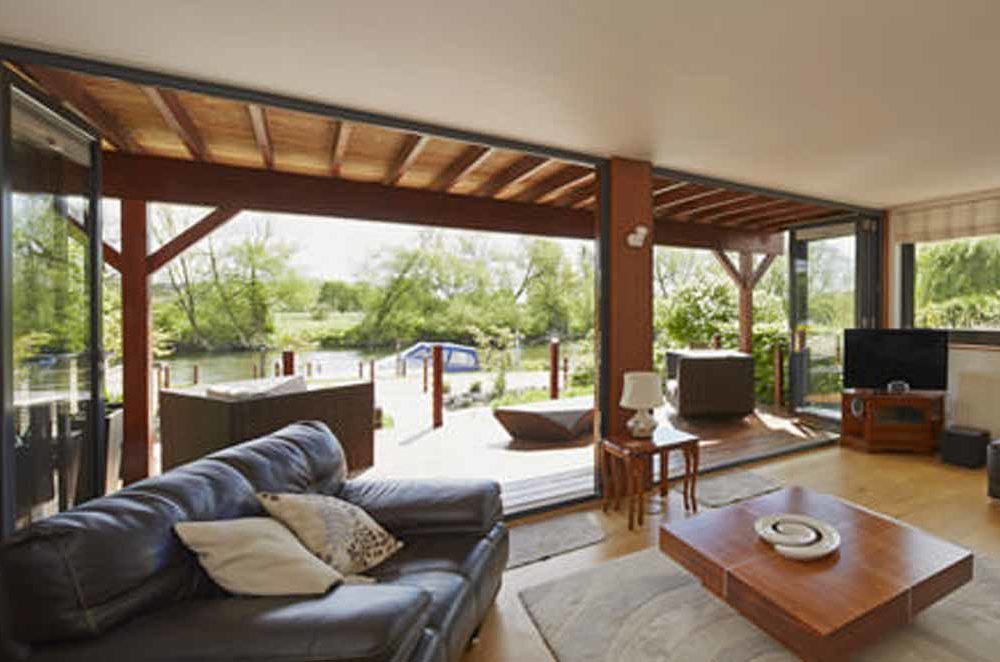 Aluminium Bi-Fold Doors: A Must-Read Case Study
At Abbey Windows, we frequently praise the virtues of aluminium bi-fold doors. We've installed many over the years – for customers in Pangbourne and the surrounding areas. And, although we've received numerous glowing testimonials for homeowners who've been delighted with their brand new aluminium bi-fold doors and the service they've received from Abbey Windows, we've never had the opportunity to glimpse through the keyhole for a closer look.
All of this changed when we contacted some very delighted customers in the Pangbourne area. They were so pleased with their high-performing aluminium bi-fold doors, they agreed to let us feature their home in one of our television advertisements. As you'll see when you watch the commercial, the stylish aluminium bi-fold doors we installed brought a wealth of benefits. If you'd like to find out more, please contact us, request a quote or view the video online today.

---
Protecting You and Your Family
When you watch our advertisement, you'll notice how smoothly the aluminium bi-fold doors open and close. The parents aren't concerned about the proximity of their new product to their child because they know the bi-folding doors we installed in their Pangbourne home have been fitted with industry-leading safety mechanisms designed to prevent injury caused by improper operation.
Security and safety come together as part and parcel of our aluminium bi-fold doors range. The family featured in our video are relaxed, because they know their new product will also protect their Pangbourne home from most attempts to gain unlawful entry. The locks, hinges and bolts built into our aluminium bi-fold doors meet stringent Secured by Design criteria to provide them with superior security.
From a practical point of view alone, Abbey Windows aluminium bi-fold doors have been built with the safety and security of homeowners in mind. The doors depicted in our YouTube advert will provide the family's Pangbourne home in more ways than one, which means they'll be able to relax whether they're at home or away. Find out more by calling our experienced team today on 0118 956 6866.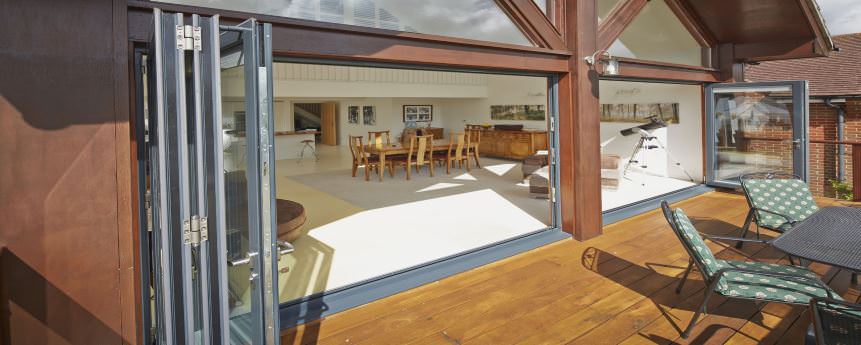 ---
Easy to Open, Improved Access
As you may have noticed when watching our bi-fold door video, it takes almost no effort to operate the product. A light amount of pressure is all that's needed to set the door in motion along its designated track. The intrinsically versatile operating mechanism built into our aluminium bi-fold doors means they can be opened or closed by almost anyone.
The family in our YouTube video will also be able to enjoy superb views. You'll already have observed how the aluminium bi-fold doors open fully outward and collapse inward like an accordion. This Pangbourne home will be able to boast superb garden views when the doors are fully opened, and the interior and exterior spaces of the property will be expertly connected.
Another aesthetic advantage of these aluminium bi-fold doors is communicated by the low glass-to-frame ratio. This family will be able to enjoy near-unbroken vistas of their garden in Pangbourne, even when their doors are closed. And, because their aluminium bi-fold doors will let in lots of natural light, their home will feel bright and spacious – making it perfect for entertaining.
---
Aluminium Bi-Fold Doors Can Be Used All Year Round
During warmer weather, the family in our video will be able to open their aluminium bi-fold doors to their fullest extent. Plenty of natural ventilation will be introduced into their living space, which means they'll be able to relax while their child plays in the garden – or when entertaining guests during a warm summer's evening.
A well-ventilated home is a healthier home. The aluminium bi-fold doors in our video will keep the family's cool and, during colder weather, create an almost impassable thermal barrier that'll reduce their reliance on electricity to stay warm. Their Pangbourne home will be less expensive to heat, and their carbon footprint will reduce.
---
A Choice of Designs for Your Aluminium Bi-Fold doors
Bi-folding doors will add value to your home, no matter what design you choose. The product featured in our video is anthracite grey, but you'll be able to choose a colour that fully suits the schemes of your home. Whether you opt for aluminium or uPVC aluminium bi-fold doors, you'll also be able to replicate the authentic look of timber by choosing from a portfolio of foils.
Although the customers in our video live in Pangbourne, our aluminium bi-fold doors will suit homes throughout Reading, Berkshire and the surrounding areas. Abbey Windows will install your bi-folding doors to your exact specification. We hope you will be as pleased with your new product as the very happy customers featured in our YouTube advertisement.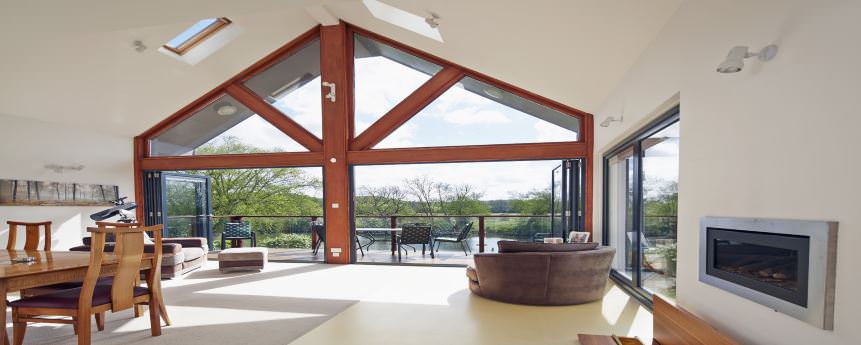 ---
Aluminium Bi-Fold Doors Prices, Pangbourne
Talk to us today to find out just how affordable our aluminium bi-fold doors prices are in Pangbourne and the surrounding areas. You can contact our team directly by calling 0118 956 6866 or sending them a message.
If you are after a bi-fold door quote only at this stage, you can use our design tool to enter details about your requirements. You'll receive prices instantly and can use the app as many times as you like.