Edwardian Conservatory Building Project Reading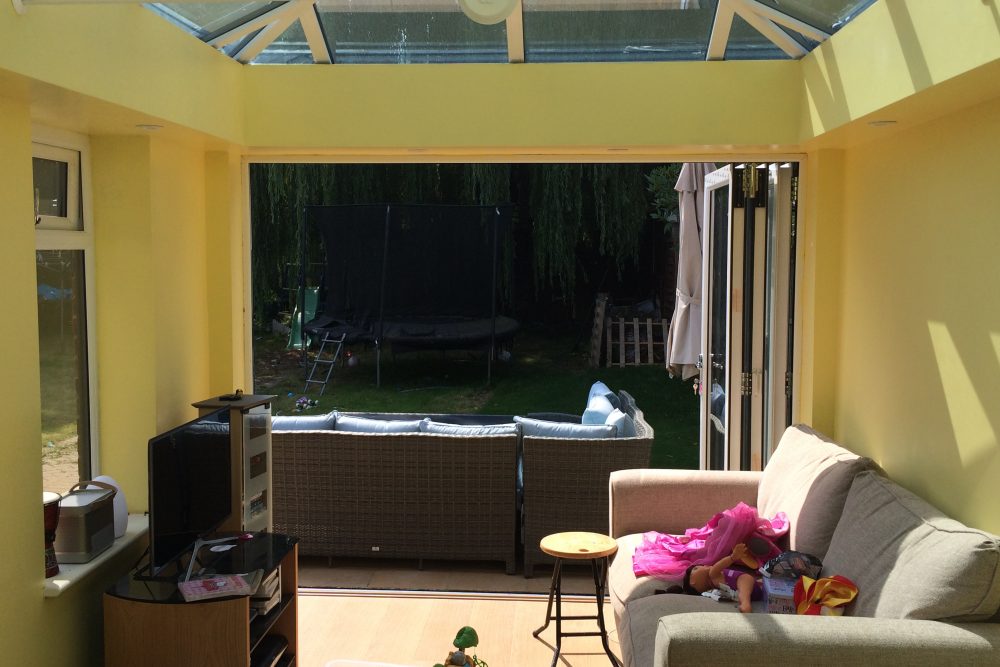 Stylish and Practical Edwardian Conservatory in Reading
We offer stunning Edwardian conservatories throughout Reading to help homeowners benefit from a new space to enjoy the outdoors.
Our Edwardian conservatories achieve a traditional design with an advanced specification to reward customers with ultimate benefits. These conservatories offer a grand roofing system, which allows light to flood into your home. With high-quality double glazed windows installed around the conservatory, the light will illuminate the space around its entire circumference. Our Edwardian conservatories are quickly becoming the most sought-after option in Reading, as our customer in Arborfield experienced.
With a young family, our customers ideally wanted a larger living space for their growing family without the inconvenience and cost of moving. We knew a conservatory was the right choice for them and recommended they pop into our local showroom to view our uPVC conservatories range!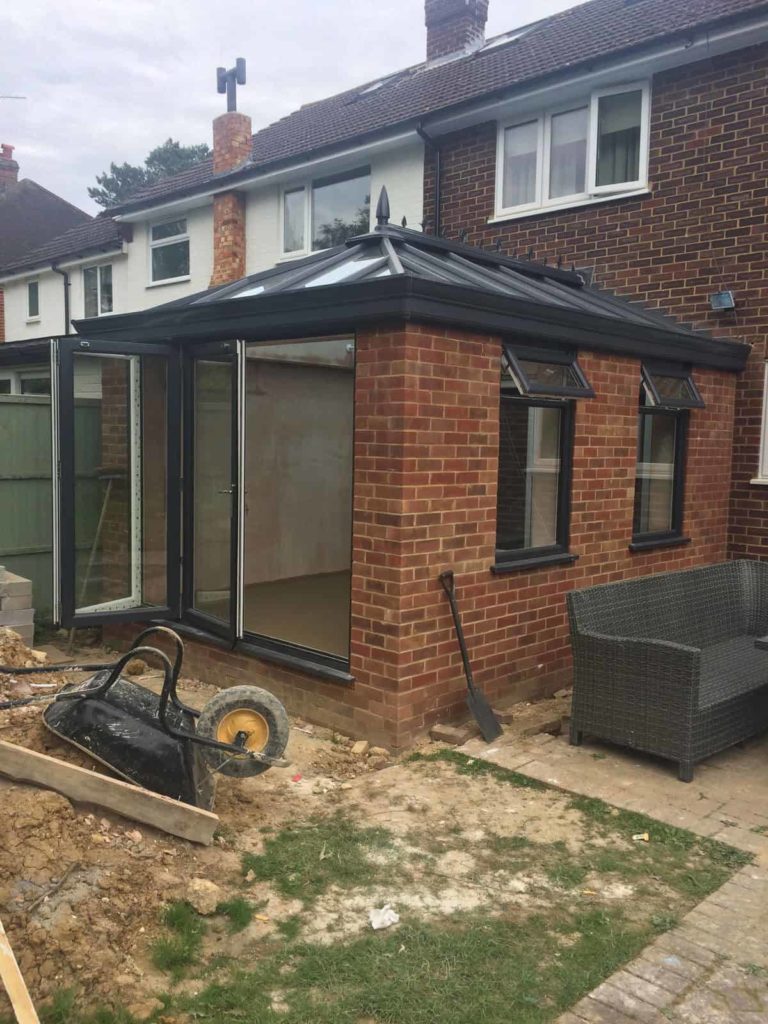 New uPVC Porch and Conservatory
At the front of the property, our clients' Porch & front door was a little tired and they wished to improve their security. They wanted to improve their porch at the front of their home so that when everything was complete it would be perfect. We were able to work on the job alongside the conservatory build. We offer competitive prices, and you will save even more from not having to reach out to other contractors. Their porch was looking a little tired lately, so they approached Abbey to see how we could help. They also felt their home's security was lacking due to the failing porch at the front of their home.
Our composite doors are incredibly secure, with impressive locking systems that are accredited by Secured by Design. Our porch refurbishments are high-quality, offering a vast range of different designs. These designs can tailor to complement your property. These are high performance as well as stylish, providing an outstanding weatherproofed roof and a solid body build. We replaced brickwork of their old looking porch with full height Liniar frames equipped with A rated glass, and a thermally-insulated uPVC panel. We also changed their door to provide enhanced security for their home as they wanted. They chose a turquoise pastel Rocal Endurance Etna Spring composite front door, a very tasteful choice.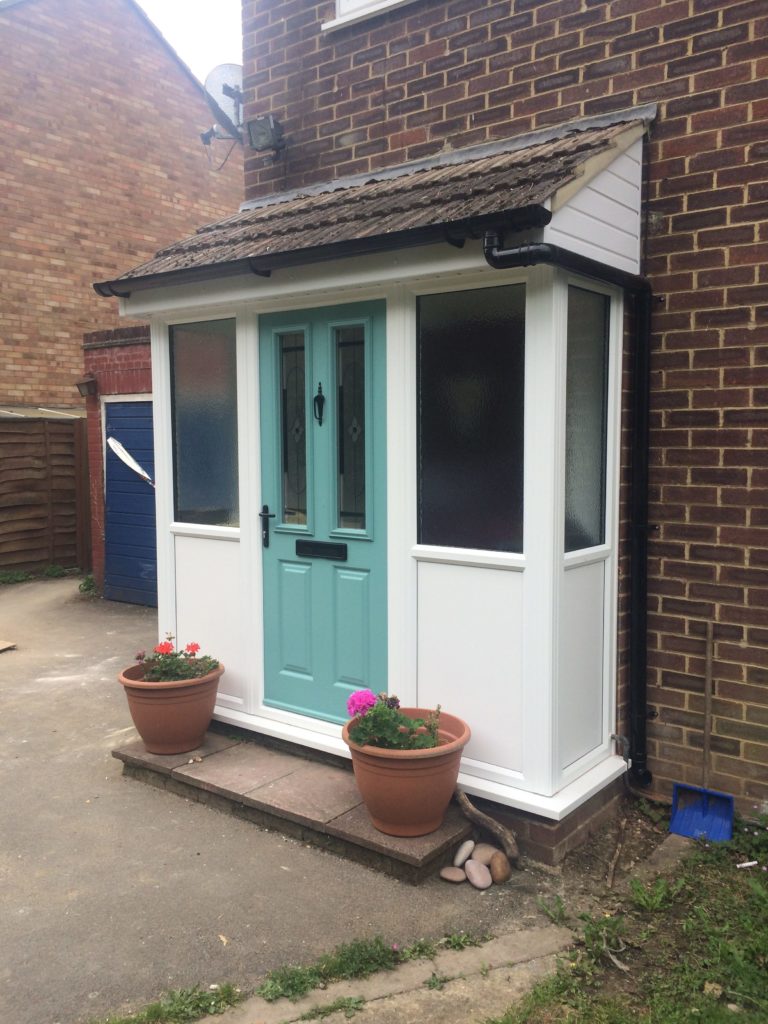 Building Work
We carried out our building work in an effective, coordinated manner. Whilst always informing our customers of notable changes and any procedures undertaken. Our tools are always tidy, using the latest equipment in the industry to install fabulous conservatories and refurbish used porches.
Our trained, highly-skilled professionals have a keen eye for detail when it comes to installation and refurbishment. We have extensive experience to carry out your building project in accordance with Building Regulations to the highest standards.
Our customer was incredibly happy with our service, writing an excellent testimonial. Their family did not feel disturbed by the building stages, as we worked quickly and efficiently on the project. We ensured they could begin enjoying their new home improvements as soon as possible, while not causing any further delay.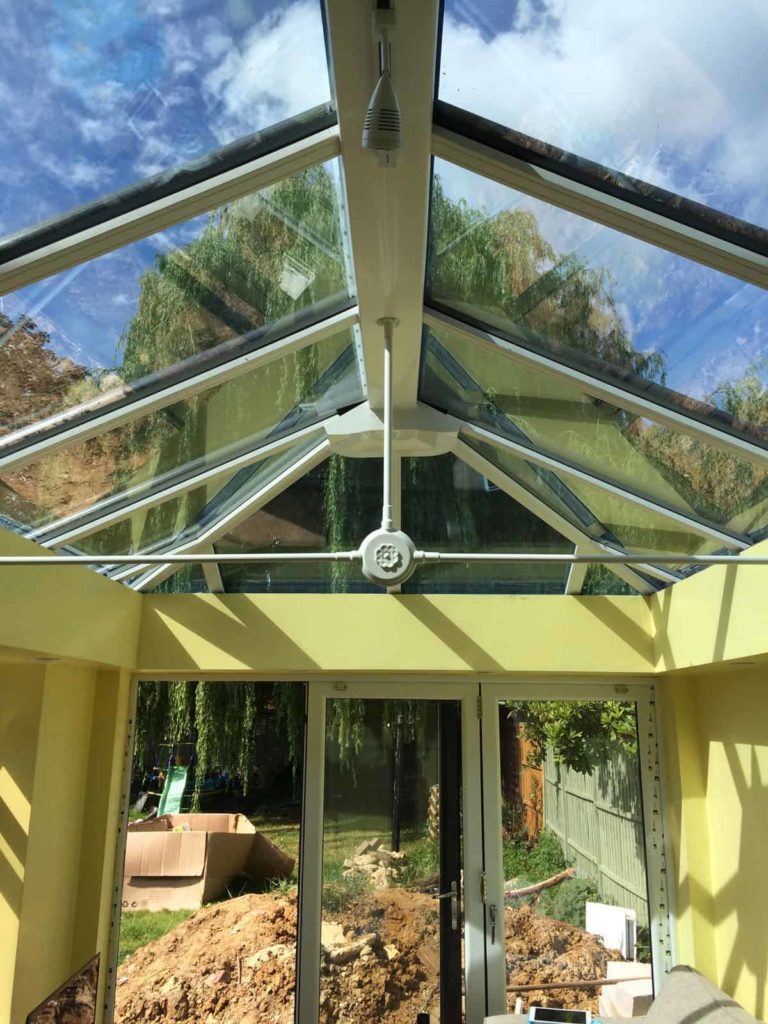 Spacious Design
Next, they needed more space for their home with children on the way. They could not afford to move home or spend more on another mortgage. Therefore they came to us for a cost-effective conservatory. In agreement with the customer, we felt their existing kitchen and dining room could provide an entrance to the garden. So we decided to knock through the wall in order to begin an exciting building project.
This conservatory was designed to create more space for our Reading customers.  Therefore, the decision was made to knock through the existing kitchen and dining room to create an open-plan space.
By installing a 3 leaf set of Origin Aluminium Bi-Fold Doors between the new conservatory and the kitchen/dining room, our customers have free-flowing flowing floor space in their Reading property. The family can close themselves away when they want to have a little quiet time. Alternatively, they can create an amazing family room and play area going straight onto the garden for the children to enjoy.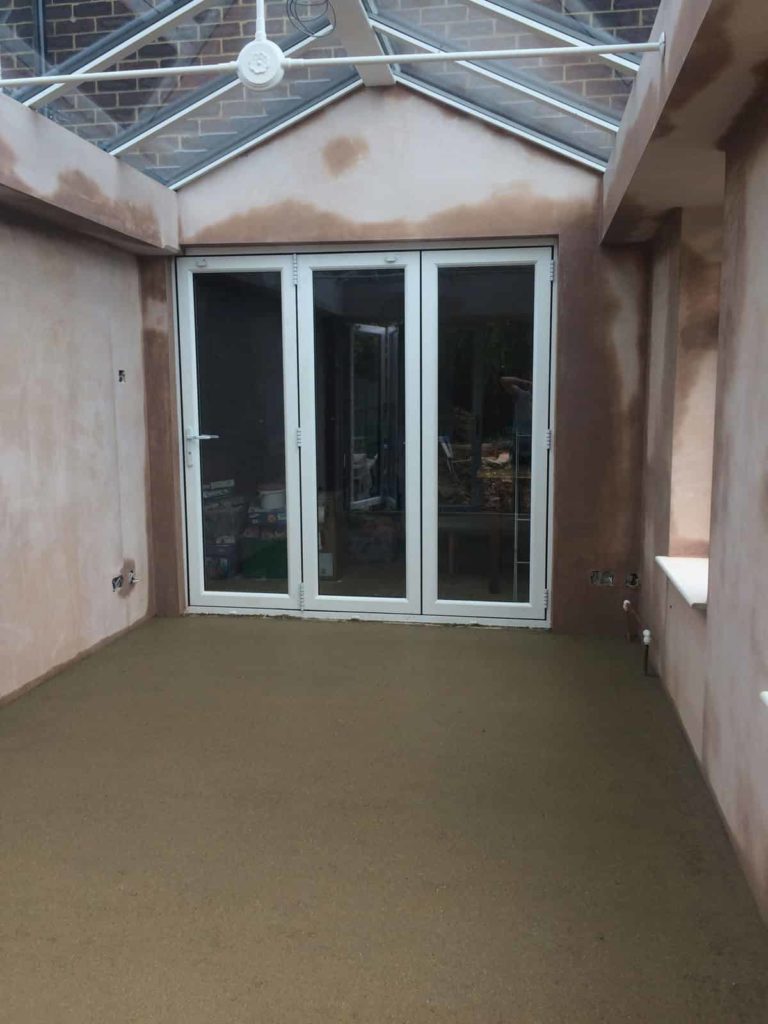 Features and Benefits of Edwardian Conservatory
Our customers decided on a 4.2m x 3.1m Edwardian conservatory that has a vented Anthracite Grey on White Ultraframe roof with Blue Solar Glass.
To complement the living space for all year round use, our customer decided on the Prefix living room detail with lighting. This not only creates an aesthetically pleasing feel that has controllable lighting for every occasion but also provides additional space.
The uPVC window and door frames are Liniar Anthracite Grey on White with A Rated Glass.
We totally transformed the performance and appearance of our customers home in Arborfield. We did this without adversely affecting the interior of the house. Discussing plans in great detail with our client, so we decided to knock the wall through.
They now have beautiful bi-folding doors leading into their stunning Edwardian conservatory, which offer more than just beauty.

Edwardian Conservatory Installation and Porch Refurbishment Prices Reading
If you enjoyed hearing about beautiful Edwardian conservatory installations and porch refurbishments, we offer an online quoting engine. Where you are under no obligation to buy whilst receiving a competitive price and customised design.
You can alternatively get in touch via our online contact page, where we ask you to complete a short form with a few details so that we can contact you. Or call us on 0118 956 6866.