Extension Installation, Reading
Are you thinking about extending your home with a traditional, versatile and highly desirable house extension?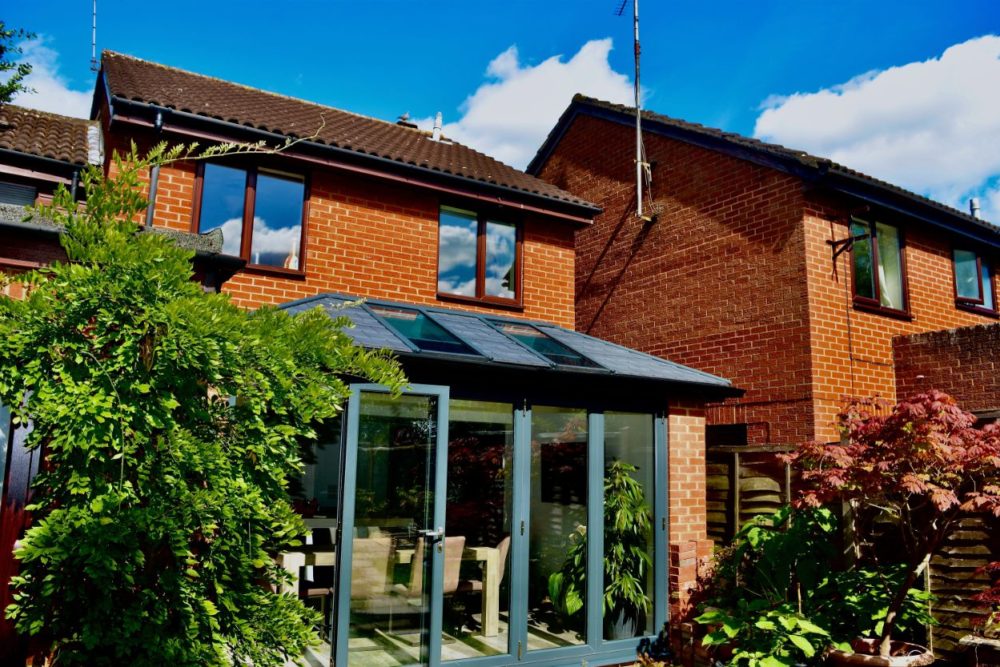 Why not take a look at one of our recently completed projects to get some inspiration, and then get in touch with us to find out how we can do the same for you!
Conservatories and house extensions are considerable undertakings for any individual and the home improvement company you choose. That's why you work to work with a trusted local installer like Abbey Windows. We not only understand the mechanisms of the project, but we also care deeply about making sure you're totally happy with the work we carry out.
If you're considering a house extension in Reading, Basingstoke, and across Berkshire and the Thames Valley, we welcome you to read about the project we recently carried out below to find out what it involves and how straightforward it is when you choose to work with Abbey Windows. You'll have a new and improved living space in no time at all, courtesy of our friendly and professional team.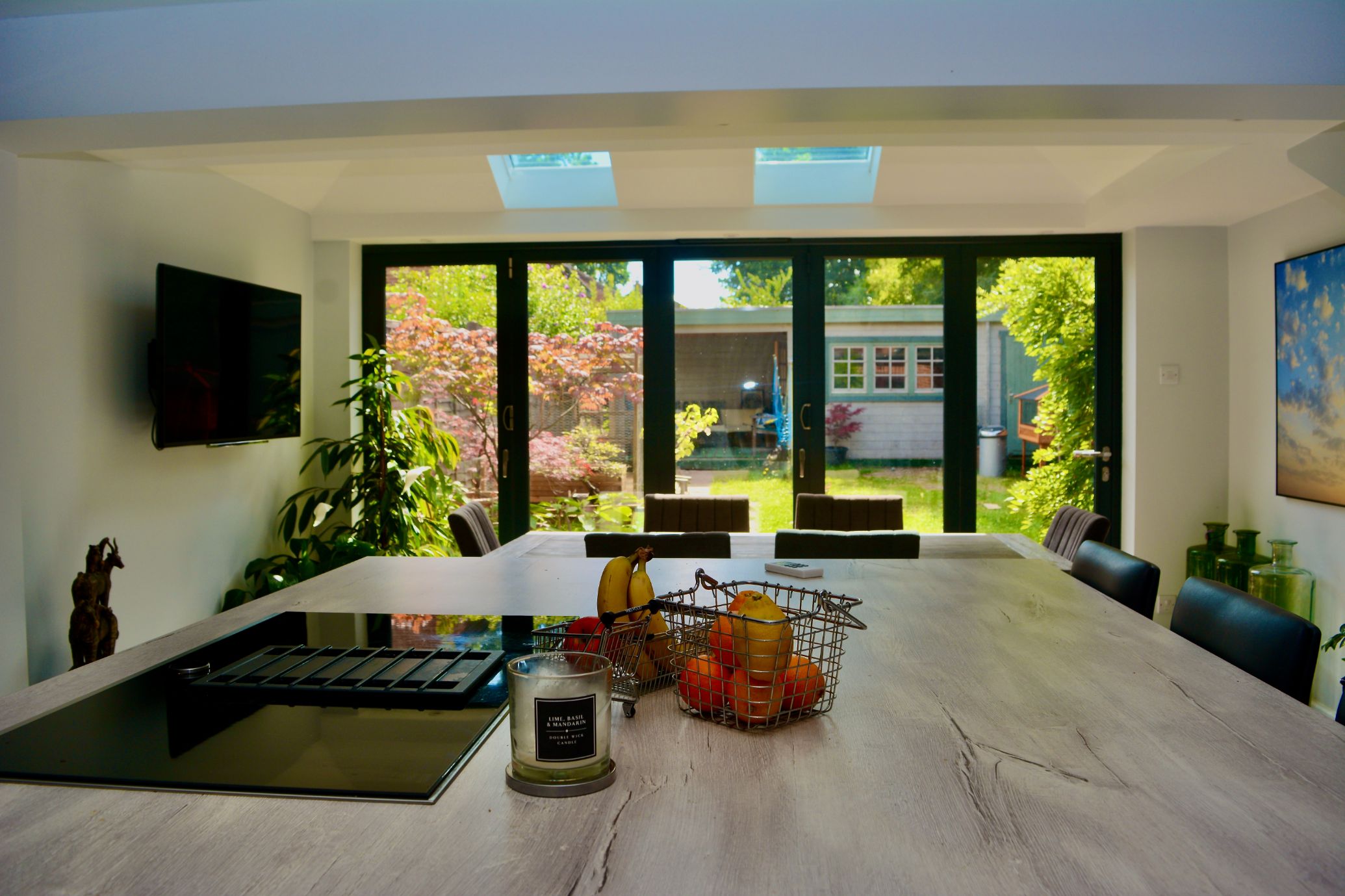 For this extension, we used the Ultra380 roof from market-leaders Ultraframe. We want to make sure all our valued customers receive the products and service that they deserve. That's why we've partnered with industry-leaders Ultraframe to bring their stunning replacement roofs and other installations to our valued customers.
Constructing a brand-new extension from scratch is a considerable task and one that some other installers may not be able to carry out so effectively if at all. For this project, Abbey Windows' professional team handled everything from start to finish. This task involved structural calculations, building regulations and project management.
We want to make sure you don't have to worry about a single aspect of our conservatory and extension installations. That's why we take care of everything, so you don't have to spend your time thinking about the technical aspects and complicated paperwork involved; instead, you can make better use of your time imagining how you want to use your new extension – the possibilities are endless!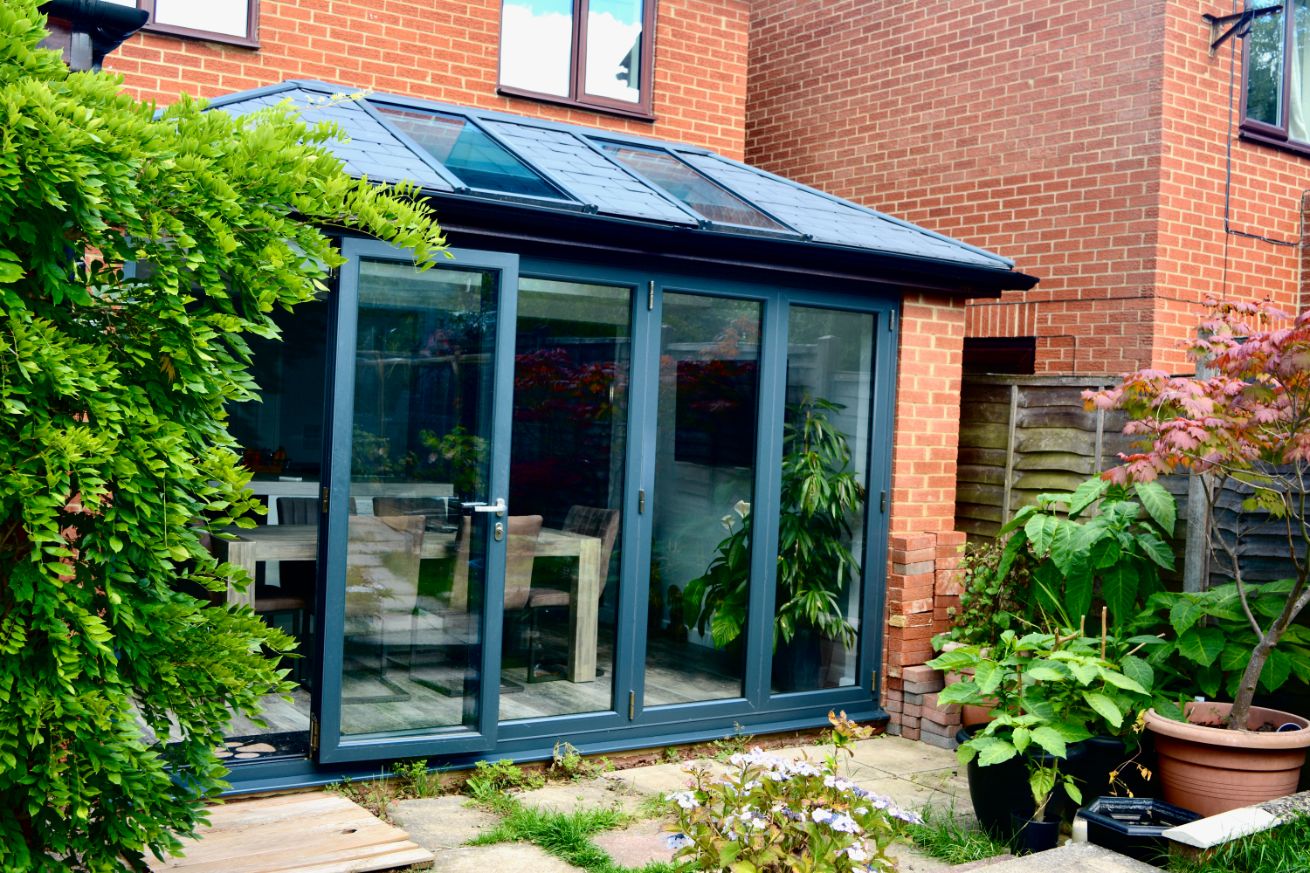 There are many reasons why we work with Ultraframe to bring their innovative Ultra380 roof to valued customers like we did in this project and can do for you. For a speedy and straightforward installation, this new roof is fabricated off-site. This means that when it came to carrying out the work on-site, it was a relatively easy task.
Ultraframe's modern roofs, expertly installed by our team, are available in modern styles and designs. This particular installation was chosen with 'carbon grey' lightweight slate tiles. These, combined with elegant and high-performance glass panels, allow plenty of light to fill the new living space while keeping it thermally efficient too.
Finally, the rear wall of the property was removed, and the new house extension was completed. With a bigger and brighter living space in place, the customer was delighted with the enhanced look and feel of their home. Full of light, expertly installed and created bespoke, our house extensions are a true home improvement.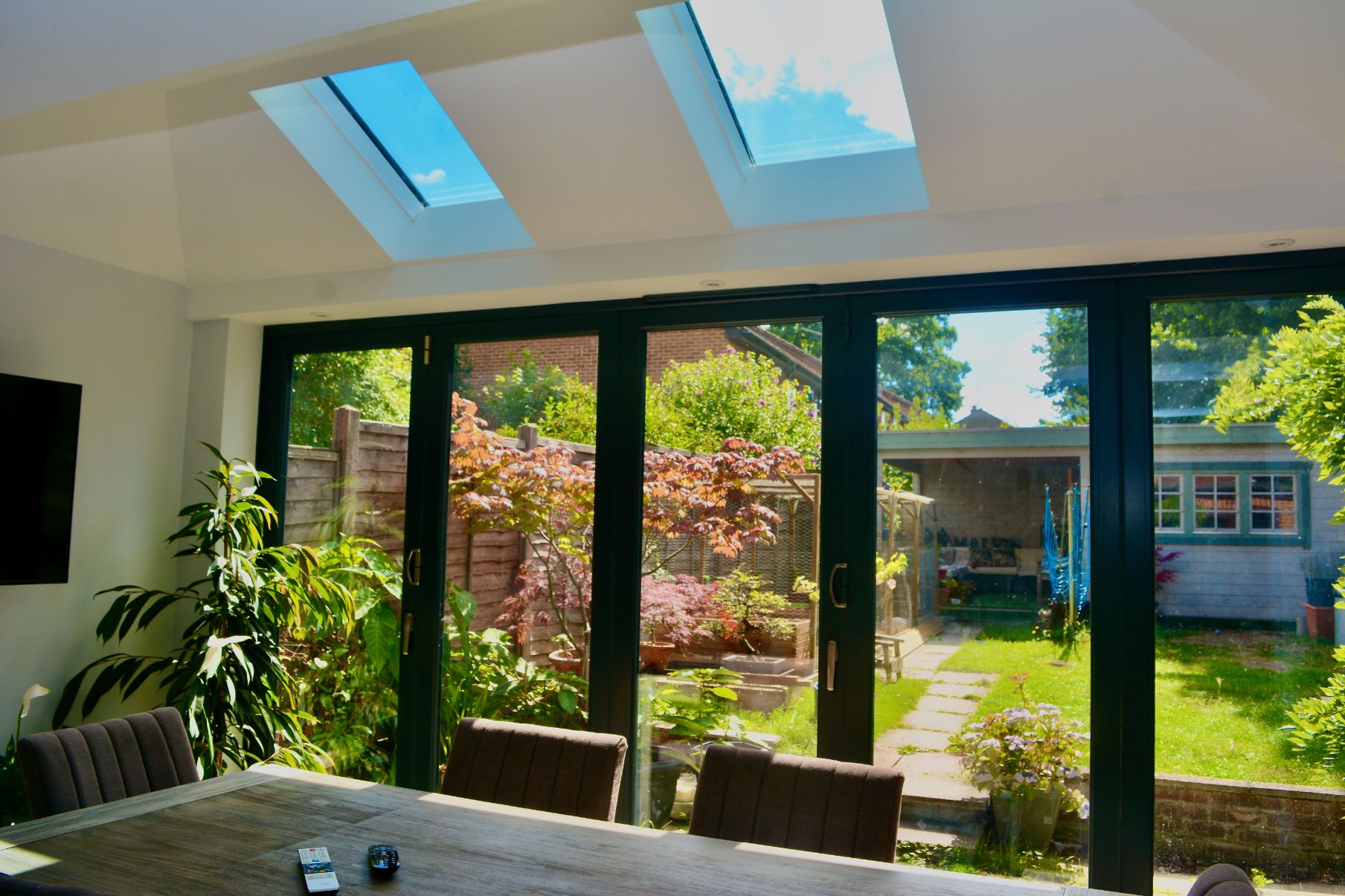 Alongside the primary installation, we carried out some additional work on-site to create the perfect look and feel for this house extension. To open up their home to new possibilities, we installed stunning bifold doors. These are a truly modern addition to any property to create a seamless transition between living spaces.
Just as with Ultraframe, we sourced our market-leading bifolds from Origin. Their sleek and strong aluminium profiles mean they'll stand the test of time. You can welcome guests in style, and they are sure to be impressed with every aspect of your new and improved living space.
For total peace of mind, our aluminium bifold doors come equipped with their industry-leading 20-year guarantee. Bifolds are tough, resilient and will not let you down. You can rest assured that with every aspect of your home improvement project – be it windows, doors, a conservatory or extension, or some combination of all of these – you'll get the highest quality installation, service and guarantees from Abbey Windows every time.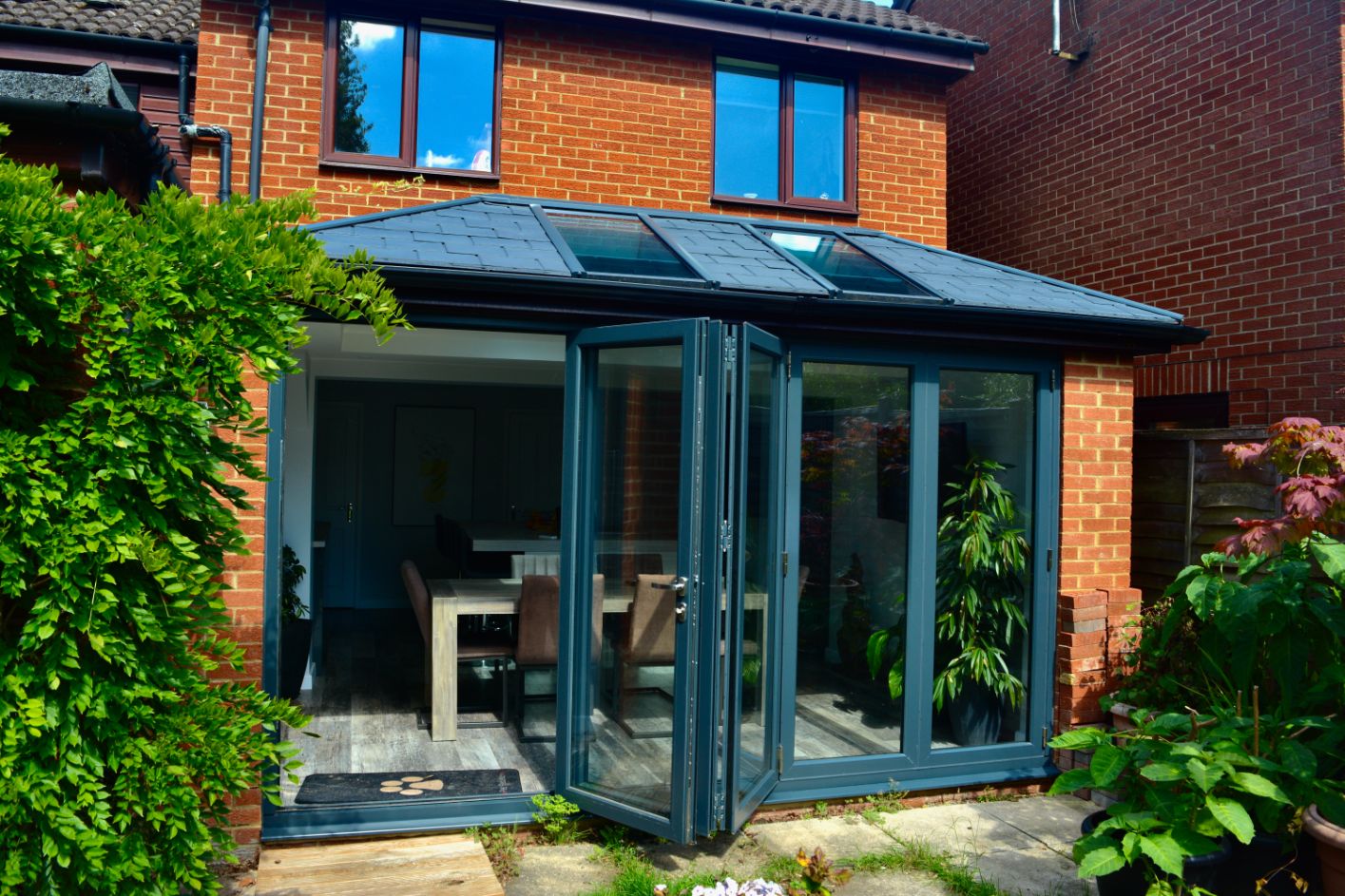 If you're looking to expand your home with a brand-new conservatory or house extension, look no further than the friendly and professional team at Abbey Windows. We'll take care of every aspect of your construction and renovation project, so you can remain worry-free and spend your days planning how you're going to use your new space.
Feeling inspired by our conservatories and extensions? You can get started on your next project today when you use our online quoting engine. You'll receive a competitive price based on your specifications, and we'll take care of everything from there.
For more advice, call our team directly on 0118 956 6866 or contact us online. We look forward to working with you soon.