Gable-End Conservatory Installation Tilehurst, Reading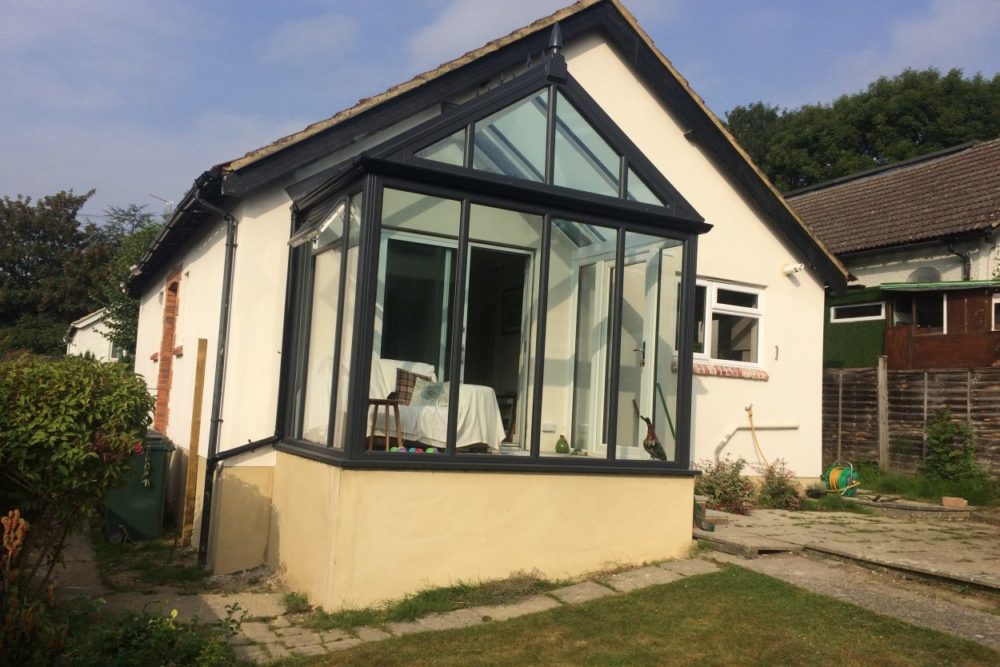 Stunning Gable-End Conservatory Installation in Tilehurst
Abbey Windows specialises in all forms of double glazing, including supplying and installing a gable-end conservatory for homeowners in Reading.
We offer customers great value for money. This is because we are an all-in-one service, so we cut out the middleman, and lower the costs for you.
There is a vast range of size configurations and design options available for your gable-end conservatory, therefore helping you achieve a complimentary look for your home.
When Mrs Belfield bought her home it had an old greenhouse conservatory at the rear. She wanted to change it for a lean-to conservatory, so we paid a visit to her house and felt a Gable-End would give her more space and views.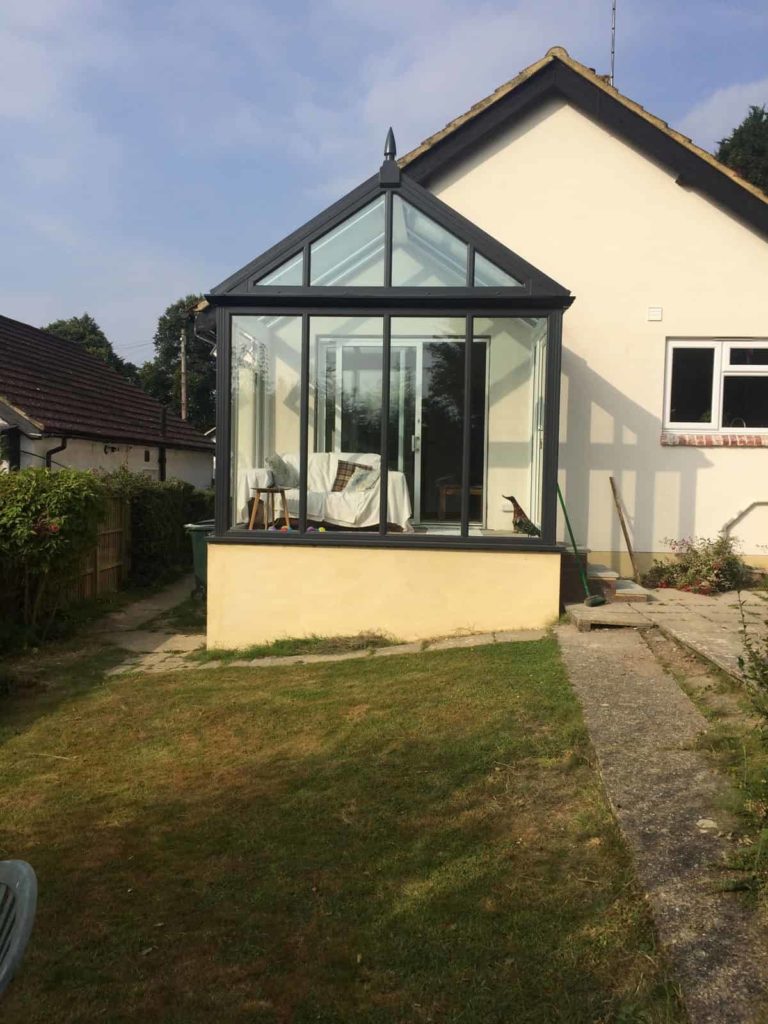 Hassle-Free Installation
The builders had dismantled the old conservatory ready for our survey. Our customer was originally looking at a lean-to conservatory but we advised that a gable-end conservatory would give the client more space and a better view over their land.
This was a 3m x 2m base but with the gable-end, it feels a lot larger. The wall structure was manufactured using full height Liniar frames with opening sashes, with an Ultraframe aluminium roof. An excellent combination!
It has blue solar glass in the roof to help with solar reflection and this also helps control the temperatures inside the conservatory.
Stunning Colour Range
Our conservatories are available in a wide range of colours and finishes, and our Reading customer opted for a dark grey finish to finished in dark grey to contrast with the white render.
The result is a contemporary conservatory with all the charm of a classic extension – our customer was extremely happy with the aesthetic.
We offer many colours for our conservatories including vibrant shades and classic finishes, to suit every kind of Reading property.
Gable-End Conservatory Building Project
We design gable-end conservatories to provide more light and space inside their homes.
We offered to survey her home once we had dismantled the old greenhouse conservatory, and install a 3m x 2m in place with gable-end, allowing her to enjoy a bigger garden and a conservatory that felt much bigger.
Her new gable ended conservatory would provide a fresh look and enhanced levels of performance for her brand new property to bring her many benefits.
There was a slant in the surface where we built a fabulous gable-end conservatory, therefore using our expertise we measured it to fit her living space.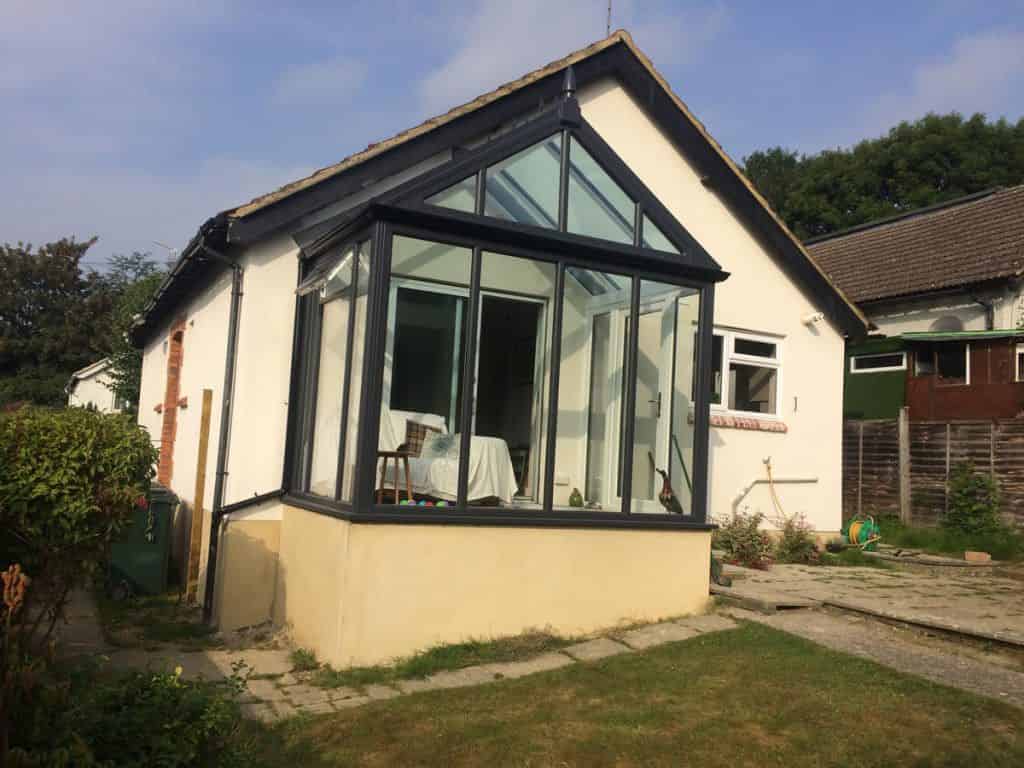 High-Specification
Our gable-end conservatories are made-to-measure, made with the slimline uPVC rafters using the impressive profile spec of Liniar.
We installed high-quality uPVC windows and doors for her conservatory. This helped her receive exceptional functionality and lastly provided an innovative Ultra frame aluminium roof.  Therefore providing rigid security, durable performance and excellent weather shielding.
We installed Blue solar glass in the roof to aid solar reflection and temperature control inside the conservatory. Contributing to a cost-effective household, as she would no longer rely so heavily on central heating systems.
Abbey Windows offer high-quality finishes in a range of colours to complement the style of your home. She insisted on a Dark grey finish with white at the render, as it blended nicely with the colour of her home.
Our designs achieve the cleanest aesthetics, precision-engineered by leading manufacturers Liniar and Ultra frame. This provides smooth edges, and slim sightlines, which achieves wider glazed areas for further light exposure.
From start to finish, our high-quality conservatory installation took just three days to install, which Mrs Belfield felt very pleased about.
We offer high-end conservatory installations, from gable-end to lean-to styles, allowing you to achieve a bespoke look and fantastic performance.
Our conservatories are space-efficient, as we use a sleek profile design and use fewer bars to construct them. Our gable-end conservatories open up your space and create a new living area for you to use.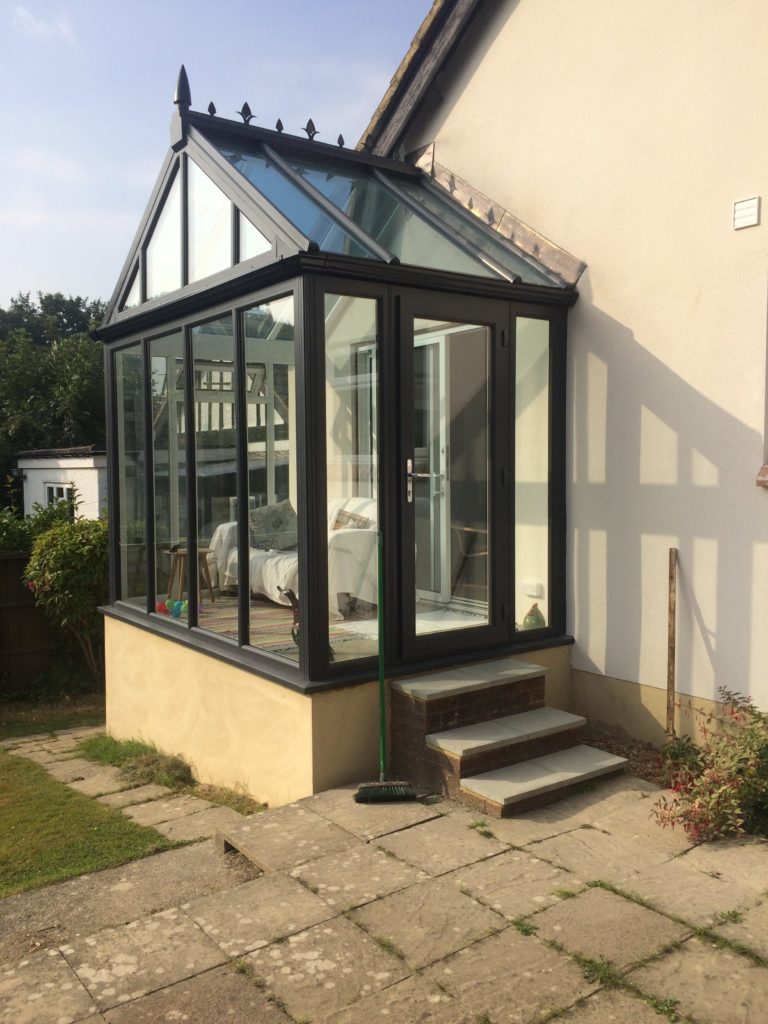 New Views
From the end of her garden, she can admire the stunning architecture and decorative finish of her new gable-end conservatory. From inside her lovely new conservatory, she will be able to enjoy uninterrupted views of her garden.
The gable-end furniture really stands out for her new home, adding character and a touch of period charm. Although only a small conservatory, it leaves a large mark.
During all times of the year, she will be able to enjoy the outdoors from the comfort of her cosy new conservatory. Our conservatories use the highest-standard materials to ensure durable performance.
She will enjoy added exposure to light and to nature through her double glazed doors, which provide wide glazed panes and high insulation.
Leading Conservatory Installation Reading
If you are a homeowner in Reading and want a brand new conservatory, our competitive prices and expert services are available to you.
Abbey Windows provide successful supply and installation of beautiful, bespoke conservatories. Our conservatories can tailor to your specifications.
Our gable-end conservatories provide more space and exceptional light exposure for the owner. Mrs Belfield has experienced since moving back into her lovely new home.
These complement any existing architecture, with predominantly glazed areas, slim rafters, and a wide variety of colour choices.
We are a high-quality conservatory installation service here in Reading, leaders in the double glazing sector. Enjoy fabulous conservatories which are cost-effective, come to Abbey Windows.
Gable-End Conservatory Installation Prices Tilehurst, Reading
You can use our online quoting engine to obtain affordable prices on gable-end conservatories. Tailor yours to match the existing features of your home using the tool.
You can get in touch with our team by submitting a form on our online contact page. Its simple, and quick to use, so head onto the page today for an instant callback. Alternatively, call us on 0118 956 6866. Our helpful team are always happy to chat through our conservatory designs and find the one that's perfect for you.