Aluminium Roof Lantern Installation Tilehurst, Reading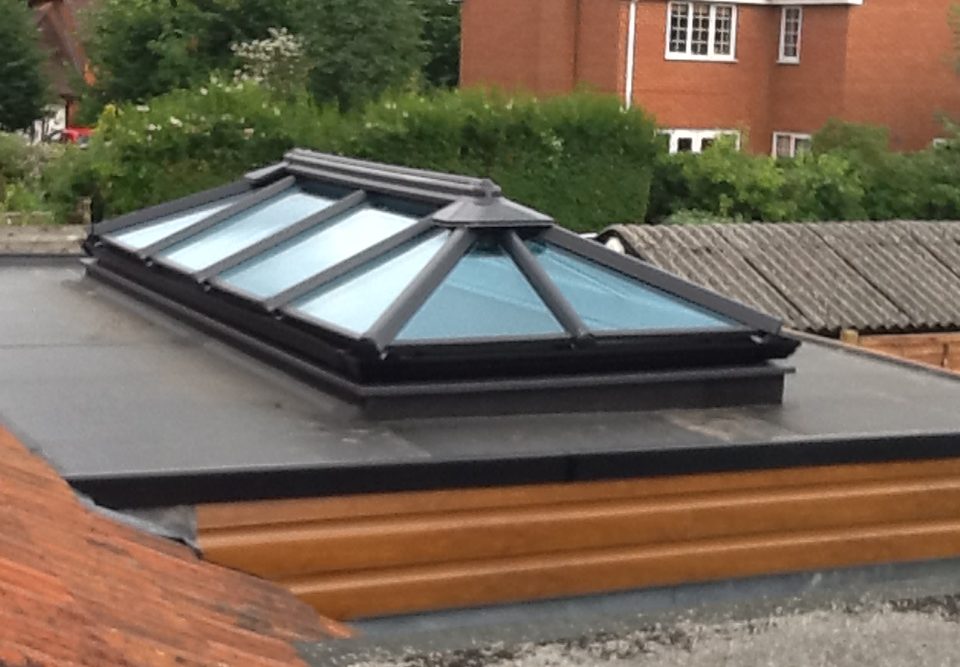 Beautiful Aluminium Roof Lantern Installation in Tilehurst
Abbey Windows offers stunning aluminium roof lanterns here in Reading, providing living extensions with a realm of light and an attractive contemporary feature.
We provide high-quality aluminium roof lanterns, which were built to last. These are perfectly adaptable to any style of architecture including rectangular shaped conservatories and orangeries.
Mr Bell did not know about lantern roofs until he visited Abbey Windows around the corner from where he lives. His extension did not have an aluminium roof lantern before and he was struggling to read his book due to the dimness in the room, and he wanted to save money on expensive electricity bills.
Abbey Windows stepped in to help this gentleman in Tilehurst, Reading, ensuring he gained a lighter room that could generate enough sunlight around the room to switch off the light bulbs.
Innovative Aluminium Roof Lanterns
Utilising the leading technically-advanced aluminium profile for a stronger ridge, our aluminium roof lanterns are thoroughly-secure, and installed to provide a long-lasting roof system. We ensure homes are weatherproof by implementing uPVC roofline systems, which provide exceptional drainage and are thermally-efficient, eliminating cold draughts.
Abbey Windows upgrades extensions with its innovative roof lantern solutions, transforming a roof into a solarium. You can begin to envisage the stars at night through the extensive glazed panes that our aluminium roof lanterns have to offer. You'll also remain warm and cosy with a tough, aluminium frame and energy-efficient glazing that extracts warmth throughout the day, and circulates around your room during the dark, cold evening.
Mr Bell now uses his extension night and day for reading and for enjoying the sun without having to put any suntan lotion on. By reducing the time spent with the light switched on during the day, he allows himself enough time to enjoy his book under a lamp during the evening from the comfort of his arm chair.
He opted for having blue solar energy-efficient glass installed in a day, which pleased Mr Bell entirely. He sought this option because he wanted to really save money on energy bills, and with the integral thermal technology, he gained exactly that.
Almost immediately he started noticing significant savings on his bills, and at the same time thanks to the advanced glass, reduced his carbon footprint. The blue coloured glass fitted in perfectly with his home's architecture in Tilehurst, ensuring beautiful aesthetics.
Attractive Aluminium Roof Lanterns
Alongside its aluminium framework, the roof lantern achieved a complementing contemporary appearance, a feature that Mr Bell and family enjoyed. They will benefit from these stunning looks for years to come with a highly-durable aluminium profile that promises never to scratch, rust, or fade over time.
Take your pick from a wide variety of coloured finishes which are comprised of a high-quality powder coating, which never requires repainting. We offer a wide range of size configurations from small, to large, allowing extensions of all sizes to enjoy an aluminium roof lantern from Abbey Windows.
Mr Bell went for a smaller sized roof lantern so that he could position it centrally on his solid roof. From outside, the aesthetics are extraordinary, as the traditional slated rooftop blends in beautifully with the mystical blue solar glass, while the adaptable qualities of its aluminium bars also play a hand in providing perfect aesthetics.
He has chosen an external white coating to match uPVC windows and doors, which are virtually indistinguishable from one another. You can opt to have a contrasting colour internally to complement the furniture around your home, or achieve a perfect colour match by opting for the same coloured foil.
Versatile Roof Lanterns Reading
Here at Abbey Windows, we have double glazing solutions for every homeowner in Reading on any budget. Our roof lanterns are as cost-effective as they are intelligent, utilising the latest, sustainable materials such as aluminium and uPVC to cut costs of expensive materials.
Over time, your thermally-efficient roof lantern shall save you a fortune on energy bills including heating and electric, however, you may have not known that you could even raise the value of your home by installing fabulous new roof lanterns. Our aluminium roof lanterns leave a long-lasting effect on potential buyers and they are a very attractive asset for property investors.

Roof Lanterns Reading Prices
Here at Abbey Windows, we use an innovative online quoting engine to allow you to tailor your roof lantern to your specifications and to meet your budget.
You can get in touch alternatively by visiting our online contact page, where all we require is a few simple details like your name and number, before we offer you an instant callback!