Orangery Bi-Fold Door Project
Abbey Windows Bi-Folding Doors Project: From Conservatory to Orangery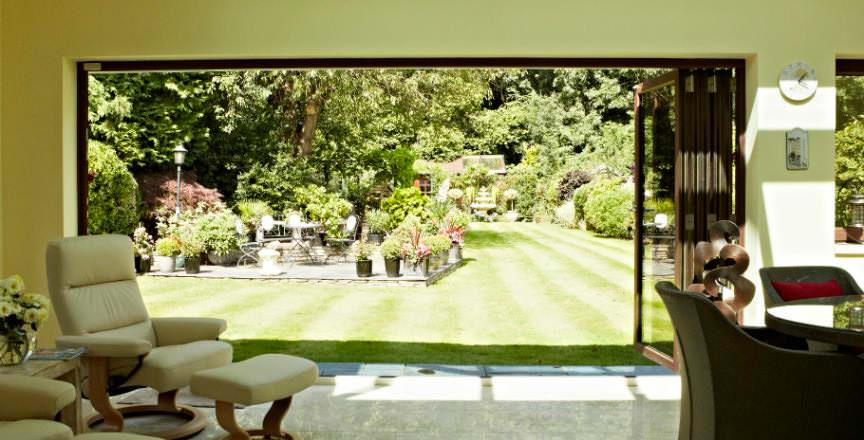 Transform Your Conservatory with Bi-Fold Doors
The before and after images above show the impact brand new bi-fold doors can have when taking a creative approach to a re-design project. Pictured below is a small Victorian conservatory in Reading with a polycarbonate roof. Although it is not exactly dilapidated, its exterior is very far from eye-catching, and the design has not been optimised to let in light or allow easy access.
Alongside the original image, you will see photos of the orangery we built. One of the most notable features of this revised structure is the set of bi-fold doors that join to form an L-shape and fully open the orangery to the elements – thus fully optimising the limited space available at the rear of this Reading home. This isn't a home improvement; it's a home transformation.
How Bi-Fold Doors Added Value to Our Customer's Home
Have another look at the photo of the Victorian conservatory we mentioned earlier. The presence of a dwarf wall around the bottom means that the brick-to-glass ratio is higher than it should be for such a small structure. The bi-fold doors included in the redesign solve this problem by opening up the dwelling and making it feel less claustrophobic.
The owner of the home in Reading that's depicted in this case study would have struggled with access into and out of their conservatory. The newly installed bi-fold doors have, as you can see, clearly rectified this problem by providing seamless threshold access. The orangery is no longer a standalone structure; it's fully connected to the garden.
This property in Reading is now primed and ready for entertaining guests, if so required. During warmer periods, the bi-fold doors can be fully retracted to provide stunning views of the garden and guests will be able to comfortable mingle without bottlenecks occurring. This brand-new orangery isn't just stunning; it's also extremely practical.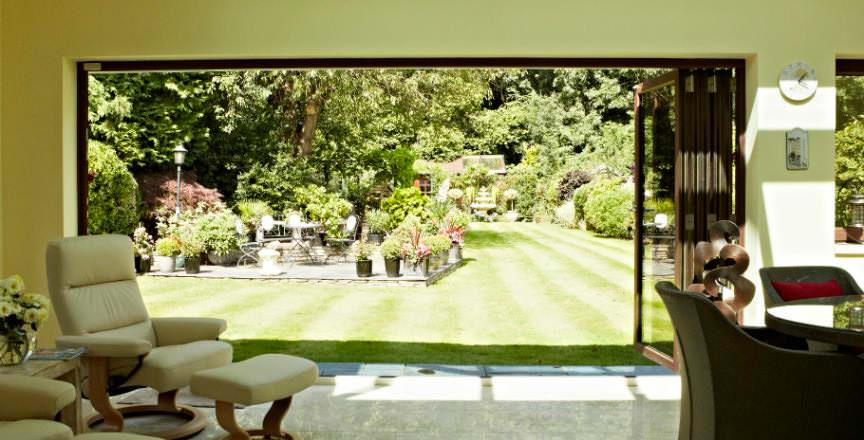 A Fully Repurposed Structure, Supported by Bi-Fold Doors
As we suggested earlier, it would be unfair to label this project under the banner of 'home improvements.' Abbey Windows' experienced team of installers worked painstakingly to rebuild this conservatory in Reading from the ground up. The bi-fold doors that act as such an integral feature of this structure played a strong part in the success of this project – but other characters played their part too.
The anthracite grey colour chosen for the bi-fold doors imbues the orangery with an understated sense of cool elegance and immediately draws the eye. It is neither too imposing, nor can it be ignored. You will also notice that space has been optimised so that no square inch is wasted. Gone is the multi-faceted design of the Victorian conservatory. In its place is a rectangular structure that provides plenty of space.
Because there is more room, this orangery in Reading can be used to serve a range of purposes. When the bi-fold doors are closed, it will let in lots of light, but without compromising on comfort. That's because the thermally-efficient profile in each door will prevent heat from escaping. At all other times, the bi-fold doors can be raked back to create an immediate connection with the garden area and provide ventilation.
What Type Of Bi-Fold Door Is Best? Your Options
The bi-fold doors featured in this case study might not suit your requirements. They have been tailored to meet the demands – and overcome the limitations – of our customer's home in Reading. The Abbey Windows team will closely consult with you to find a solution that suits the architectural layout and schemes of your home.
You'll be able to choose between uPVC or aluminium bi-fold doors, either of which can be colour customised and coated in a woodgrain foil that will perfectly replicate the classic look of wood – but without the extensive upkeep required to maintain them. You'll also be able to choose from an extensive range of accessories.
Whichever material or colour scheme you choose, your bi-fold doors will make an impact and provide you with superb levels of performance and security. We've chosen the best manufacturers to ensure our products are long-lasting too. Our uPVC bi-folds are built by Liniar, while their aluminium counterparts are made by Origin.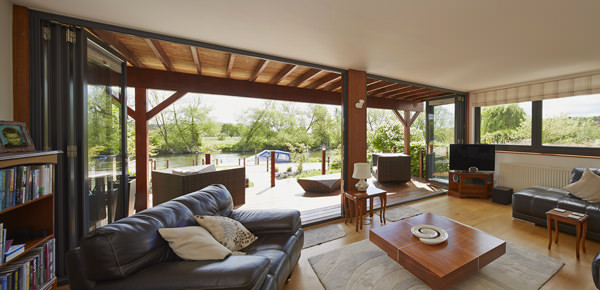 Bi-Fold Doors Prices, Reading
Have you been impressed by the transformational effect of our bi-fold doors? Like the home in Reading featured in this case study, we will make your conservatory or orangery fully-functional and accessible again – while also paying careful attention to the design to ensure it stands out for all the right reasons.
If you'd like to inquire about our bi-fold doors prices or ask a question, you can contact the Abbey Windows team by calling 0118 956 6866 or sending them a message. You can also obtain a free estimate using our design tool too – just enter a few basic details about the requirements of your project.