Window and Bi-Fold Door Installation Tilehurst, Reading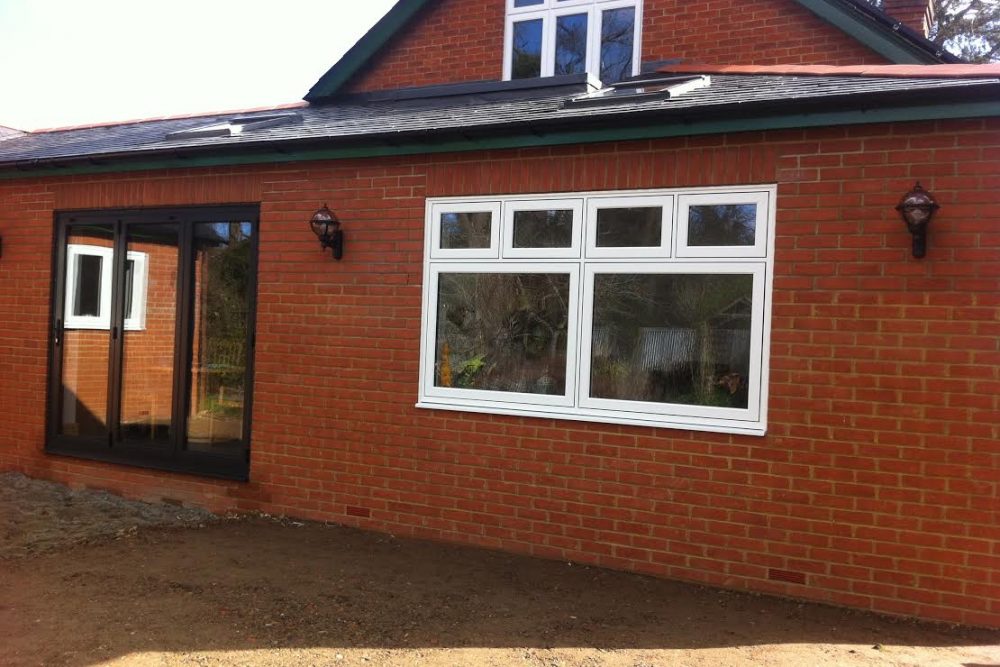 Quality Window and Bi-Fold Door installation in Tilehurst
Abbey Windows can help transform your home to provide more space and elegant style with an exquisite selection of Residence 9 windows and Origin aluminium bi-fold doors.
Our windows and bi-fold doors possess similar high-quality profiles to ensure consistent performance, and matching aesthetics. Their slim-line design provides reduced sightlines for greater glazed areas, which means your home shall be illuminated by light and achieve exceptional views.
We supply and install leading quality windows and bi-fold doors, as our customer in Tilehurst, Reading, recently experienced. Mr and Mrs Taylor opted to completely renovate their home with a new set of windows and bi-fold doors, offering contrasting but complementing aesthetics.
They were in a very unique position of moving into a brand new build property in the countryside, and were keen to locate suitable windows and doors to offer complement the style. For this reason, Residence 9 windows and Origin bi-fold doors were the ideal solutions.
High-Performance Windows and Doors
Offering an impressive multi-chambered profile design, a highly-secure uPVC frame, and the finest energy-efficient glazed panes, our Residence 9 double glazing far surpasses the performance of standard windows and doors.
Meanwhile, an impressive polyamide thermal-break and high-grade profile design allows our Origin bi-fold doors to perform impressively while looking beautiful.
Our customer could tell in the showroom that our special collection is high-quality, providing a very secure, authentic appearance that offers a premium alternative to the customer.
They were particularly taken for words when they saw the monkey tail hardware and grained white coloured foil on the reverse side of our windows, a traditional feature of 19th century flush sash timber windows.
When complete, Mr and Mrs tailor found that the flush finished windows were the ultimate aesthetic for their cottage, that blended seamlessly into her architecture and with the bi-fold doors.
As opposed to timber, our incredible uPVC windows provide weatherproof, corrosion resistant performance, capable of a lasting long into the future. These are a low maintenance solution for homeowners in Reading, which Mrs Taylor was very pleased with.
High-end window and bi-fold door installation is cost-effective and high-quality, due to Abbey Windows offering turnkey solutions, which cuts out the middleman.
Our Residence 9 manufacturing process ensures windows achieve a perfect decorative detailed finish, which once completed, provides a exceptional alternative to timber windows.
These highly-innovative methods of fabrication allow R9 window to prevail throughout the years despite poor British weather conditions, and fitted with the very latest locking system and hardware, shall protect homes from potential intruders.
Warm and Cosy Living Environment
We wanted to ensure our customers cottage was well insulated as well as attractive. With our high-performance Residence 9 system, we ensure cottages feel more like home, by offering a thermally-broken, multi-chambered design that retains heat inside, and by installing widespread bi-fold doors, our Tilehurst customers can now relax and enjoy the warmth of their own cottage in a illuminated space.
At the back of their home, there was a clear space available that they felt would be perfect for bi-fold doors, and with our incredibly versatile size configurations, we were confident we could help. Our Residence 9 windows and Origin bi-fold doors achieve the highest Windows Energy Rating's and extremely low U-values, meaning your home can retain heat for longer.
As you rely less heavily on your central heating system, you'll begin to notice significant savings on your energy bills almost immediately after installation! There's also the option to install market-leading triple glazing in R9 windows or Origin bi-folds, enhancing thermal-efficiency and security once more.

Origin Bi-Fold Door Installation
Here at Abbey Windows, we provide the latest, leading aluminium bi-fold door designs on the market, incorporating the enhanced profile specification of Origin, and achieving a sleek, smooth finish. These allow maximum ingress of light through them, which is why our customer in Tilehurst felt they'd be the perfect fit to add an extra opening.
Available in a multitude of colours, our Origin bi-fold doors are highly adaptable to any style of property. As an owner of a country property, we agreed that our customer's would benefit from black bi-fold doors, and classic white uPVC windows, emulating traditional cottage design.
Alongside the brickwork, our black Origin bi-fold doors complemented one another perfectly, and furthermore, with a three door configuration that featured an opening leaf to one side, the homeowner benefitted from a seamless link between her home and the outdoors.
Origin bi-fold doors are exceptionally high-performance, and equally easy to install. Whatever your space demands, we ensure there's a design, and a fit, to enhance the appearance and performance of your home. Our window and bi-fold door installation in Tilehurst, Reading went swimmingly, as once surveying was complete, we were able to conduct the installation of brand new, thermally-efficient double glazing right away.
Window and Bi-Fold Door Installation Tilehurst, Reading
If you have been given inspiration for new windows or bi-fold doors here at Abbey Windows, please visit our online quoting engine for a competitive quote today!
We also offer a callback service, whereby by simply completing a form at the online contact page, we will be on hand to give you a call within moments!