Wood Effect Windows Installation Reading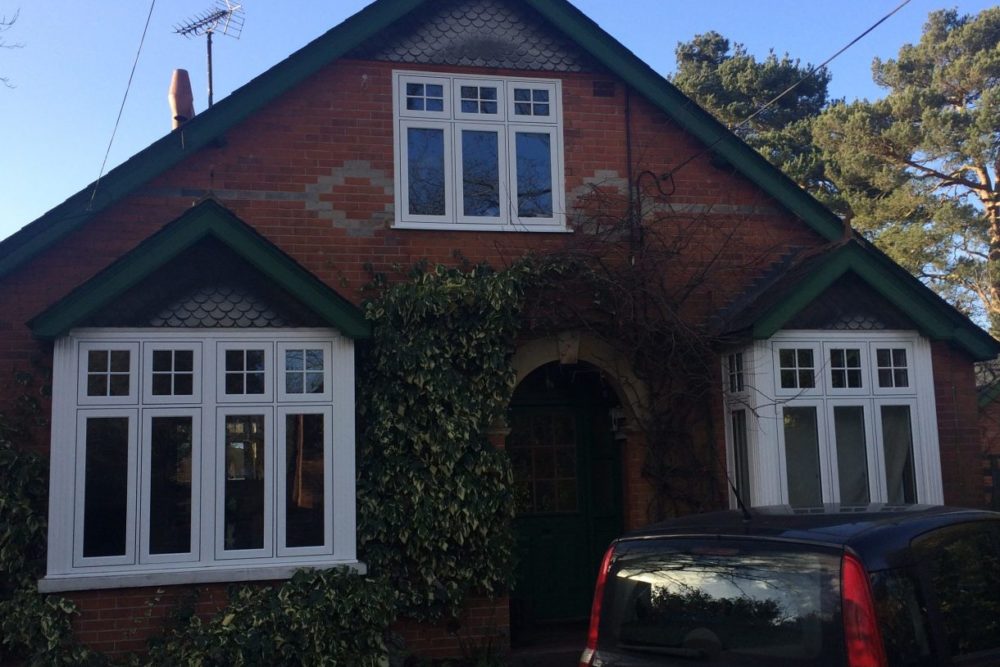 Realistic Wood Effect Windows Installation in Reading
Here at Abbey windows, we have fantastic double glazing solutions available in Reading. We offer a broad scope of options for your double glazing, including stylish uPVC windows and durable uPVC doors.
Our double glazing is cost-effective, utilising a 100% recyclable uPVC profile that may be reengineered into new uPVC products. We offer affordable prices on bespoke solutions, with a range of tailoring services including decorative options and accessories.
We offer supply and install service, providing an alternative to reaching out to separate contractors. We are trained in all areas of expertise, including customer service, sales assistance, surveys, and installation.
Here at Abbey Windows, we also work with the leading manufacturers of uPVC, Liniar, to fabricate stunning windows and doors for homeowners in Reading.

Windows Building Project Reading
One customer from Reading has sent in her photos of the new double glazed windows installed at her home. She was very impressed when she realised she could have her chosen windows supplied and fitted at affordable prices.
She opted for the luxury Residence 9 options, which are precision-engineered using the latest manufacturing techniques and machinery to offer a perfect profile, consisting of exquisite edges and clean contours.
Her house needed a newer set of windows to provide the latest, modern performance, preventing water leakage and keeping the home warm and cosy.
Furthermore, the old timber windows were no longer reliable, as these types of timber windows and doors were developed before standard security measures were available, making them easy enough to leverage and age affecting the quality.
Finally, this customer specifically asked for her own tailored design so that the windows and doors gelled with the rest of her home, which she had invested a great deal of effort in.
Here at Abbey Windows, we listen directly to the customer to ensure that what they need is delivered on time and to budget. We are highly-experienced tradesmen and contractors combined, providing a solid, supportive service throughout installation.
Therefore, when she said she had been very interested in Residence 9 to emulate the style of timber most appropriately, we recommended woodgrain foils to match. Our high-quality finishes are established from a unique palette that we provide to customers only at Abbey Windows.
Before our customer had no recollection of seeing uPVC windows in a woodgrain foil, but when she opted for the Cotsworld Biscuit finish, she was impressed with the authentic appearance portrayed. She was happy to recommend them and Abbey to her friends. This has helped her achieve the perfect finish for her home.
She can now enjoy spectacular views through her exceptional set of R9 uPVC windows, and enjoy the finest performance through her new R9 doors, which were designed to complement each other.
Design Flexibility
Of course, as a customer you have complete choice over the colours that you pick to complement your property, which we provide a multitude of options.
You also can configure windows and doors with a choice of hardware which is cleverly concealed within the design to provide unspoilt aesthetics and secure performance.
Our customer in Reading asked for a specific set of windows. She requested to have wide uPVC windows around the house including a unique uPVC bay window so that she could open up her home to the outdoors and provide more space and increased light.
Our installation processes are meticulous as windows and doors are made-to-measure, therefore we need to ensure that we survey the premises properly and supply tailored products the can be efficiently fitted.
We hold a variety of fantastic options for window and door installations here at Abbey Windows, which our customer appreciated as she could guarantee a perfect look.

Incredible Installation
Our customer benefitted from a high-quality installation at her quaint-village property, blending seamlessly into the existing architecture and allowing them to control room temperature with a wide opening window and thermally-efficient system.
We treated the installation of her new windows with respect at her home, allowing enough time for each and keeping our space tidy at all times.
During installation, we utilised the latest, innovative tools and materials to devise a spectacular set of windows. Our high-grade uPVC profile for Residence 9 has a fantastic multi-chambered profile, offering leading thermal insulation.
R9 Windows Prices Reading
Please visit our online quoting engine for further information about our competitive prices on windows in Reading.
Contact the team alternatively by using our online contact page and completing a short form on there. One of the team will call you in due course.