Bay Window Installation Thatcham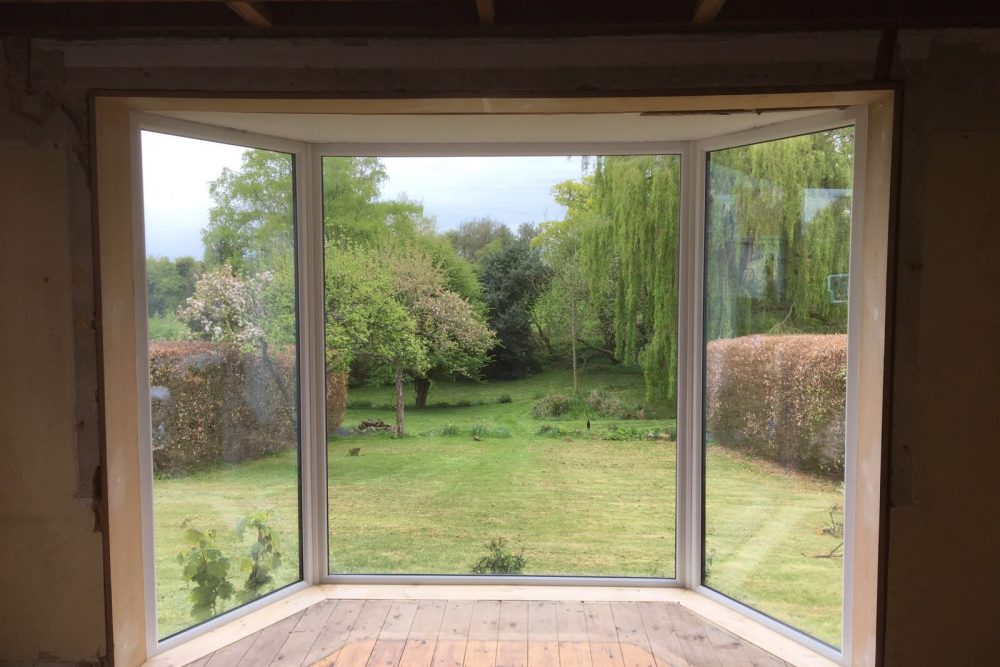 Stunning Bay Window Installation in Thatcham
Abbey Windows work throughout Thatcham and the surrounding area to supply and install stunning bay windows, which transform the feeling of space you have in your home.
Our solutions are affordable and high-quality, offering an exceptional installation at competitive prices compared to others available.
We provide experts in every field, from customer service to finishing touches, as well as designing and installing beautiful bay windows.
Flexible Service
Before Installation, Mr and Mrs Austin had an idea in mind that they wished to try, and found Abbey Windows to be the most affordable, well respected manufacturers around.
It was during a game of Grand Theft Auto that his son was playing that Mr Austin gained inspiration for this idea. He saw a full height bay window in a Miami condo and thought it would look good in his house.
We are highly-flexible in design, therefore we were delighted to assess his space and find a suited match. We were required to remove a uPVC bay window and the brickwork below down to floor level, and then install a full height uPVC Liniar window.
At the end, we reinstated the timber work on the inside and made good the brickwork outside. He asked for a Black woodgrain effect to maintain the heritage design, yet achieved a dual colour look with a matching white uPVC interior.
Perfectionists
We ensure every detail is as specified by the customer when supplying and installing new bay windows. Our manufacturers at Liniar are a leading supplier of uPVC in the UK, which pays testimony to the quality of our products.
Before, Mr and Mrs Austin had an old fashioned bay window, which had lost its original sparkle, and did not provide the cleanest aesthetics.
Our precision-engineered uPVC profile provides sleek sightlines for broadened views through the bay window. These protrude away from the home in a perfectly executed degree of accuracy, improving the style and performance of his home.
Liniar uPVC windows consist of high-grade uPVC, for a more advanced level of performance. The customer can now enjoy warmer evenings with a thermally-broken multi chambered design that features the very latest, innovative weatherproofing technologies.
Our perfect uPVC bay windows are 100% weathertight, and 100% recyclable. We helped the customer dispose of his previous uPVC windows and replaced them with 100% lead-free, longer-life Liniar windows.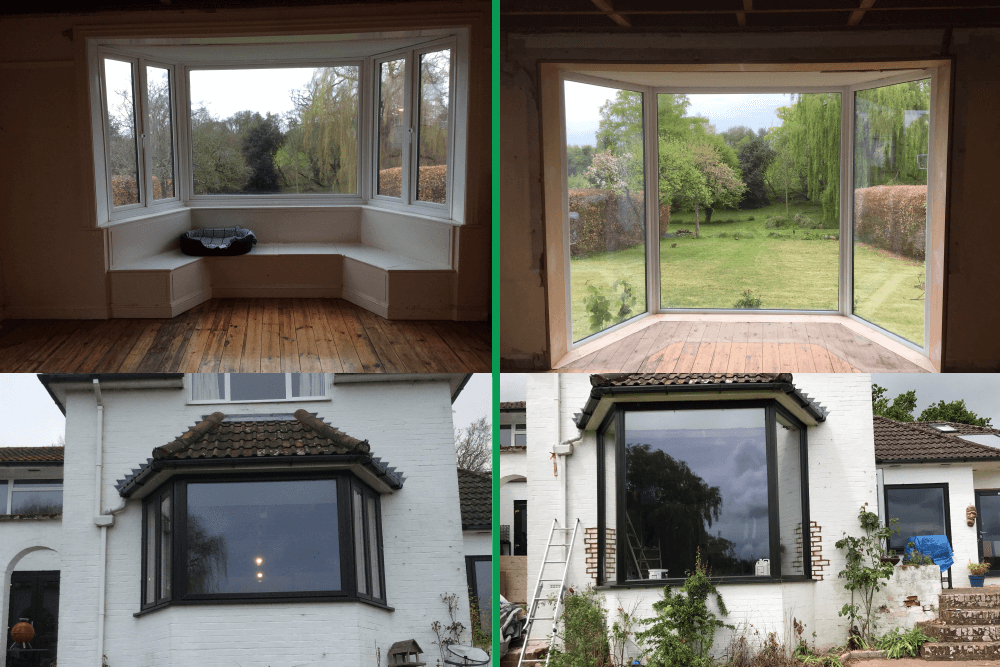 Cost-Effective Home Improvements
We offer high-quality double glazing solutions here at Abbey Windows, including our exceptional uPVC bay windows. Before, our customer's bay windows occupied a large amount of space and did not complement the overall aesthetic of their home.
Since Abbey Windows came to visit, it has been a complete turnaround. After achieving a competitive quote on tailored bay windows, our team worked relentlessly to resurrect the appearance of their home.
The sleek black profile now provides a beautiful contrasting look to the white brickwork of their property, while the expanded, uninterrupted glazed areas provide remarkable views of the outdoors from the warmth of their own home.
They could not believe it when they saw the new results of our interventions. The whole property has been transformed with our stunning uPVC Liniar window, as it matches the other windows for an attractive appearance as a whole.
Transformation
The brickwork underneath their original bay window did not enhance the beauty of the home. This heritage building needed more light and better views of their spectacular garden.
By knocking through the wall and creating a thermally-efficient wall of glass, they now have everything they wanted. Furthermore, they have not sacrificed their security, as our windows incorporate a highly-secure uPVC profile, which is durable and rigid, and promises never to warp, rot, or decay over time. This ensured that the transformation was complete.
The weatherseal design has improved greatly with innovative EPDM rubber gaskets and weather brushes, meanwhile, the energy-efficient glazing helps retain heat inside their home and reduces the usage of their central heating system. This also adversely lowered their carbon footprint, a feat that they were proud to be a part of.
Bay Window Prices Thatcham
Please visit our online quoting engine for more information about our beautiful bay window installations in Thatcham and their competitive prices.
Alternatively, get in touch with us today for a discussion on a particular design or for any other enquiries, please complete the form at our online contact page and receive a quick callback.