Origin Aluminium Bi-Fold Door Installation Wokingham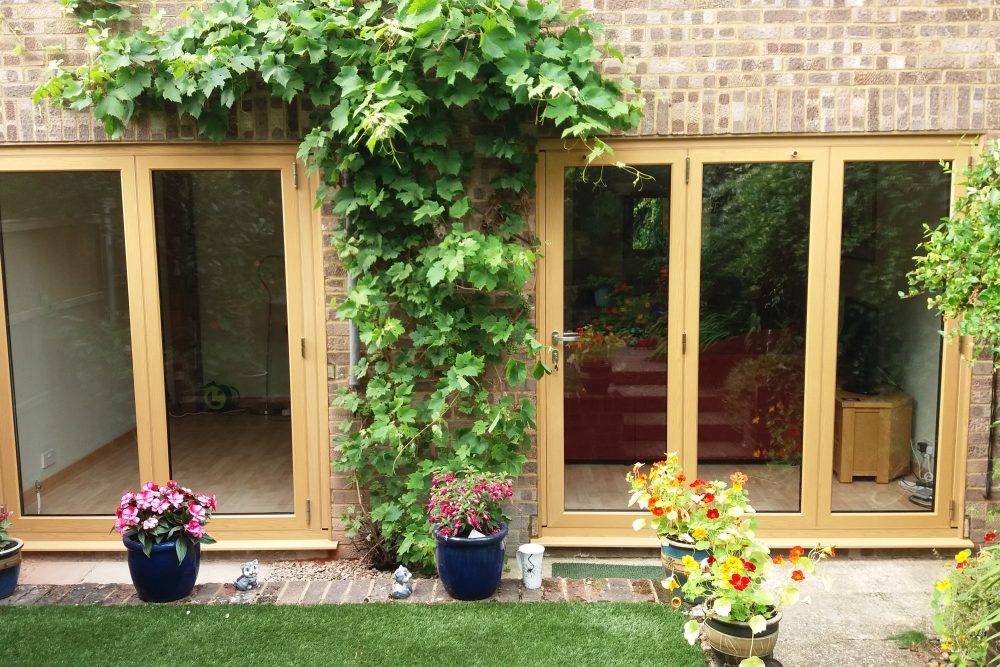 Stunning Aluminium Bi-Folding Door Installation in Wokingham
Aluminium bi-fold doors from Abbey Windows open up a new dimension for your home, providing an uninterrupted panoramic view of your world, with the capacity to draw in an influx of natural light into your home, creating an illuminated space.
These are highly flexible folding doors, allowing you to open them inwards or outwards to provide additional space. Our bi-fold doors are suitable for any kind of architecture, adopting slim aluminium sightlines, which complement heritage properties and contemporary styled homes alike.
In addition, regardless of what space you already have, there's sure to be an available size configuration to add character to your beautiful home. We offer door leafs from 400mm all the way up to 1200mm.
Our customer, Mrs Martin of Wokingham wanted to aesthetically improve the look of the rear of their property. By letting the outside in while opening up the room and creating a sense of  increased spaciousness of their living space, increasing their light whilst improving their security with Origin Aluminum bi-folding doors.
The Bi-Fold Door Installation…
Abbey removed the old uPVC products and cut out the brickwork where the old single window was installed. This allowed the customer to replace the redundant window with a two panel set of bi-folds.
The french doors and side panels were removed so the area could be enhanced with a 3 leaf set of Origin bi-folding doors in a 3+0 design with traffic door that makes the doors easily usable for everyday access.
Our professional contractors carried out the job in an efficient, safe manner by having the correct tools and expertise, minimising risk by keeping his toolset and the area tidy.
We informed the customer of how the work would be undertaken and how long we would need. From start to finish, we offer high-quality, time-efficient dismantling and installation.
Origin – The Bi-Fold Door of Choice
Our bi-fold doors are manufactured using a precision-engineered profile from Origin, providing a high-grade aluminium frame for your doors. There's then the choice of glazing options from Homeguard, specialists in security, insulation, and noise reduction.
We fit our bi-fold doors with high-quality, unique hardware that ensures smooth functionality, rated in the top threshold in Europe. We supply and install high-quality aluminium bi-fold doors throughout all of Wokingham and the surrounding areas.
Bi-Fold Door Configuration Options
There's optimum configuration choices available from two to eight panes, which may open fully left-to-right, right-to-left, or from the centre outwards, depending where you decide to place the main opening leaf.
Our smooth system runs on a free glide bottom track, which has been intelligently designed and concealed with a short wheelbase carriage and six wheels, fabricated from premium acetal, allowing quiet and efficient functionality.
We embed the latest, innovative technologies available for bi-fold doors here at Abbey Windows, such as finger safe technology, which is safe for children, and a magnetic door clip preventing doors from slamming and holding them in place.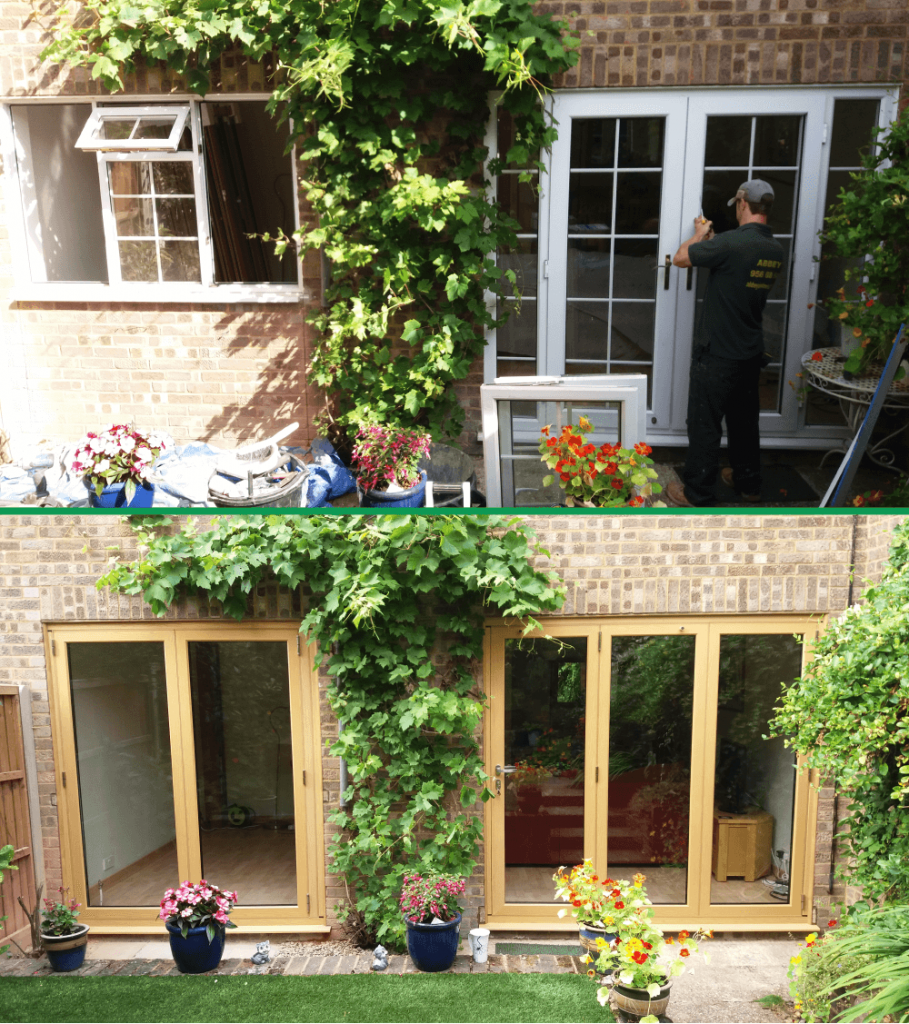 Weathertight Bi-Fold Doors
A low threshold option is available to provide access to wheelchair users and also a weatherproof threshold. It has a small lip to create a tight weather seal, and the track can be sunk into the floor, leaving a small element protruding less than 1cm.
Seals can be colour-coordinated with the bi-fold doors or other features to provide a long-lasting aesthetic. Our durable powder coating finishes are available for the frame and hardware. They promise never to discolour, ensuring low maintenance and cost-effectiveness.
We offer seven colours for your seals, and over 150 for the frame courtesy of RAL colours. There's even a dual colour option, allowing you to colour match the interior and exterior independently.
The customer from Wokingham chose a Natural Oak finish to superbly complement and contrast with the brickwork and garden surroundings. These were originally white French doors with matching windows, but they found more options available for a better design at Abbey Windows.
You can see the distinction between their initial doors and their new installation, featuring a glowing, Natural Oak finish and flawless glazed design. Instead of having just windows, they decided to open up their home with two sets of bi-fold doors, each with their own configuration.
High Performance Origin Bi-Fold Doors
As well as colour coded weather tight seals, aluminium bi-fold doors are rigid and thermally-efficient, providing outstanding levels of performance to the homeowner. Our customer in Wokingham appreciates how secure her new doors are, with incredible opening functionality and weatherproofing performance.
We take the necessary steps during the manufacturing process to ensure our aluminium bi-fold doors provide pivotal performance throughout their long lifespan. They even come with an impressive twenty year guarantee provided by Origin, ensuring satisfaction with the quality of performance.
These are low maintenance options for your home improvements, with a weatherproof, corrosion resistant frame, which is fitted with the highest quality glass for sustainable performance.
A thermally-efficient home allows you to reduce your heating usage, have an adverse effect on your energy bills, and furthermore, lowering your carbon footprint.
Highly-Secure Aluminium Bi-Fold Doors
Origin bi-fold doors utilise security cylinders, which are tested and proven to protect locks against any form of leverage including snapping, picking, drilling and bumping. These are discreetly integrated within the door to ensure it achieves the desired effect.
Our high-security locking mechanisms are just one way that aluminium bi-fold doors are highly-secure. Of course, this form of material is highly-sustainable, low density, and thoroughly robust.
This makes an incredibly durable frame for your doors that are most effective in home security. These will provide inevitable protection of your home, keeping you and your family safe.
Beautiful Aesthetics
Our Origin aluminium bi-fold doors offer an attractive feature for homes in Wokingham, as our customer Mrs Martin has achieved at her house.
The aluminium profile has been carefully crafted to offer slim sightlines, smooth contours, and a stunning finish. Our standard bi-fold door design is the most adaptable on the market, with its sleekly designed profile and subtly concealed hardware.
We offer more exposed, stylish hardware for bi-fold doors such as handles, offering an attractive look for your home.
Whether you wish to admire bi-fold doors from the outside of your traditional property, or enjoy the warmth and safety of bi-fold doors with the added light effect inside of your cosy, contemporary living room, everybody can enjoy their beautiful aesthetic appeal.
Aluminium Bi-Fold Doors Prices Wokingham
Please head onto our online quoting engine for further information regarding our competitive prices on aluminium bi-fold doors.
Contact us alternatively by using the online contact page, where you will be able to leave your details for us to get in touch on in due course.