Tiled Conservatory Roofs Project Woodley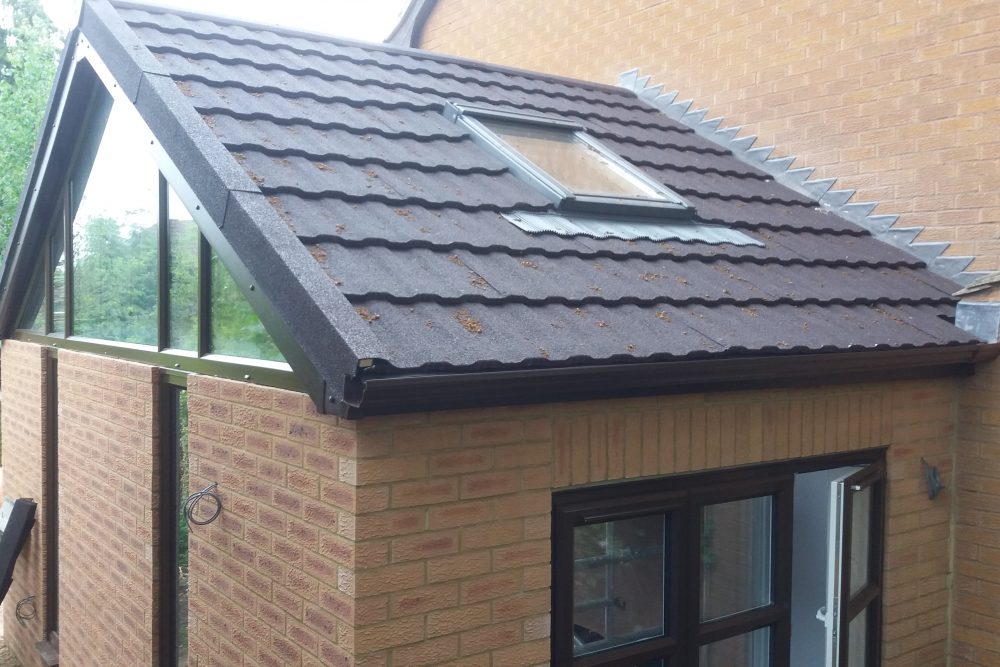 Tiled Conservatory Roof Project:  Protection Without Seclusion
---
Are You Still in the Dark When It Comes to Tiled Conservatory Roofs?
It's a commonly-held misconception that tiled conservatory roofs result in dark interiors. If you're refurbishing your conservatory, orangery or extension in Woodley, you'll be able to benefit from a space that's light, bright and plugged into the outside world.
The photos included in this case study prove our point. Tiled conservatory roofs, as you can see, will work in perfect harmony with some well-positioned windows – resulting in an interior that'll feel anything but enclosed and create a greater sense of space.
Although the transfer of light is also permitted through the entrance door and its accompanying window, the structure also relies heavily on the triangular gable window at the front and the apertures built into the roof itself to keep the interior space well lit.
If you've been looking for tiled conservatory roofs in Woodley, Abbey Windows can help. Contact us for more information by calling 018 956 6866 or sending us a message. Rest assured that our work will fully comply with building regulations.
---
Tiled Conservatory Roofs Create Space Inside, Too
So far, we've focused on how tiled conservatory roofs can be externally managed to optimise the amount of light allowed into a given space. Although carefully placed windows will create a sense of room within the designated structure – be it a conservatory, orangery or extension – the introduction of other architectural features is essential to complete this impression fully.
How can this be achieved? If you refer to the pictures interspersed throughout this case study, you'll notice the shape of the roof.  Its pitched style works to complement the function the light-giving function of the doors and windows create, resulting in an internal area that feels roomy instead of crowded. This effect is further accentuated by the white painted walls inside.
As you can see, tiled conservatory roofs transform smaller spaces; especially when installed at an optimal elevation and supported by the most appropriate windows and doors. Your conservatory in Woodley will function as an all-year-round space suitable for relaxing in – or entertaining friends long into the evening. Contact us for more information or a conservatory quote.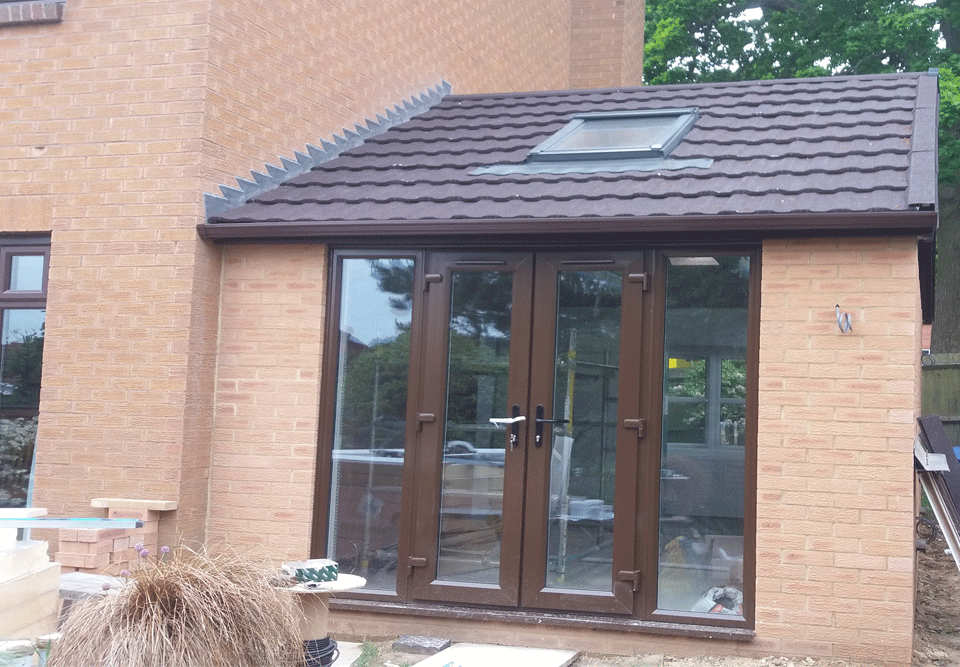 ---
Tiled Conservatory Roofs Will Add Value To Your Home
If your conservatory is looking jaded, it will devalue the market value of your home in Woodley. Prospective buyers will be put off by a dwelling that looks poorly-maintained and will take in to account the cost of refurbishing your conservatory – including the cost of any tiled conservatory roofs that catch their eye.
The conservatory featured in this case study is fit-for-purpose. From the ground upwards, every square inch of it looks professionally constructed. It will be immediately clear to anyone who looks that this structure will provide a bright and fully functional space that can be used for a variety of purposes throughout the year.
---
A Quieter, Warmer and More Comfortable Space
The conservatory belonging to our customer in Woodley will benefit from more than just a lighter internal space. Tiled conservatory roofs intrinsically own a set of other valuable benefits designed to make a conservatory – or any other type of extension – a comfortable place to spend time, while also functioning as a cost-efficient investment.
Tiled conservatory roofs provide better levels of insulation than those supplied by a standard polycarbonate design. This means the structure featured in this case study will benefit from improved levels of heat retention, which will be accentuated by the supporting doors and windows. This will have saved our customer in Woodley money.
Acoustically speaking, tiled conservatory roofs should be your first choice if you're planning on using your conservatory as a place to relax in. A polycarbonate or glass roof won't block out the sound of rainwater from above, whereas a tiled one will. Turn your structure into a tranquil space by talking to Abbey Windows about their tiled conservatory roofs.
By choosing tiled conservatory roofs over other designs, you'll also be making a positive impact on the environment. Your structure will be able to capture and retain natural warmth organically, which means you won't have to rely on your heating system to stay warm. Lower your costs and carbon footprint with this incredibly efficient style of roof.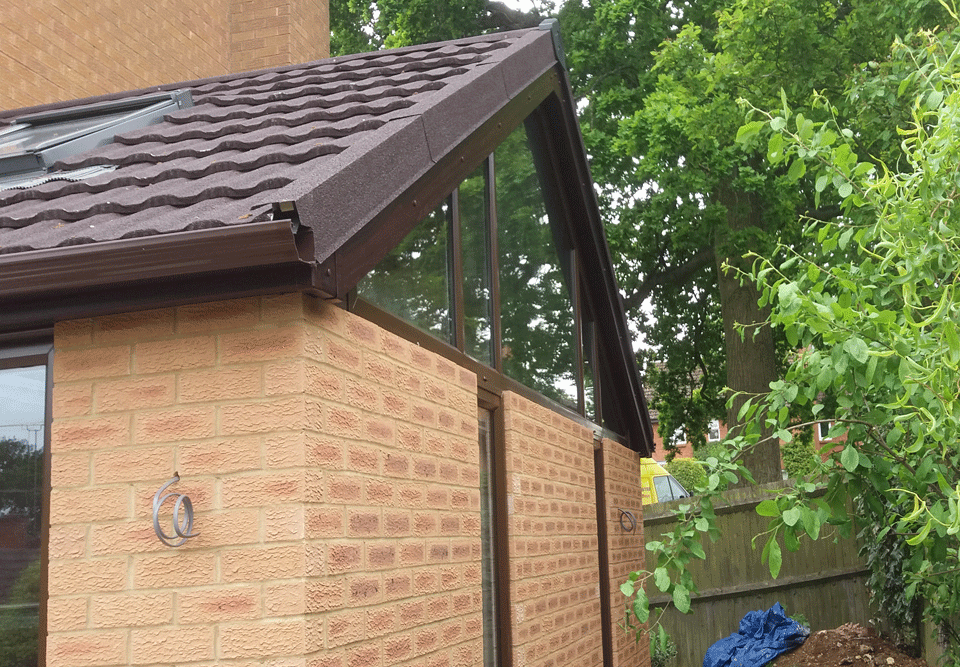 ---
Tiled Conservatory Roofs Prices, Woodley
Contact Abbey Windows today for tiled conservatory roofs prices in Woodley and the surrounding areas. You can call our experienced team directly on 0118 956 6866 or send them a message requesting a callback.
If you've already decided that tiled conservatory roofs are the best way forward, and simply want a price, you can use our online quoting tool to generate instant guideline costs. We look forward to hearing from you shortly.