uPVC Bi-Folding Doors in Reading
uPVC bi-fold doors from Abbey are available in a range of configuration styles. The ultimate, contemporary folding door.
If you're looking to benefit from additional space, light and a much airier living environment then these uPVC bi-folding doors are the number one choice. uPVC bi-fold doors create a stunning addition to both contemporary new build properties and more traditional period homes in Reading and Berkshire. They make a superb addition to any property as a back door option or even as a whole wall of a conservatory. The options are endless.
Abbey supply and install bi-fold doors throughout Reading, Wokingham, Henley, Basingstoke and the Thames Valley areas. Our British-made bi-fold doors are produced to the highest quality and weather-sealed standards. Teamed with the greatest uPVC bi-fold door fabricator in the UK, Liniar ensure perfection and high performing uPVC profile systems with every order.
We do also offer Aluminium Bi-Fold Doors, an exceptionally popular choice of aluminium door. View our page on Aluminium Bi-Fold Doors! Our uPVC bi-fold door range offer excellent cost savings against our traditional aluminium bi-fold door.
Why Choose uPVC Bi-Fold Doors
Bring light into your home and open up your living space to the outside using uPVC bi-fold doors, and enjoy a seamless connection to your garden throughout the year. Available in a wide variety of colours to choose from with feature stainless steel hardware options.
Bi Fold doors are becoming more popular and to combat the weight of a roof, all wide openings now incorporate structural roof supports to ensure doors continue to open and glide as designed.
Abbey Windows work alongside homeowners, developers and builders alike who want to incorporate these stunning doors into a project or build, and can offer pre-build assistance to ensure your site construction works in unison with our products.
If you think that a set of our stunning uPVC bi-fold doors could be just what your home is missing, visit our showroom or contact us now to begin your enquiry.
Bi-Folding Doors from Abbey Windows, Reading.
Why Use a Double Glazing Network Approved Installer.
Are Your Doors Ready For Document Q?
Find out more about the government document for window & door security and what Abbey Windows are doing to comply.
Download the Government Document
Flexible Configuration
You can choose from 2-7 panel options and a variety of fold configurations to suit your Reading home perfectly
Unified Components
Patented Liniar hardware works beautifully with the wide range of energy efficient profiles on offer.
Concealed Hardware
In-board mounted stainless steel track covers the hardware to offer an attractive and clearer finish.
Open Up Your Space
The slim outer frames allow much more sunlight and up to 90% of the aperture remains unobstructed.
Aluminium Alternative
Our uPVC bi-fold doors are just as robust as any aluminium alternatives and beat them on price every time.
Ultra-Low Threshold
Our bi-folds come with the option of low aluminium 24mm thresholds and wheelchair access ramps.
Liniar Bi-Fold Door Colour Options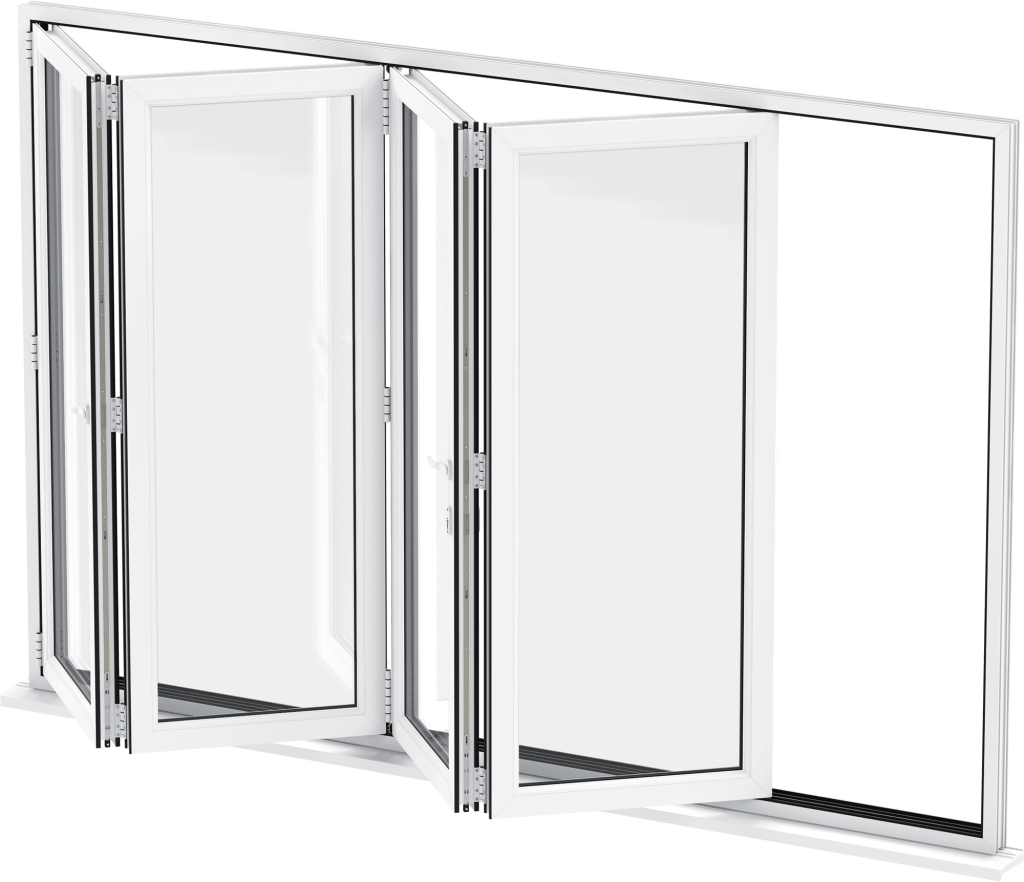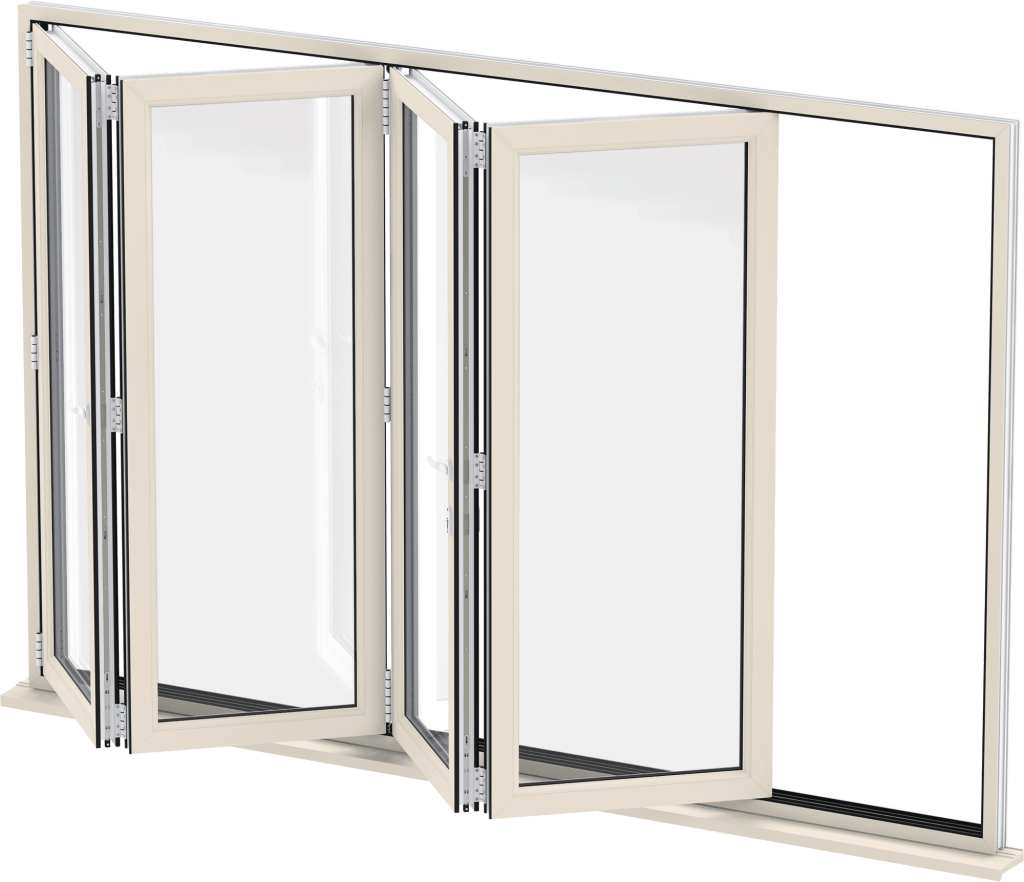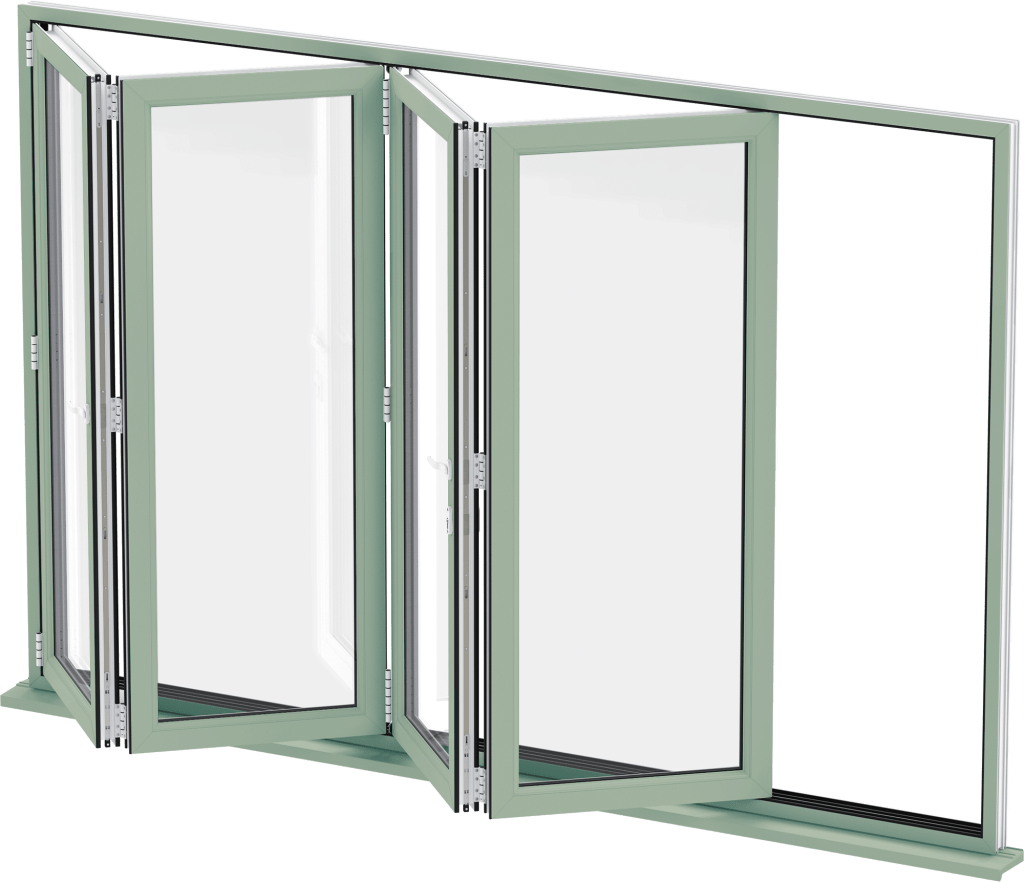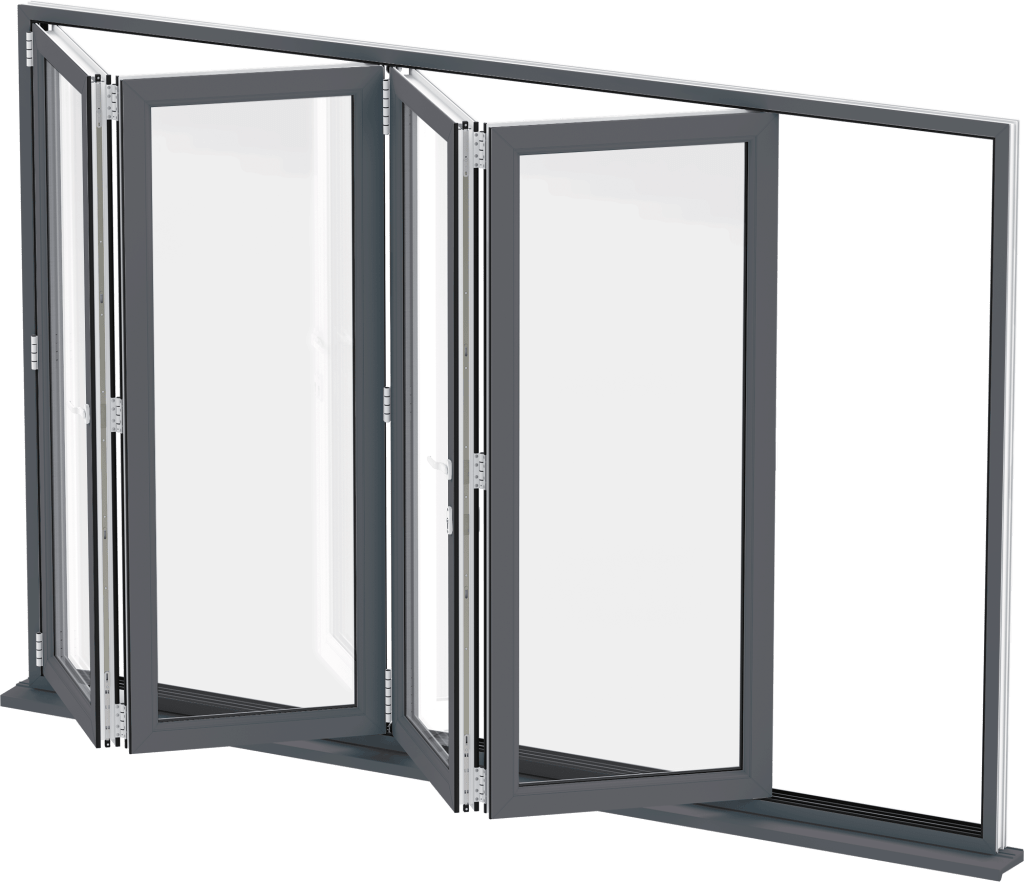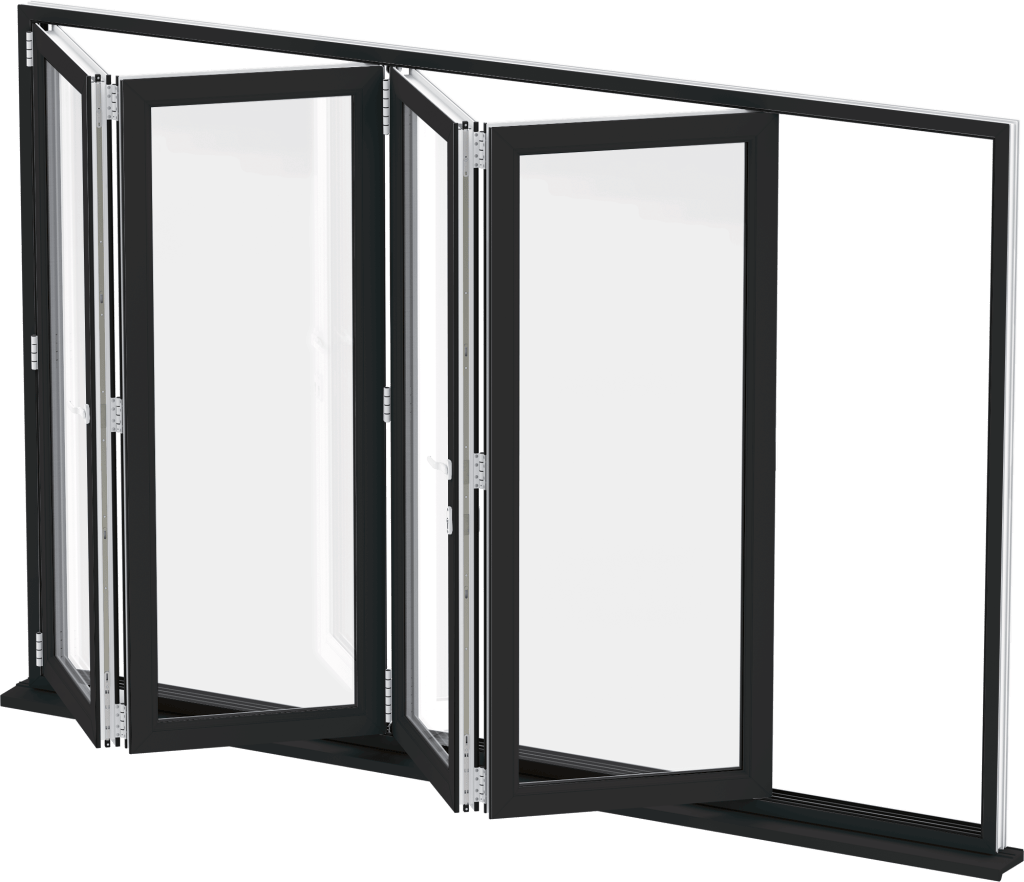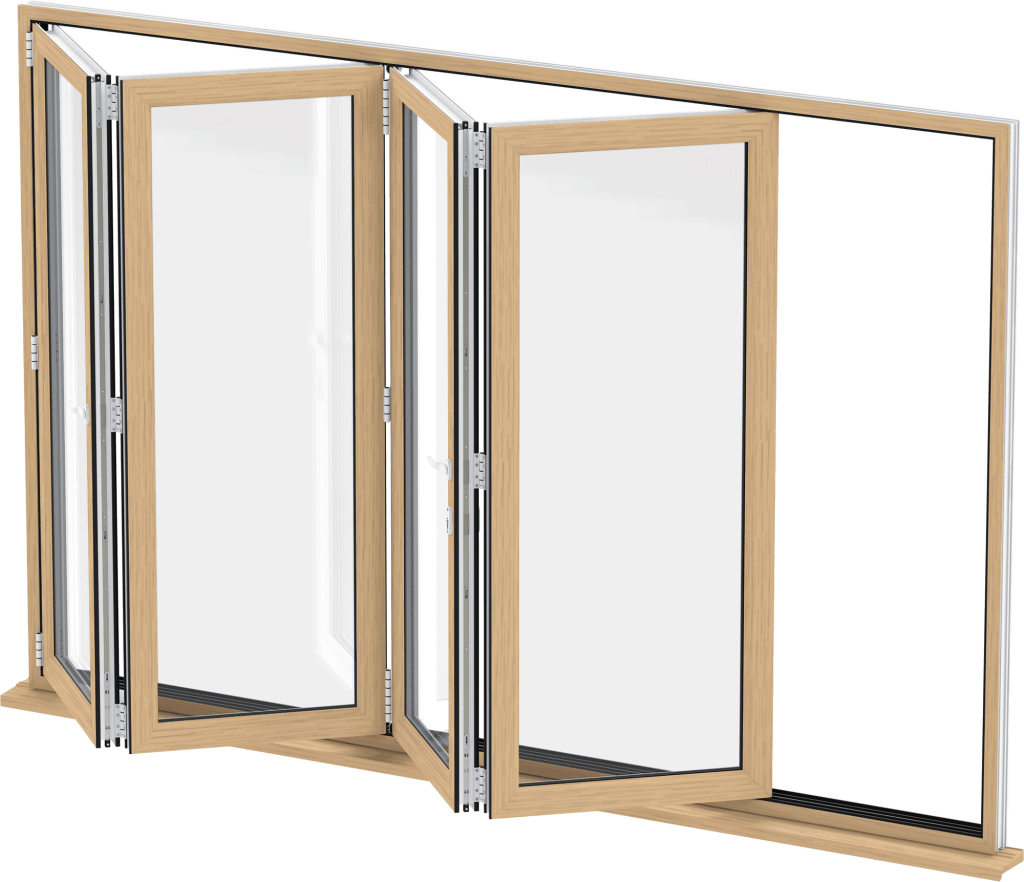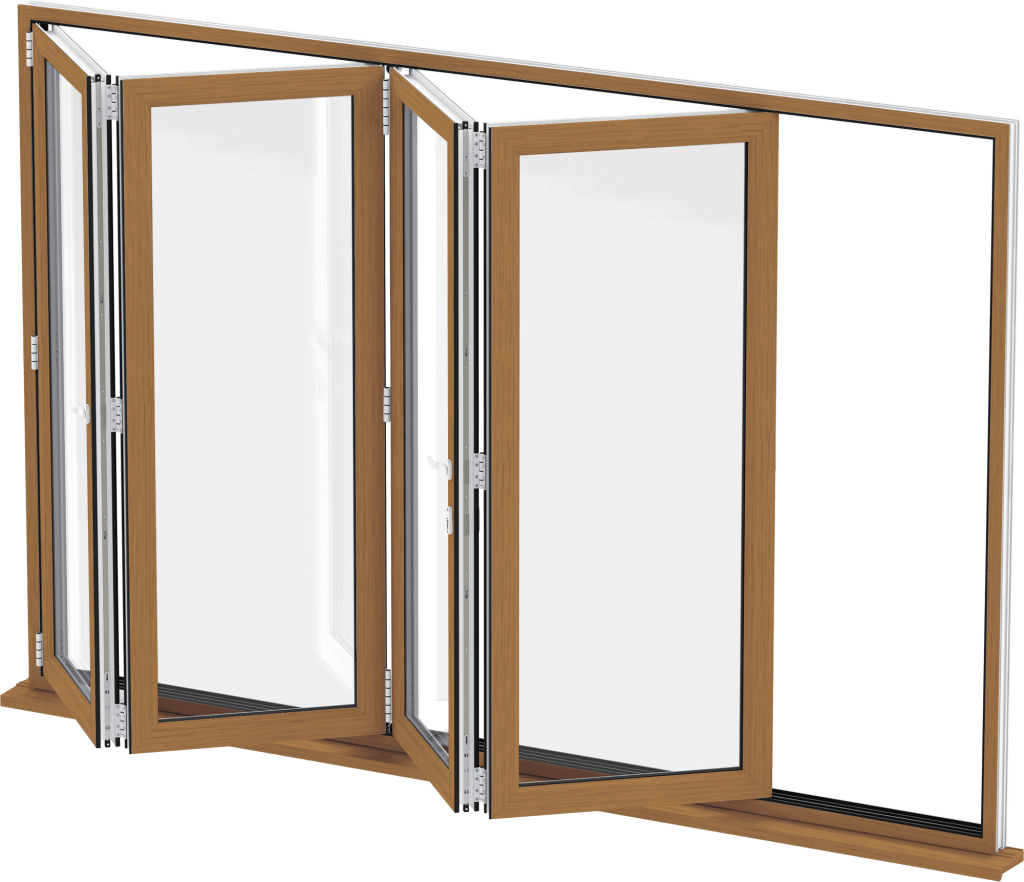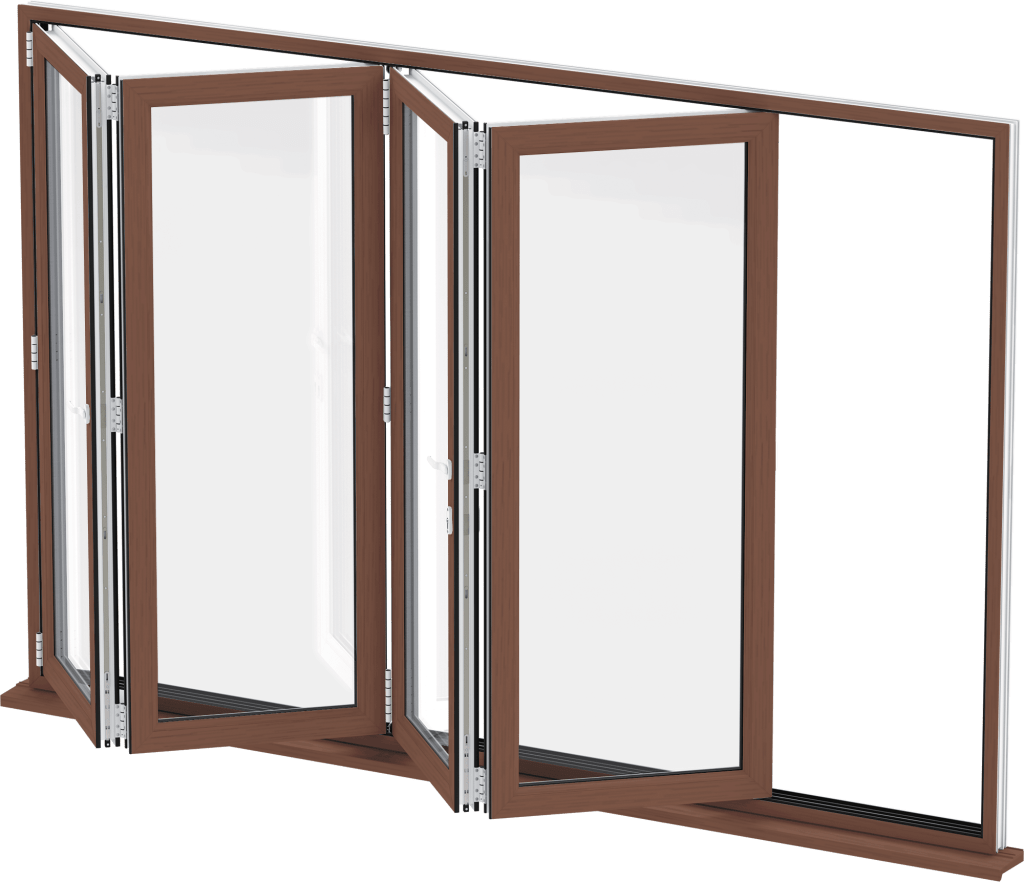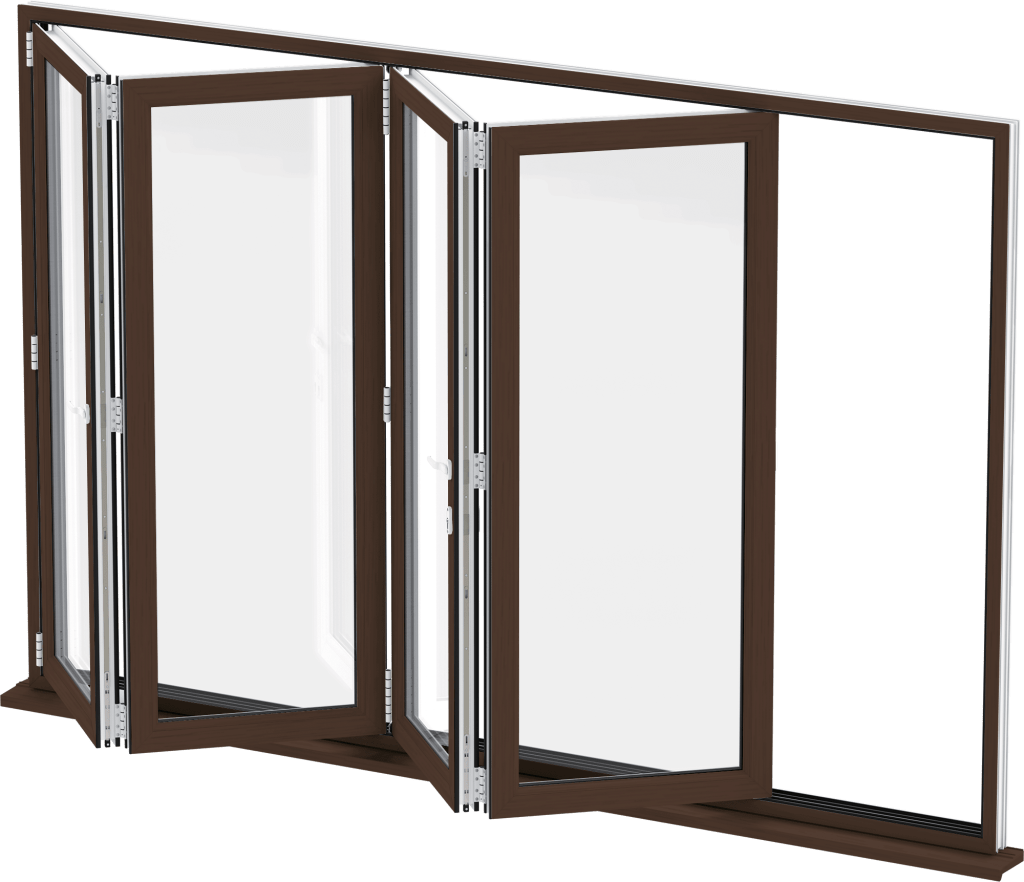 View our other door styles
Recent Projects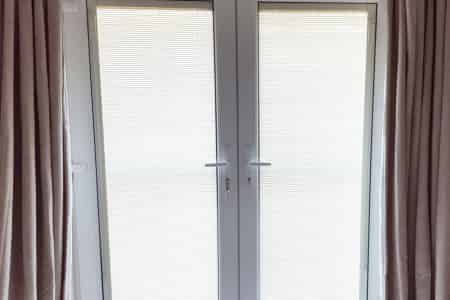 Integral Blinds in Reading
Integral Blinds Installation in Woodley, Reading
A stunning integral blinds installation in Woodley by the expert team at Abbey Windows. Beautiful venetian style blinds installed for bi-fold doors and French doors in Reading.
After a beautiful French Doors and Bi-Fold Doors installation, our loyal Reading customers were looking to create more privacy within their Woodley home.
Additional  Privacy
Like with most contemporary properties in populated areas, our customers we concerned with being overlooked. We had previously installed beautiful Liniar French Doors with a Juliet balcony for their main bedroom, and agreed an integral blinds installation would be perfect to ensure more privacy with as little maintenance possible.
Morley Integral blinds in Reading are an excellent choice, as our customer's home is now more private, yet still welcomes the presence of natural sunlight into their living areas.
Prevents Bleaching
Window blinds also help prevent the unsightly bleached effect from ultra violet rays hitting furniture and carpets.
The upstairs of our customer's Woodley property was a north west elevation, resulting in the upper level becoming excessively hot in the afternoons and early evenings. Our integral blinds installation has perfectly solved this problem for our Reading customers, while still letting a sufficient amount of sunlight to enhance their home beautifully.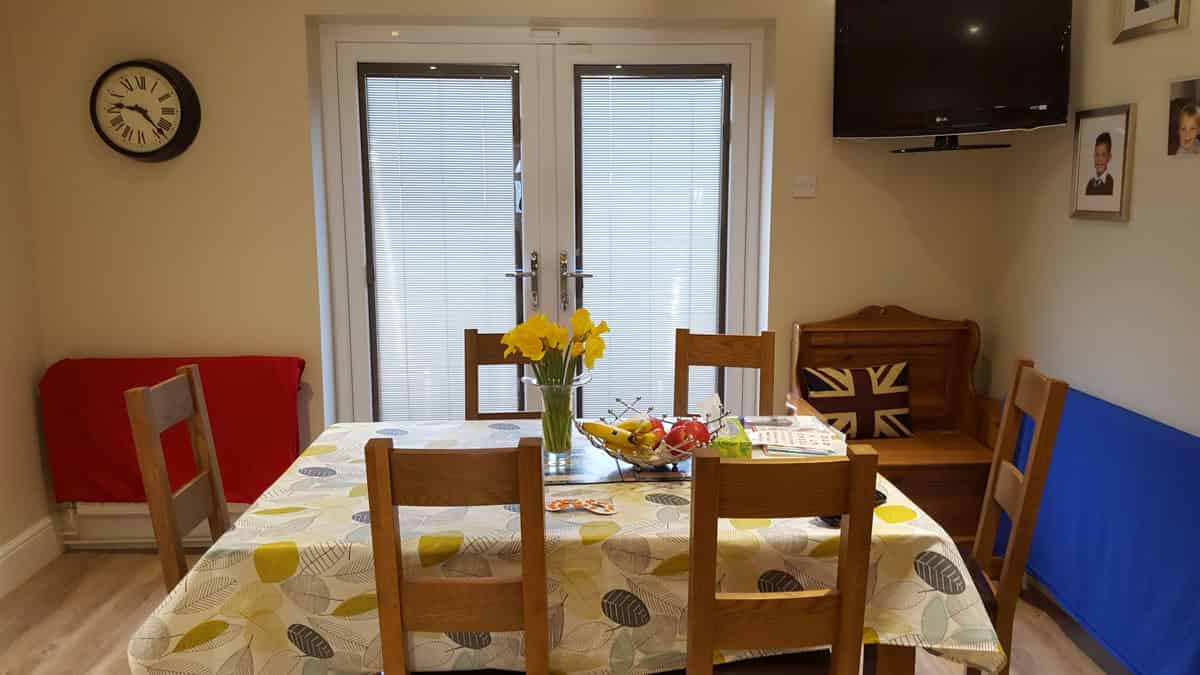 Superb Functionality
While the between glass blinds are concealed, they can be controlled from the outside, allowing our customers to tilt the blinds according to the position of the sun and adjusting how private they wished the room to be.
With the blinds being integral, this means practically no cleaning is required! Because of this they are incredibly durable, and will last our Reading customers for many years into the future.
Customer Thoughts
Our customers were incredibly happy with the results, leaving us the following postitive review:
'We are thrilled with the finished Morley blinds product. We truly didn't expect the results we have received – despite tilting the blinds to their closed position this really doesn't effect a sufficient amount of sunlight entering our Reading home.
A truly genius idea that we thank Abbey Windows for! When we compared other options available to us this was by far the most simplest and cost-effective solution.
We didn't understand quite how easy the process would be in removing old units and replacing with integral blinds in glass units. Once we understood how simple this would be, we have now ordered integral blinds for our Liniar French Doors you installed downstairs in our Breakfast room, and also for our Bi-Fold Doors in our study.
It is a little embarrassing that we didn't take your advice at the time, but with your competitive prices and swift service were very pleased to have now made our decision. We're thrilled!'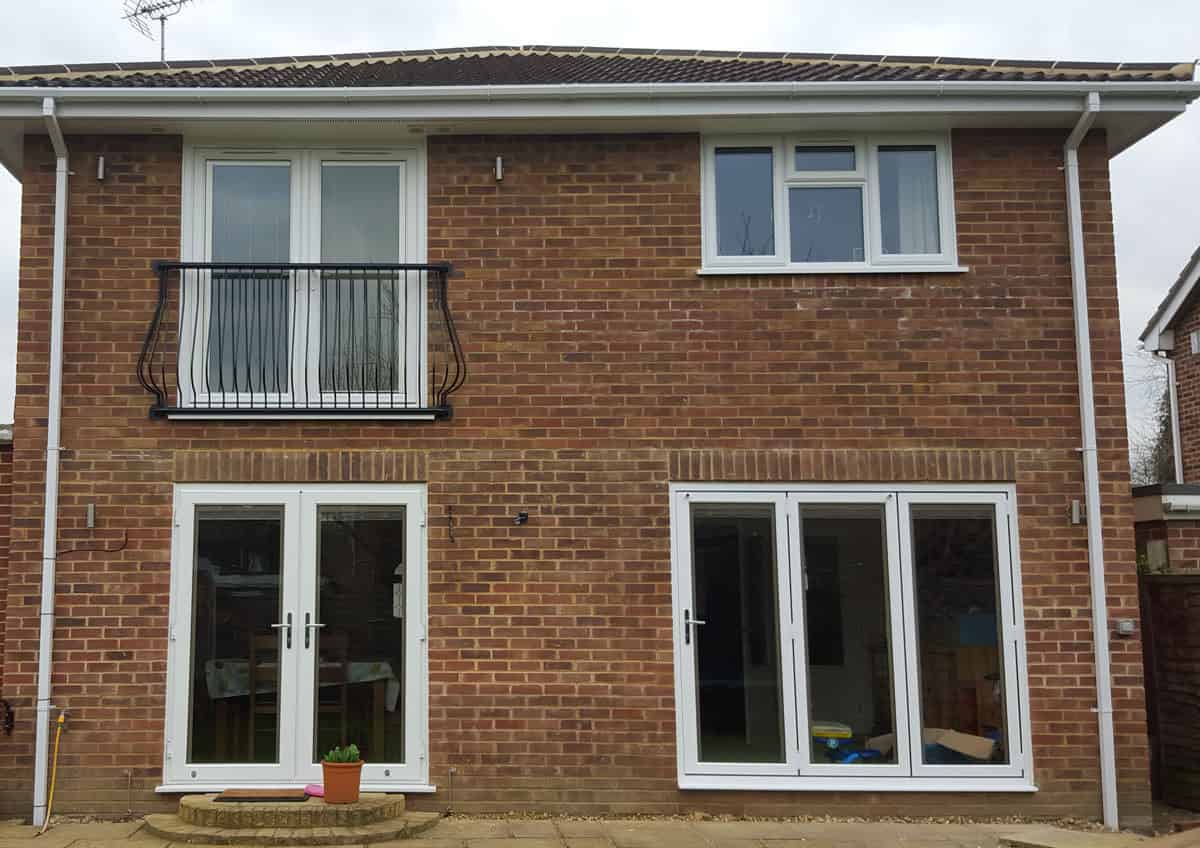 Integral Blinds Installation Prices in Reading
Choose Abbey Windows for your Integral Blinds installation in Reading today, to achieve the same exceptional results as our happy Woodley customers!
Give us a call today on 0118 956 6866 to speak to our helpful advisors – they've always happy to discuss your design ideas and specifications.
If you'd prefer to get in touch online, don't hesitate to fill in our online contact form. You'll be provided with a quick reply that will get you on your way to beautiful integral blinds in no time at all!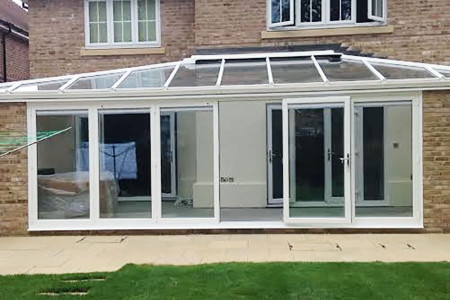 Orangery Installation in Caversham, Reading
Stunning Orangery Designed For Reading Family By The Abbey Windows Double Glazing Team.
Abbey Windows have recently completed an Orangery installation with Origin Bi-Fold Doors for a family in Reading and the results are spectacular.
Our customers wanted to create more space towards the back of their property and to open up their living area. They also wanted to make full use of their garden in the summer months.
We guided the family through our Orangery designs and came up with the perfect solution for their Caversham home.
What Is an Orangery?
Orangeries are the grand 17th century predecessors to the modern conservatory and were typically expressions of wealth and status for the elite (those who could afford to keep citrus trees).
The primary difference between an Orangery and Conservatory is that an orangeries are primarily made up of brick in keeping with the brickwork of the house or building it is built onto. Providing better insulation from the elements.
Today, Orangeries exude the same air of luxury and elegance as their stately ancestors. They make for exceptional sunrooms for relaxing or entertaining guests. Orangeries are a truly valuable addition to your Reading home.
We created the ideal Orangery to complement the Caversham home. A contemporary design allowing for the maximum amount of light to enter the home whilst still maintaining privacy.
Orangery with Aluminum Bi-Fold Doors
Origin's Aluminium Bi-Fold Doors open out onto the garden patio giving the family complete versatility. These revolutionary aluminium doors break down the barrier between home and garden inviting the outdoors into their Reading property.
When the aluminium bi-folding doors are open, the body of the Orangery leads seamlessly out onto the garden bringing fresh air, space and light into the living space. When closed, the aluminium bi-fold doors offer the highest security with a Yale Shootbolt locking system, an anti-lift catch and tamper-proof aluminium hinges.
Our aluminium bi fold doors also boast a 20-year manufacturer's guarantee directly with Origin!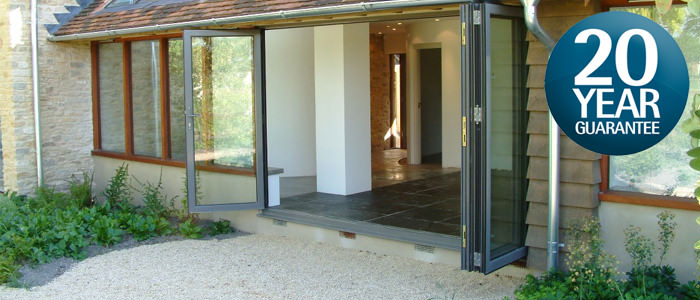 Fitting the Orangery Roof
We designed a bespoke glass roof for the Orangery which sits flawlessly against the L-shaped structure of the Reading home. The family opted for a flat roof around the perimeter of the Orangery in keeping with the lines of the house.
The Orangery Roof was created using a high-quality, structural grade aluminium profile.
We then capped and cladded the Orangery with low maintenance thermal uPVC capping board fascias and claddings. The ideal finishing for a maintenance free Orangery.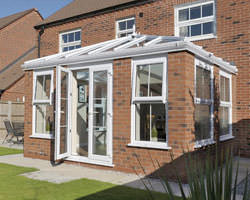 Orangeries: Glass Extensions for your Home
Orangery extensions are becoming ever more popular and it's no wonder. There are endless benefits to Orangeries. They are visually striking yet entirely practical and energy efficient. Beautiful glass rooms that you can use all year round!
This happy family in Reading finds that in the summer, it's great to open up their new Origin Bi-Fold Doors and use the garden as an extra addition to the living space. Whereas, in the winter, it becomes a homely and cosy den.
This new room adds a further dimension to their Reading property and provides a seamless link between their home and the garden.
How Much Does an Orangery Cost?
Interested in investing in an Orangery for your home? Get in contact with our friendly team here at Abbey Windows for competitive Orangery prices today!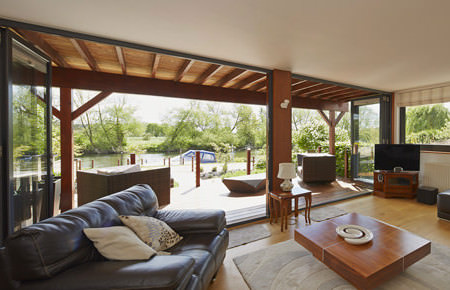 Aluminium Bi-Fold Doors Installed in Purley, Reading
Aluminium Bi-Fold Doors Installation