Modern and Traditional Patio Door Styles
Patio doors are a classic and timeless style that never goes out of fashion.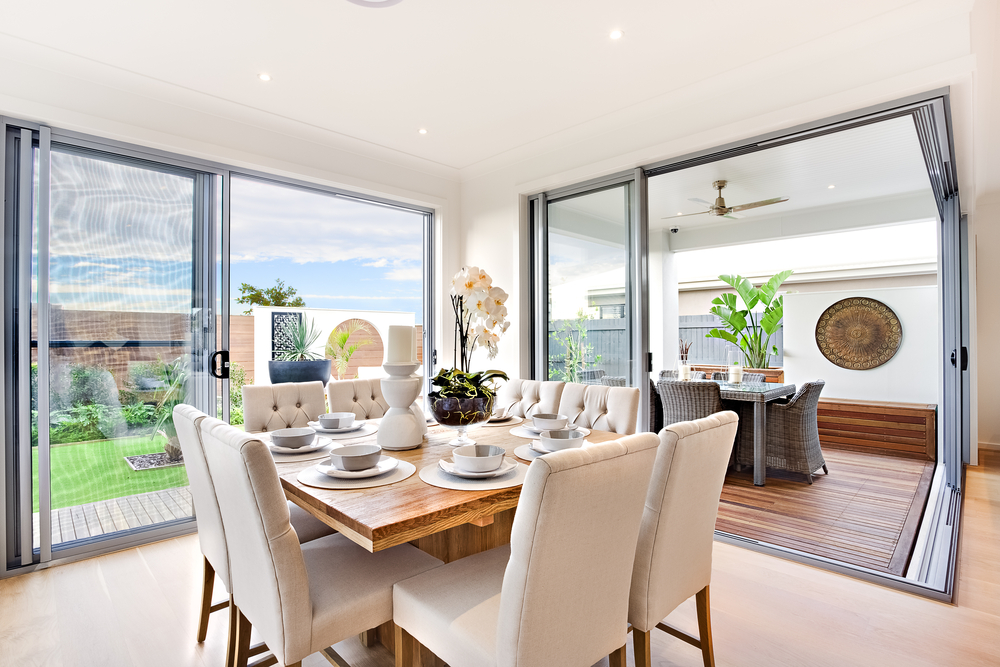 Traditional patio doors, also known as sliding doors, are a perfect way to open up any living space. They feature large glazed panels that allow an influx of natural light for a brighter home that feels bigger as a result, making them an excellent investment.
Patio doors are enduringly popular, but that doesn't mean that their design has stayed the same for all these years. There have been many advancements in sliding door styles available on the market. As time goes by, homeowners' expectations of what they want from their products grows and expands – such as advanced security and thermal efficiency properties – so it's only right that patio doors and other home improvements improve in line with this.
At Abbey Windows, we're always following the latest trends and industry advancements, so we're able to bring the very best and most modern designs to our valued customers. That's why we've put together this handy guide to explore and explore both modern and traditional patio door styles alike. That way, you'll be able to choose the perfect fit for your home.

What Are Patio Doors?
There are many different patio door styles on the market in countless configurations and customisable options. With so much choice, there is sure to be the perfect profile to suit your living space, enhancing its look and appeal with one affordable and expert installation.
Patio doors are, broadly speaking, doors featuring large panels of glazing that connect your home to your patio (as the name suggests). You can choose the configurations of these door profiles and refine the look and functionality. Choose between 2 and 4 panes of glass in different heights and widths to suit any opening. Some homeowners even choose to make a striking feature out of their patio doors with entire walls made up entirely of glazing.
Traditionally, patio door styles were straightforward and uniform. On tracks, the 2 to 4 glazed panels would slide aside to allow you to move freely from your home to your garden. Now, your possibilities have expanded and the term 'patio doors' included a much wider and more inclusive range of door styles from traditional sliding doors to French doors and modern bifold doors.
Sliding Patio Doors
Traditional patio doors in the sliding style have been a common and resiliently popular feature of homes in the UK for many years now. Their straightforward and dependable functionality works hand-in-hand with their vast glazed panels for impressive, uninterrupted views across your property, letting you connect your home and garden with ease.
Their classic aesthetic remains highly appealing, and they're a straightforward installation to complete, so you can enjoy the seamless transition throughout your home and garden in no time at all.
The smooth operation of sliding patio doors means they'll perform highly for you and won't let you down. They're also highly customisable, so you can be sure that once you've refined the look of your new doors, they'll stay at their best for longer. Customise the colour and finish, and keep your home secure with advanced locking mechanisms. Sliding patio doors are a cost-effective solution, so they're often chosen in modern uPVC for their style and affordability.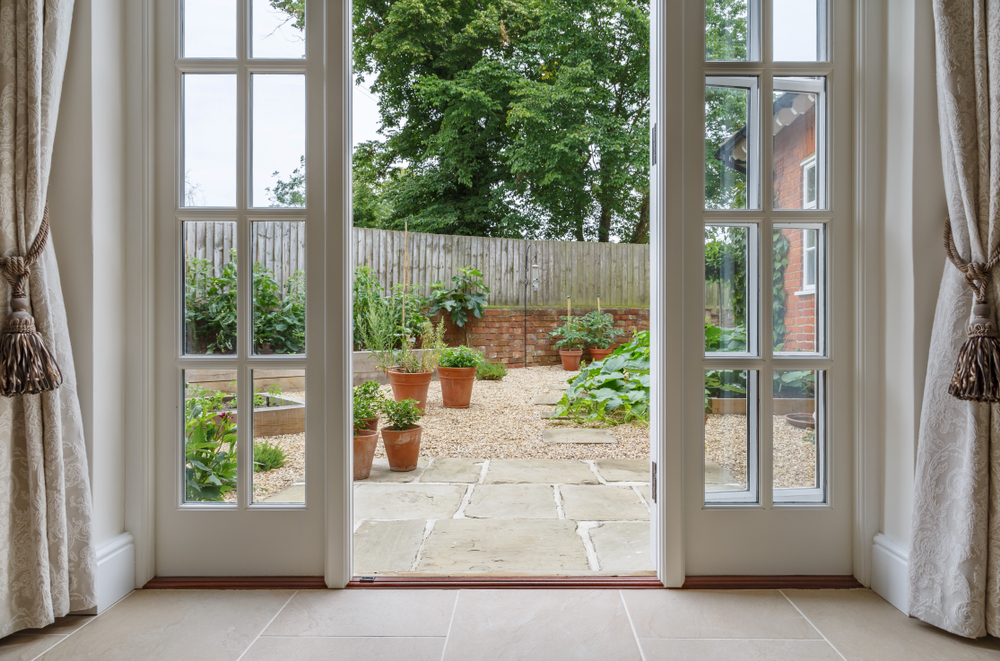 French Patio Doors
For a continental twist of classic patio door styles and profiles, French doors are an excellent alternative. They occupy similar amounts of space with their slim frames, but they differ when it comes to their outward-opening profiles. These two doors let you step out in style as they open up together or individually for excellent views across your property.
French patio doors are a charming and chic alternative to classic sliding doors if you're looking to make your home. They are similarly customisable, so you can make sure they complement the current look and feel of your home. They work best for smaller openings most often, with a more company design featuring 2 doors rather than up to 4 glazed panels.
Potentially, their smaller size can limit the popularity and functionality of French patio doors if you have a wider opening to connect your spaces. Since they feature 2 doors with individual frames compared to the vast glazed areas of sliding doors, they can also limit views somewhat compared to classic patio doors.
Bifold Patio Doors
Bifold doors are one of the most modern patio doors you can choose when it comes to style and performance combined. They can be chosen in both uPVC and aluminium, with the latter providing the highly sought-after sleek aesthetic ideal for modern properties and new builds.
Their innovative functionality is made up of a series of panels that fold onto each other in a concertina-like fashion This allows them to move aside and let you enjoy the views over your property uninterrupted as you step out from your home to your garden in style.
The only potential drawback is that, similar to French doors, each section of the bifolds includes individual frames. While these are impressively sleek (while also remaining strong) especially in aluminium styles, they can still compromise the view slightly when compared to the vast and open areas of sliding patio doors.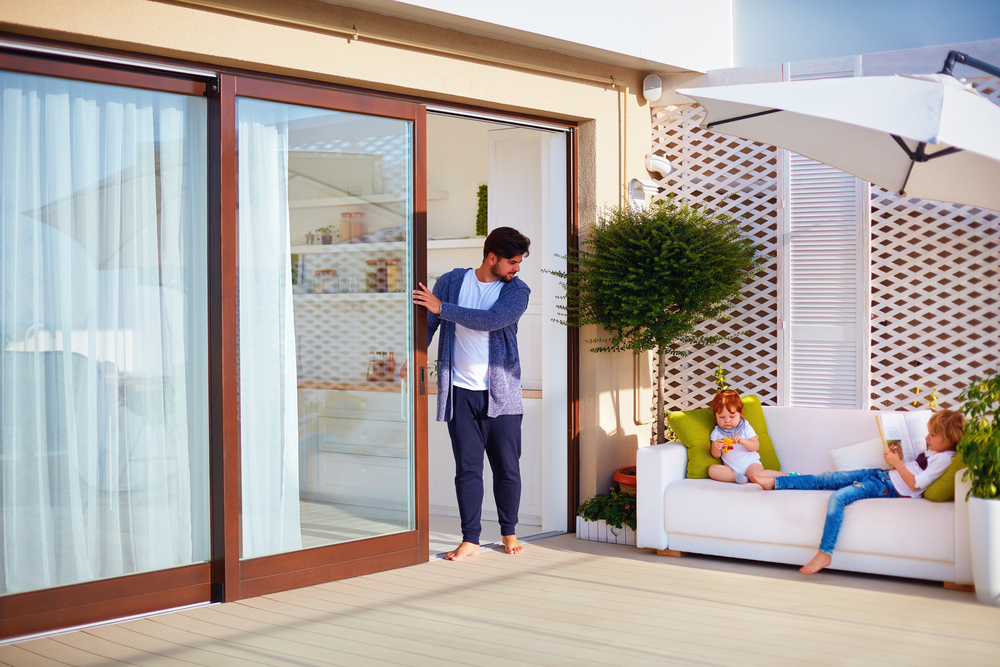 Modern & Traditional Patio Doors From Abbey Windows
Open up your home to new possibilities when you invest in either modern and traditional patio door styles from the expert installation team at Abbey Windows. We'll work closely with you to discuss the options available to you and understand the best styles to enhance the look and performance of your property.
From classic sliding doors to charming French doors and modern bifold doors, we're sure to have the perfect fit for your home. Get started today using our online quoting engine and receive a competitive patio door price instantly. We also welcome you to call our team on 0118 956 6866, and we'll be able to offer professional advice and recommendations to meet your needs and exceed your expectations.